Boston Red Sox pitcher Brandon Workman has been suspended six games and fined by Major League Baseball for intentionally throwing at the head of Tampa Bay Rays third baseman Evan Longoria on Friday night, the league's public relations staff announced Tuesday.
#RedSox P Brandon Workman suspended 6 games & fined for intentionally throwing a pitch in the head area of Evan Longoria on Friday.

— MLB Public Relations (@MLB_PR) June 3, 2014
Workman, 25, was ejected in the top of the sixth inning after an errant fastball flew past Longoria's head, prompting the ire of the Tampa Bay dugout. Both benches had been warned earlier in the game when Rays starter David Price plunked David Ortiz. Price also hit Mike Carp in the fourth inning but was, curiously, not ejected.
Tempers between the two heated rivals flared the entire night, which featured four different Boston ejections. By the time benches cleared when Price hit Carp in the fourth, Red Sox manager John Farrell was already long gone after being thrown out for protesting the lefty's plunking of Ortiz in the first.
Given the history between the two sides—featuring numerous bench clearings and brawls—you could understand the umpiring crew's quick hook.
Still, many within the Boston clubhouse felt the crew unjustly disciplined its bench while allowing Tampa Bay to skirt punishment. The Rays did not have anyone ejected despite their players leaving the dugout and Price not heeding the first-inning warning.
"When we have four people ejected and three people hit by pitches, and they have none, that's a hard one to figure out," Farrell told reporters after the game. "The umpires allowed this game to escalate even further."
As Pete Abraham of The Boston Globe noted, Workman's suspension will do nothing to quell the bitterness:
#RedSox will be annoyed that David Price was not disciplined for throwing at Ortiz. Price essentially admitted it the next day.

— Pete Abraham (@PeteAbe) June 3, 2014
Workman indicated to reporters that his pitch to Longoria slipped out of his hands. Nonetheless, umpires almost unilaterally err on the side of caution when it comes to pitches near a batter's head. MLB's decision to suspend Workman indicates the league office is siding with the umpiring crew in this instance, unconvinced that the pitch was unintentional.
MLB.com's Ian Browne reports that Workman plans to appeal the punishment. He is currently slated to start Wednesday's game against the Cleveland Indians. An appeal will allow him to take the mound while MLB arbitration hears his case.
Only recently moved into the starting rotation, Workman has allowed five earned runs in 10.1 innings during his two starts this season. Both came against the Rays. He's compiled a 3.24 ERA and 1.20 WHIP in five appearances overall.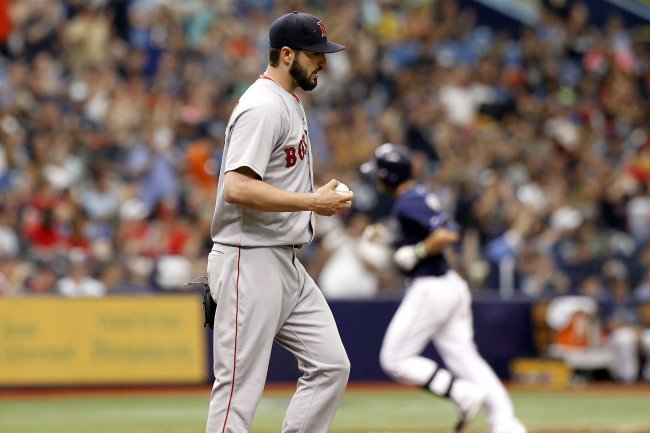 Brian Blanco/Getty Images
Already thin in the back half of their rotation, the Red Sox may need Workman to appeal just to bide time. Felix Doubront and Clay Buchholz are currently on the 15-day disabled list with injuries, forcing Workman into the rotation and the call-up of Rubby De La Rosa. With the Red Sox sitting 6.5 games out of first place in the American League East and three games below .500, their margin for error is minimal.
Even if a six-game suspension for a starting pitcher is essentially a single turn in the rotation, Boston is at a point where it can ill afford another absence.
As for the Rays and Red Sox, that's a saga that will last long past Workman's relevance to the rivalry. Ortiz declared "war" on Price in his postgame meeting with reporters on Friday and unleashed another tirade Tuesday after Workman's suspension was announced, per Gordon Edes of ESPN and Abraham:
Ortiz goes off on Price again, can't understand why Tampa Bay pitch wasn't suspended for throwing at him. "Punk-a-- s---"

— Gordon Edes (@GordonEdes) June 3, 2014
Ortiz on Workman being suspended: "They started everything up and we have to pay for it, basically. That's the message that I'm getting."

— Pete Abraham (@PeteAbe) June 3, 2014
And while Price rightfully denounced the conflating of war and baseball to Abraham this past weekend, the animosity between these two teams rages on.
The Rays and Red Sox meet again for a three-game series at Tropicana Field starting July 25.
Follow Tyler Conway on Twitter: