Brendan Rodgers and Liverpool are looking to strengthen the centre of their defence during the summer transfer window, and Feyenoord's Stefan de Vrij would present the team with the ultimate low-risk, high-reward option.
As reported by The Daily Star's Bruce Archer, the defender told RTV Rijnmond there is a good chance he will be leaving the club this summer:
"The chances are that I will leave, I can probably confirm this. I am with the Dutch national team so I don't know the exact details."
De Vrij is currently preparing with the Dutch national team for the upcoming World Cup, where he will play under future Manchester United boss Louis van Gaal. Van Gaal made the youngster captain of the team, but The Mirror's Ed Malyon knows he won't be moving to Manchester United in the near future:
The Holland international has impressed in Rotterdam again this season and was always likely to move this summer, but a switch to Lazio stalled when his representatives got wind that his international manager, van Gaal, may be interested in making him part of the Oranje revolution at Old Trafford.

As it is, the 62-year-old has declined the opportunity to pick up the man he handed the Dutch armband to for the first time last week as a young Netherlands side drew with Ecuador.
De Vrij has long been touted as one of Europe's biggest talents at the centre-back position but struggled during the 2012-13 season, as scouts started to question whether or not the defender had already reached his potential.
A strong campaign in 2013-14 has seen De Vrij emerge as Holland's strongest option at the centre of the defence moving forward, however, and it would appear a transfer to a bigger club is once again an option.
De Vrij has the prototypical build of a top centre-back, combining great size with good vision and solid skills on the ball. Just 22 years old, he has emerged as a leading figure not just for Feyenoord, but with the national team as well.
He displays excellent command of the back line and deals well with pressure, showing a willingness to play on the ball. He has spent enough time playing as a right-back for managers to be comfortable with his passing skills, and at 6'2'', he is able to comfortably win most aerial duels.
The Reds came very close to winning the 2013-14 Premier League title, and they did it with a defence which conceded 13 more goals than eventual champions Manchester City, per WhoScored.com.
Martin Skrtel, Daniel Agger and Mamadou Sakho all struggled at some point during the season, and Skrtel's proficiency at putting the ball in his own net was historic, as shared by OptaJoe:
4 - Martin Skrtel has scored four own goals this season, more than any player in PL history has managed in a single season. Record.

— OptaJoe (@OptaJoe) May 11, 2014
Liverpool are short on dependable defenders, and apart from Sakho, there are few long-term options.
Enter De Vrij.
The Dutch international might not have the potential of Raphael Varane or Marquinhos, two of the world's most highly touted young defenders, but he plays the game in a clean, polished way.
He's solid on the ball, physical enough to handle the English game and ready to start at a higher level than the Eredivisie, as evidenced by him captaining the Dutch national team.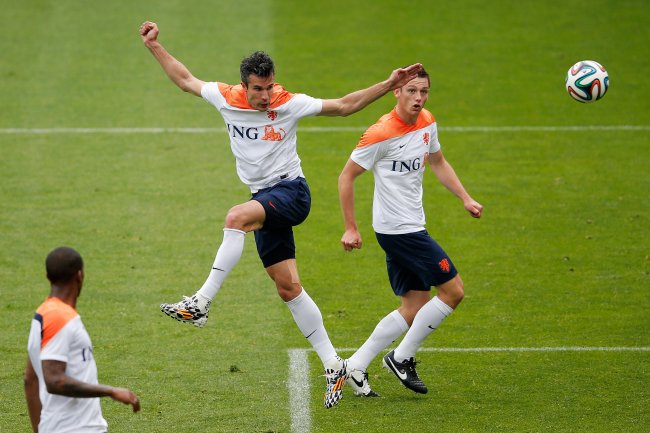 Dean Mouhtaropoulos/Getty Images
Most importantly, he's readily available. Transfermarkt.co.uk values the 22-year-old at £5.28 million, and the actual fee the player will demand on the open market won't be that much higher.
As far as investments go, De Vrij is as safe as they get. He still has plenty of room for growth and would join Liverpool having already played in a World Cup, an impressive feat at such a young age.
De Vrij might not be a flashy name, and a young centre-back from the Dutch Eredivisie might not be the kind of player that will get fans excited. But for Rodgers, the Dutch international would be a smart signing that could pay huge dividends both in the near future and for years to come.