VfL Wolfsburg defensive midfielder Luiz Gustavo is an Inter Milan summer transfer window target, per La Gazzetta dello Sport (h/t Nadia Carminati and Simone Bargellini at Sky Sports).
Here is a scouting report on Gustavo, a 26-year-old Brazilian international.
.@LGustavo_22 wurde heute offiziell ins WM-Aufgebot Brasiliens berufen. #bandnacopa http://t.co/BzKC1OOj0l pic.twitter.com/r4GLIBNYQ5

— VfL_Wolfsburg (@VfL_Wolfsburg) May 7, 2014
Positives
Gustavo is a 6'2", 176-pound defensive midfielder who was primarily used in a 4-2-3-1 at Wolfsburg.
In the past, he has a track-record as a utility player having been a fill-in centre-back at Bayern Munich and a make-shift left-back at Hoffenheim.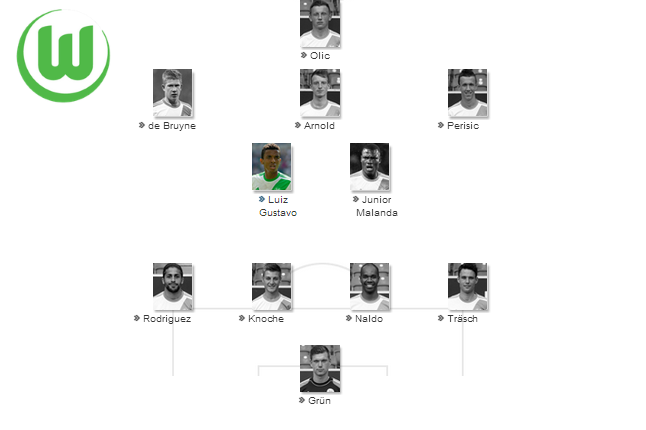 Source: Kicker.de.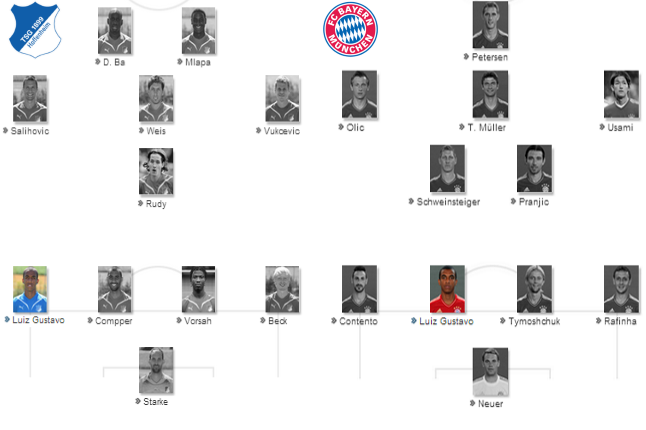 Source: Kicker.de.
Winning the ball is an innate trait for Gustavo, who led Wolfsburg in tackles per game (3.4) and was second behind centre-back Naldo (2.9) in interceptions per game (2.4).
Gustavo can govern the game defensively by taking the ball away from the opposing team at a feverish rate.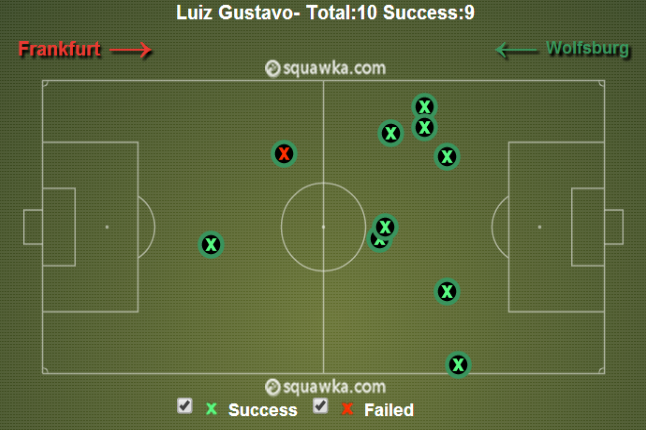 Source: Squawka.com.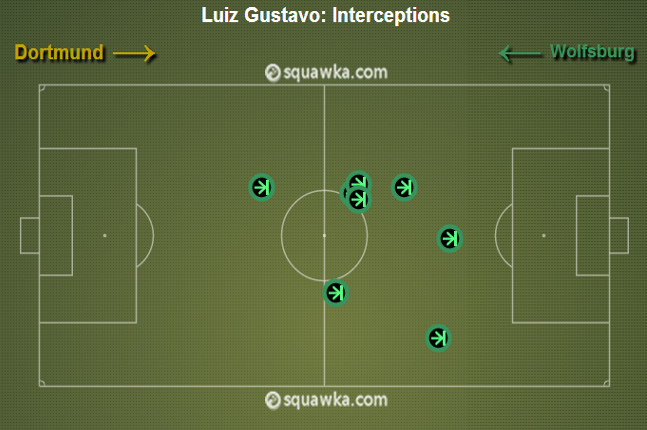 Source: Squawka.com.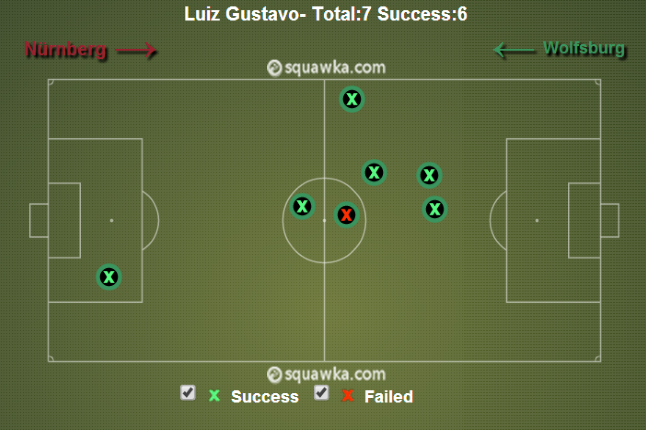 Source: Squawka.com.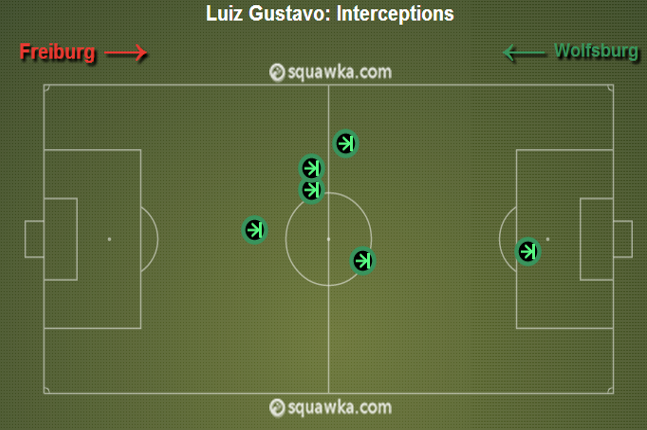 Source: Squawka.com.
Gustavo is a savage tackler, ultra-competitive, relishes 50-50 challenges and strikes terror into technically gifted footballers.
This was typified when Gustavo recorded a cheap interception because Hoffenheim central attacking midfielder Roberto Firmino bailed out of a ground duel fearing he would come off second best.
'Fighter' Wolfsburg man Luiz Gustavo was not one to be out-muscled in midfield, wining more tackles than he lost at 54.5% #DreamTeam

— Bundesliga (@Bundesliga_EN) May 28, 2014
Gustavo is not just a limited ball-winner, the Brazilian international can function as a passing outlet as well.
He regularly completed 90 percent of his passes or higher and 60.9 percent of his passes went forward, so he was consistently advancing play, per Squawka.com.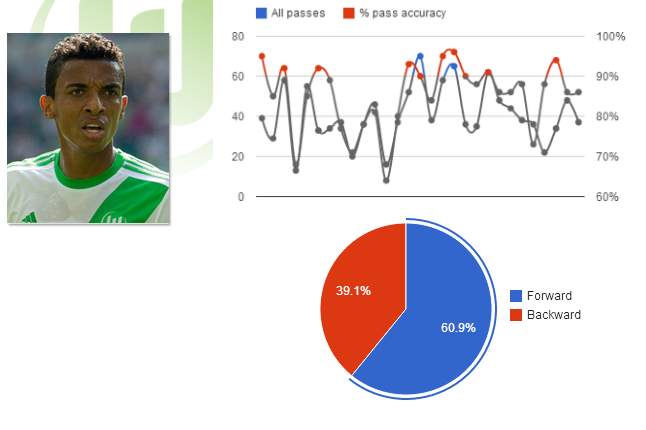 Source: Kicker.de/Squawka.com.
Hamburg's defence was split open by an exemplary Ricky Alvarez-like through-ball from Gustavo.
Gustavo used his athleticism to accelerate away from Freiburg central midfielder Nicolas Hofler, dragged Freiburg centre-back Immanuel Hohn out of position, then set up Wolfsburg centre-forward Ivica Olic.
Gustavo also chipped in with four league goals.
Negatives
Gustavo's way of enforcing in midfield makes him a target for referees.
He conceded 67 free-kicks in 29 league games.
He unnecessary clipped Mainz right attacking midfielder Nicolai Muller, who had raced away.

Gustavo was sent off again after pushing Bayer Leverkusen centre-forward Stefan Kiessling in the back.
Bottom Line
INTERVIEW: Luiz Gustavo speaks about his #WorldCup hopes and his future with @VfL_Wolfsburg - http://t.co/EZbgn4qBVz pic.twitter.com/eGC6eeiC06

— FIFA.com (@FIFAcom) March 10, 2014
Gustavo's wide-ranging playing style is why Inter are so enamoured with him.
Inter president Erick Thohir, per La Gazzetta dello Sport (h/t Nadia Carminati and Simone Bargellini at Sky Sports) is on the record as saying:
'[Inter manager Walter] Mazzarri likes [Erik] Lamela and Luiz Gustavo, but everything will depend on the situation of the market.'

'In about two weeks we hope to be able announce a new player.'
Wolfsburg will only sell Gustavo unless they make a significant profit on their €20 million investment.
Inter will need to look at Gustavo transfer alternatives.
Statistics via WhoScored.com