If United States men's national soccer team defender Timothy Chandler transfers from Nuremberg to Eintracht Frankfurt, per Greg Seltzer at MLSsoccer.com, would it be a successful move?
Here is a scouting report on Chandler, a 24-year-old German-born-United States international.
Auch Timothy Chandler bereut diese Liebe nicht. Am #fcn-fanshop verkauft er Fahnen zur Fan-Aktion. #ichbereuenicht pic.twitter.com/0mUDtF96AW

— Die Lokalredaktion (@nn_lokales) March 7, 2014
Positives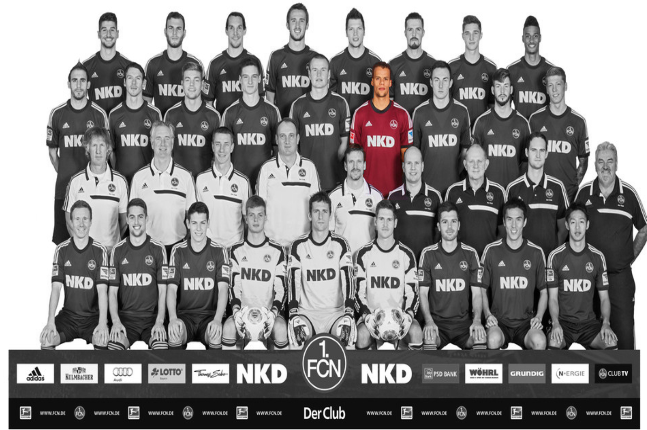 Source: FCN.de.
Chandler is a 6'1", 183-pound footballer, who started at right-back and as a right-winger in the past two seasons for Nuremberg.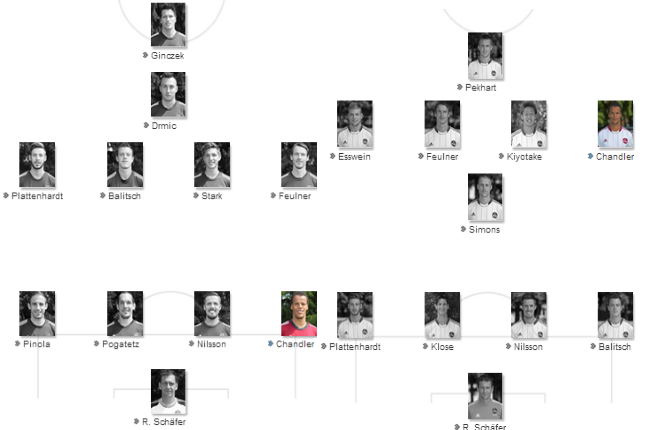 Source: Kicker.de.
USMNT manager Jurgen Klinsmann recently experimented with Chandler at left-back.
This suggests Klinsmann, who won the 1990 FIFA World Cup for Germany under Franz Beckenbauer, believes Chandler is tactically versatile enough to perform at international level in an unfamiliar position on the fly.
Timothy Chandler doing drills again at LB for the #usmnt here at RBA

— Brian Sciaretta (@BrianSciaretta) May 31, 2014
Beckenbauer was a goal-scoring midfielder at the 1966 World Cup before transitioning into an era-defining sweeper, per Roger Hutchinson's book '66: The Inside Story of England's 1966 World Cup Triumph.
Borussia Dortmund manager Jurgen Klopp turned Erik Durm from a centre-forward to a left-back, a similar transformation Klopp underwent as a player at Mainz, per UEFA.com: "Klopp turned professional with Mainz, starting off as a striker before becoming a no-nonsense defender."
Durm is now part of Joachim Low's 2014 World Cup squad, so Chandler switching flanks would not be a sticking point in Klinsmann's mind.
Erik Durm: I honestly have to say I would have not made it into the national team after one year as a striker. #BVB

— Sandra Goldschmidt (@SanBorussia) June 1, 2014
"I had him [Chandler] scouted many, many times, also in training," Klinsmann said, per Nicholas Rosano at MLSsoccer.com. "He has experience to play against very, very good and strong players throughout Europe and that's why he earned his way back in the group."
Chandler has a solid frame, moves well with the ball and is useful in the attacking half.
He showed his speed by racing on to a loose ball and sending in a cross for then-Nuremberg (now Stuttgart) left-winger Adam Hlousek to score against Eintracht Braunschweig.
Chandler scanned the field and then played an incisive pass to then-Nuremberg (now Bayer Leverkusen) centre-forward Josip Drmic against Stuttgart.
Against Werder Bremen, Chandler released Nuremberg centre-forward Tomas Pekhart down the right side with a lofted through ball.
With Sebastian Jung's departure to Wolfsburg, per Bundesliga.com, there is an opening in the right-back slot at Frankfurt for Chandler to take.
Despite an injury-hit campaign, Chandler was only placed eight spots below Jung in the Kicker player rankings.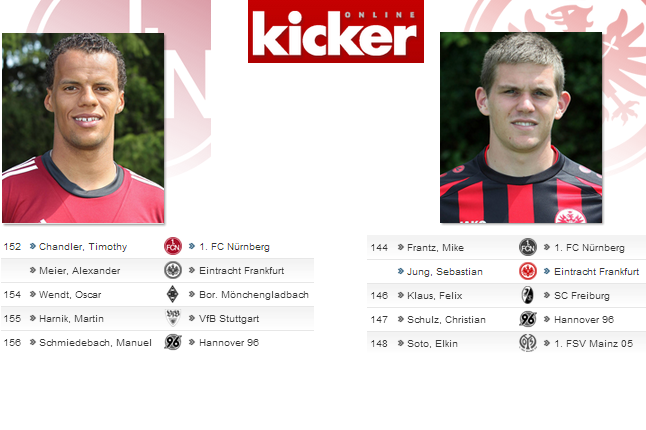 Source: Kicker.de.
Jung may have registered five more assists than Chandler, but the United States international was a more prolific ball-winner.

| | | |
| --- | --- | --- |
| | Sebastian Jung | Timothy Chandler |
| | | |
| Tackles Per Game | 1.4 | 2.9 |
| Fouls Per Game | 0.8 | 1 |
| Tackles Per Foul | 1.7 | 2.9 |
| Interceptions Per Game | 1.7 | 1.9 |
| Possessions Won Back Per Game | 3.1 | 4.8 |
| | | |
Negatives
Chandler gives away possession 26.1 percent of the time he tries to pass, therefore he needs to be more accurate when he passes.
Defensively, Chandler has encountered significant problems.
He misjudged the flight-of-the-ball enabling Frankfurt deep-lying forward Alexander Meier to head the ball.
Chandler did not contest Wolfsburg left-winger Ivan Perisic, who ended up delivering an accurate cross.
Chandler was out of position, giving Borussia Monchengladbach central midfielder Granit Xhaka time to play a pass across goal.
For the USMNT, Chandler was aimlessly dribbling toward his own goal, when the ball was stolen from him by Turkish centre-forward Mustafa Pektemek.
Another red flag with Chandler is his fitness.
He tore his knee ligaments last May, per Bundesliga.com, and "suffered an anterior meniscus tear in his left knee" in February, per Nuremberg's official website.
Pretty surprised that Timothy Chandler got called up to the #USMNT considering the length and severity of his injury.

— Jonathan Harding (@JonBloggs66) May 12, 2014
Tim Chandler has struggled in the second half, doesn't look 90 minutes fit. Not a total surprise given he recently returned from an injury.

— Ives Galarcep (@SoccerByIves) June 1, 2014
Bottom Line
Chandler is good enough to replace Jung at Frankfurt, which will be an escape route from playing in the 2. Bundesliga with Nuremberg.
Eintracht Frankfurt have signed Makoto Hasebe from Nürnberg. #SGE are also closing in on Timothy Chandler (via #SSN)

— DW - Sports (@dw_sports) June 2, 2014
While Chandler is handy in the attacking half, he has to tighten up his defending.
Three years ago, he was a legitimate transfer target for Roma.
"Chandler has outstanding physical and technical ability," then-Roma owner Thomas DiBenedetto said, per Raphael Honigstein at Sports Illustrated. "He'll never get tired running up and down his flank."
You can envision Chandler being on the books of a major club if he can be more dependable at the back.
Statistics via WhoScored.com.