People love rematches in sports, as they provide obvious storylines and clear objectives. Can the winner come out on top again? Can the loser break through and claim revenge? Rematches between two of the best teams in any sport are always exciting, especially when they are fighting for a championship. But such occurrences are rare.
Fortunately for the NBA and its fans, basketball lovers everywhere will get the opportunity to watch a rematch of two incredible teams on the league's largest stage when the San Antonio Spurs take on the Miami Heat in the 2014 NBA Finals.
Who will win the 2014 NBA Finals?
Last year, the Heat used some late-game heroics to win Game 6 and then went on to win Game 7 to claim their second championship in as many years.
The Spurs begin their quest to avenge their demoralizing championship defeat with Game 1 in San Antonio on Thursday, June 5 at 9 p.m. ET on ABC. The team was five seconds, a few missed free throws and a rebound away from the elation only a championship can bring. Instead, the Spurs were left wondering what could have been while watching the Heat hoist the Larry O'Brien Trophy.
Just how rare is a rematch in the NBA Finals? It hasn't occurred in 16 years:
First Finals rematch (two consecutive years) since 1998. And with how good last year's series was, it's a great time for it.

— John Schuhmann (@johnschuhmann) June 1, 2014
The second time around, heading into Game 1, the goals are simple: The Heat will attempt to become the first team to achieve a three-peat since the Los Angeles Lakers in 2002, while the Spurs hope to claim the organization's fifth championship since 1999 but first since 2007.
The location of Game 1 bodes well for San Antonio. Unlike a year ago, the Spurs have home-court advantage. They have been nothing short of dominant on their home floor, blowing out opponents and winning their last seven games by at least 17 points.
Heat (8-0) & Spurs (9-1) are a combined 17-1 at home in the playoffs, both scoring over 116 pp100p: http://t.co/142sPTmMH1

— John Schuhmann (@johnschuhmann) June 1, 2014
Over the last two postseasons, the Spurs are 7-0 in Game 1s. The only series they didn't win after claiming a Game 1 victory was against the Heat in the Finals last season. Getting off to an early 1-0 series lead seems to be more important for San Antonio than Miami. The Heat are just 3-4 in Game 1s over the last year but have not lost a playoff series.
A Game 1 Spurs victory would not only give them an early series lead but would also restore the confidence lost during Games 6 and 7 of last year. If the Heat win, they will have won three consecutive playoff games against San Antonio, and doubt could creep in for the Spurs. Pairing confidence with talent and execution can make for a devastating combination.
Tony Parker, the Spurs' point guard and floor general, sprained his ankle during Game 4 of the Western Conference Finals but tried to play on it for the rest of series against the Thunder. However, the injury worsened, and he was forced to miss the second half of Game 6.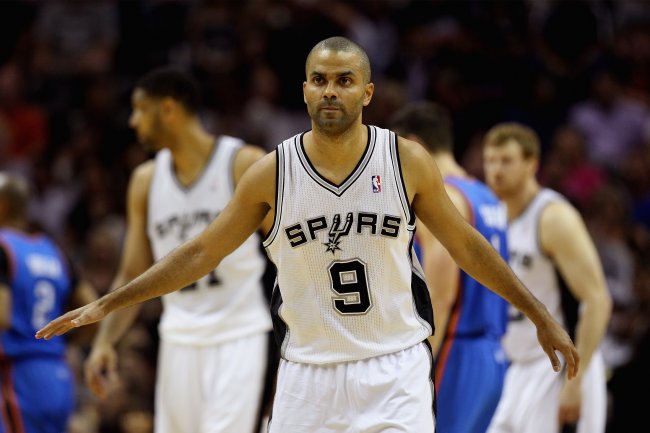 Ronald Martinez/Getty Images
However, Yahoo! Sports' Adrian Wojnarowski says Parker "should be ready" to play by Thursday for Game 1. Parker is an invaluable asset to the Spurs, averaging 17.8 points and five assists during San Antonio's playoff run. He will need to perform at a high level for the Spurs to win the championship, as his ability to get into the lane and finish or kick out to the team's many long-range shooters is vital to San Antonio's success.
Prediction
With a healthy-enough Parker expected to play, their incredible home dominance and the extra motivation of losing a title they thought they had, I expect the Spurs to come out blazing on Thursday night and take a convincing 1-0 series lead.
Prediction: Spurs 107, Heat 98
Follow Jesse Clark on Twitter: