Could Stuttgart full-back Gotoku Sakai be the latest Japanese footballer to be given a chance by Arsenal manager Arsene Wenger?
To cover that hypothetical, here is a scouting report on Sakai, a 23-year-old Japanese international.
High five! @VfB Stuttgart's Gotoku Sakai greets fans at Japan's World Cup send-off rally in Tokyo pic.twitter.com/3Ykd1apwWF

— Bundesliga (@Bundesliga_EN) May 26, 2014
Positives
Sakai is a 5'9", 163-pound full-back who can interchange between right-back and left-back.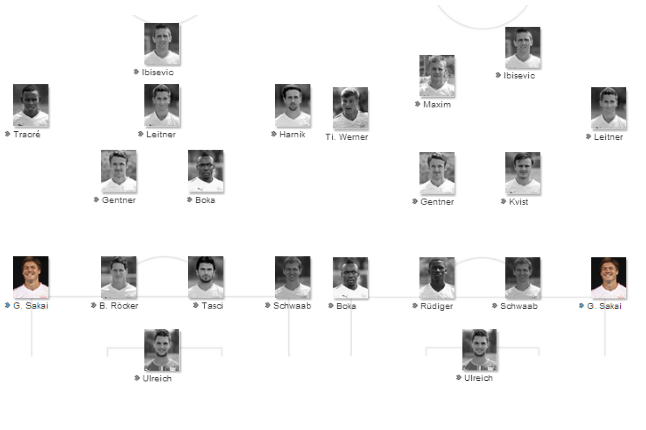 Source: Kicker.de.
Sakai is industrious, can make explosive plays and possesses considerable athleticism, such as when he jumped high in the air to make a headed clearance against Hoffenheim.
Going forward, Sakai is dashing, consistently uses his two-footedness to his advantage and is always keen to make the decisive play of the game.
In a one-on-one against Schalke centre-back Kaan Ayhan, Sakai feigned to cut inside, which opened a gap on the outside when Ayhan attempted a tackle.
Sakai ran around Ayhan, dragged Schalke goalkeeper Ralf Fahrmann out and set up Stuttgart left attacking midfielder Martin Harnik for an easy finish.
Against Augsburg, Sakai stole the ball from Augsburg left-back Matthias Ostrzolek, cut inside and forced 'keeper Marwin Hitz into a diving save.
Sakai accelerated past two Werder Bremen players and shot, which deflected off Werder centre-back Assani Lukimya's hand.
The determination Sakai displayed won Stuttgart a penalty.
In another play, Sakai left Werder left-back Luca Caldirola flat-footed and caused Lukimya to trip over himself.
Sakai is great as an overlapping full-back.
This is why his dribbling success percentage (73), per Squawka.com, is 30 percent higher than Arsenal left-back Kieran Gibbs (43), per Squawka.com.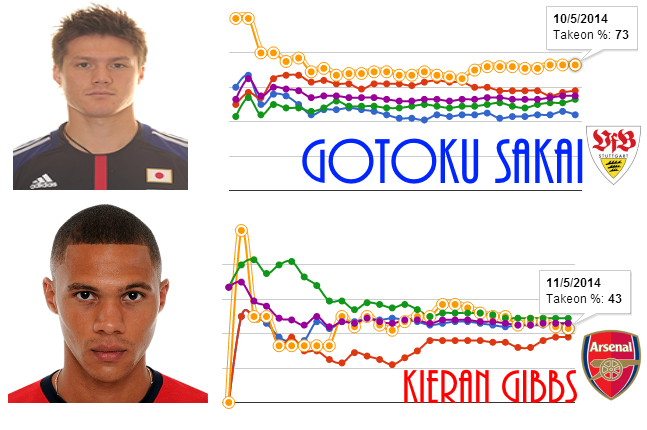 Source: Squawka.com.
While not the most secure defensive full-back in the Bundesliga, Sakai only conceded 0.9 free-kicks per game.
He flashed defensive stoutness with six interceptions against Hannover, per Squawka.com, and five interceptions against Bayern Munich, per Squawka.com.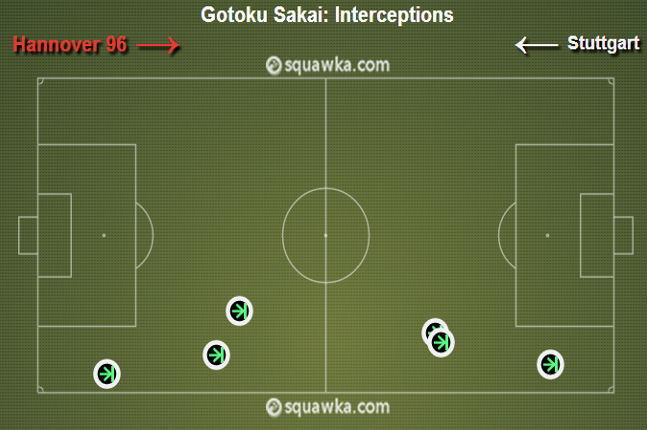 Source: Squawka.com.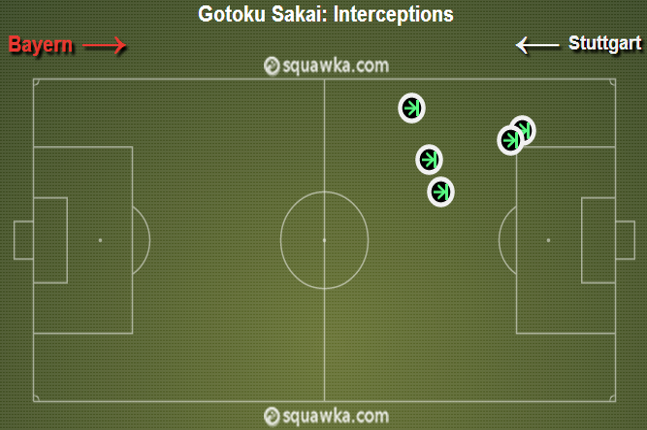 Source: Squawka.com.
Negatives
Sakai has not lived up to expectations.
"We'll give him [Sakai] the time he needs to settle in the Bundesliga," Stuttgart sporting director Fredi Bobic said, per Stuttgart's official website. "I'm sure he can become a very valuable player for VfB [Stuttgart]."
Two years and five months later, Sakai still defends as if he is a rookie.
The statute of limitations in using the excuse "give him the time he needs to settle" is well past its expiry date.
With 19-year-old defensive midfielder Carlos Gruezo's seamless transition from Ecuadorian to German football, you wonder why Sakai is still struggling.
Ecuadorian talent Carlos Gruezo gets the No. 11 jersey for Stuttgart from Mr. Bobic himself. No pressure. pic.twitter.com/Jv16HHiuQy

— Cristian Nyari (@Cnyari) January 31, 2014
Sakai keeps on making the same naive mistakes at the back.
He was out of position when Werder Bremen central midfielder Zlatko Junuzovic burst forward.
Sakai was ball-watching which gave Hamburg right attacking midfielder Maximilian Beister a head start.
When Sakai attempted a clearance, he inadvertently diverted the ball into the direction of Wolfsburg left attacking midfielder Ivan Perisic.
Sakai was slow to close down Bayer Leverkusen utility player Gonzalo Castro when he shaped up to shoot.
Instead of covering then Borussia Dortmund (now Bayern) centre-forward Robert Lewandowski, Sakai hesitated and inexplicably failed to clear the ball, which fell conveniently to Lewandowski.
In another play against Dortmund, Sakai forgot to mark Lewandowski.
When you factor in Sakai's relatively simple passing style, he needs to increase his pass completion percentage from 79.2 into the high 80s.
He should not be turning the ball over with careless passes, as evident against Mainz.
Bottom Line
Coaching in Japan gave Wenger a different perspective on football.
"Perhaps it was a bit crazy of me at the time to decide to go [to coach Nagoya Grampus], but I'm thankful for that moment of craziness," Wenger said, per Chris Harris at Arsenal's official website. "It was absolutely a deep, profound and very, very positive experience."
Nagoya Grampus v Arsenal pic.twitter.com/WpwM1sdFte

— gooner (@Lagvilava7) July 19, 2013
Having managed in Japan, Wenger gave Junichi Inamoto and Ryo Miyaichi a chance at Arsenal.
Neither had European experience prior to signing with Arsenal, whereas Sakai has played 69 Bundesliga games over three seasons.
Yes, his defensive flaws are a big concern.
However, Sakai is two-footed, can play on either flank and is only 23 years old, so he is worth a punt.
Statistics via WhoScored.com