Gary Bettman's dreams have come true. The NHL will get two of the biggest media markets in the country in the Stanley Cup Final after the Los Angeles Kings knocked off the Chicago Blackhawks, 5-4, in overtime on Sunday night in Game 7 of the Western Conference Final.
The Kings came back from down 2-0 in the first period and 4-3 heading into the third to pull through and make their second Stanley Cup Final in three years.
This is the first trip to the final for the Rangers since the days of Mark Messier and Mike Keenan, and what days those were.
Of course, this is about more than lifting Lord Stanley's Cup, as Grantland's Bill Barnwell joked:
The NHL Finals: Which group of people who moved to a city and pretended they've been from there forever will prevail

— Bill Barnwell (@billbarnwell) June 2, 2014
With the way that this year's playoffs have unfolded, fans should clear their schedules for the next few weeks, because this series is bound to produce plenty of must-watch moments.
2014 Stanley Cup Final Schedule

| | | | | |
| --- | --- | --- | --- | --- |
| Game | Date | Away | Home | TV Info |
| 1 | June 4 | Rangers | Kings | NBC |
| 2 | June 7 | Rangers | Kings | NBC |
| 3 | June 9 | Kings | Rangers | NBCSN |
| 4 | June 11 | Kings | Rangers | NBCSN |
| 5* | June 13 | Rangers | Kings | NBC |
| 6* | June 16 | Kings | Rangers | NBC |
| 7* | June 18 | Rangers | Kings | NBC |
NHL.com
Predictions
Home-Ice Advantage Won't Matter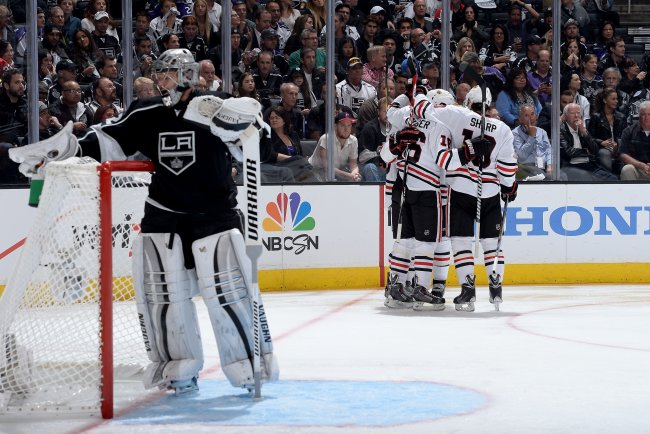 Andrew D. Bernstein/Getty Images
So far this postseason, home-ice advantage has had little effect on either team. As much as the players want to praise the atmospheres of their home arenas, that has had little bearing on how the series have unfolded:
I can't believe how good the road teams have been in the NHL playoffs. So much for home ice advantage. #NHL #hockey

— Mark Jones (@hoopsfan2744) June 2, 2014
The Rangers lost once to the Philadelphia Flyers, twice to the Pittsburgh Penguins and once to the Montreal Canadiens in Madison Square Garden.
Inside the Staples Center, Los Angeles dropped one game to the San Jose Sharks, two to the Anaheim Ducks and what could've been a decisive Game 6 to the Blackhawks.
In addition, both teams have shown they can enter hostile territory in massive situations and walk away with a win. How many people thought L.A. could go into the United Center and knock off the defending Stanley Cup champions?
Since the Kings have home-ice advantage for the Stanley Cup Final, you'd think they have the edge. In truth, though, it probably will play a small role in how the series unfolds.
Goaltending Will Decide the Series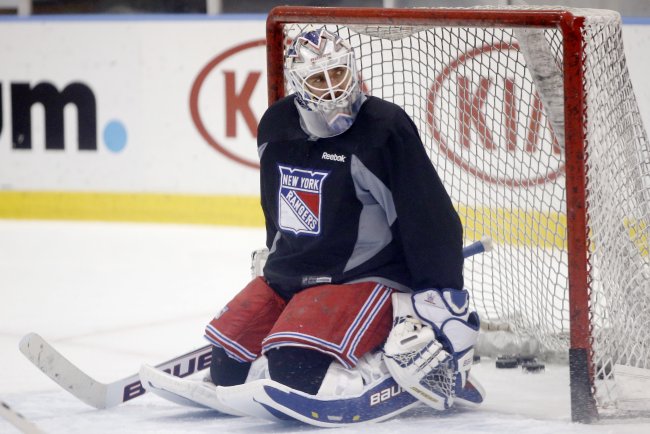 Kathy Willens/Associated Press
Will Jonathan Quick lose this series for the Kings, or will Henrik Lundqvist win it for the Rangers? In a way, that's what this series boils down to.
There aren't enough superlatives to describe Lundqvist this postseason. Each and every time the Rangers have needed him to step up, he has.
Holding the Pittsburgh Penguins to three combined goals over the final three games of the conference semifinal? No problem. Shutting out the Montreal Canadiens in the Eastern Conference Final series-clincher? Done.
Rangers advance to Stanley Cup Final! Henrik Lundqvist shuts out Montreal, 1-0. NYR 1st Stanley Cup berth since '94. pic.twitter.com/Tox9gdDUht

— SportsCenter (@SportsCenter) May 30, 2014
The Rangers defense as a whole deserves credit, but the goaltender has been the lynchpin of that strong unit.
"Nothing surprises me with Henrik," Derek Stepan said after New York's Game 6 victory, per USA Today's Josh Thomson. "He was unbelievable. He was Henrik again."
That was the 42nd postseason win in Lundqvist's career, which is the most in Rangers history, per NHL Public Relations:
Henrik Lundqvist is now the @NYRangers all-time leader in playoff wins (42), one ahead of Mike Richter. #StanleyCup pic.twitter.com/WRcuuQvwXg

— NHL Public Relations (@PR_NHL) May 30, 2014
Hot goaltenders can often decide series. Tim Thomas and Quick both won the Conn Smythe Trophy en route to a Stanley Cup title. Look how far the Ducks went in 2003 with Jean-Sebastien Giguere. Lundqvist could add his name to that exclusive list.
On the other side, Quick has proven his worth before at this stage in the season, but his more recent performances suggest a kind of shakiness that could doom the Kings.
In his preview for the Final, ESPN.com's Pierre LeBrun identified the veteran goaltender as Los Angeles' biggest weakness:
I can't believe I'm even writing that but the truth must be said here: While Quick has stepped up in big games this spring, he has been lit up at times and his numbers show it. The reality is, the Rangers' biggest advantage entering the Stanley Cup playoffs is that King Henrik has had a more consistent and impressive postseason. Lundqvist leads all playoff goalies in save percentage and he's clearly New York's best shot at stealing this series.
Lundqvist owns the advantage in both goals-against average (2.03 vs. 2.86) and save percentage (.928 vs. .906) so far this postseason.
Quick doesn't have to stand on his head, because the Kings have such a lethal attack. But he can't have the kind of silly mistakes that have dotted his playoffs so far:
jonathan quick's tactic of making himself as small as possible turns out to be an awful strategy for a goaltender

— Bill Hanstock (@sundownmotel) June 2, 2014
The Kings have few flaws in their team. Man-for-man, they're the better side in the Stanley Cup Final.
One of their biggest issues, relatively speaking, is at goaltender. This is where New York truly owns a fairly significant advantage on Los Angeles. Therefore, the Rangers can't afford to let this series turn into a shootout, otherwise, they're negating one of the biggest factors in their favor.
If the Rangers can keep the scoring low, and if Lundqvist remains in his imperious form, he'll serve as the great equalizer in the final.
Final Prediction
Fatigue may become an issue for the Kings. They've had three straight series go to seven games. Sooner or later, that's bound to weigh on a team mentally and physically.
It will be important for L.A. to at least jump out to an early advantage. If it falls down 2-0 or 3-1, it may not have enough left in the tank to make a comeback.
What the Kings have going for them is their stable of attacking talent. The Rangers have no answer offensively for the trio of Marian Gaborik, Jeff Carter and Anze Kopitar. As if that's not enough, even 22-year-old Tyler Toffoli has become a fixture in Los Angeles' offense:
Tyler Toffoli now holds @LAKings rookie record for goals (7) & points (13, tying D. Evans & W. Rychel) in a single postseason. #StanleyCup

— NHL Public Relations (@PR_NHL) June 2, 2014
Lundqvist will do his best to keep the Rangers in the series, but eventually, he's bound to have a hiccup or two, and when that happens, the Kings will go in for the kill.
Prediction: Kings in 6