On June 7, the attention of the entire sports world will shift from the NBA Finals and World Cup preparation to the horse track as California Chrome attempts to become the first competitor since Affirmed did so in 1978 to win the Triple Crown.
California Chrome is on an absolute tear after winning the Kentucky Derby and the Preakness with incredible closing stretches, and whether he can complete the triumvirate or not will define the 2014 Belmont.
Sure, there are plenty of other talented horses in the field that will likely challenge for the Belmont crown, but even a victory from another horse will be framed in the specter of California Chrome losing.
Don't overlook Ride On Curlin, who finished in second place at the Preakness. He is one of the strongest horses in the field and will have multiple Belmont Stakes winner John Velazquez as his jockey. Velazquez guided Rags to Riches to the Belmont title in 2007 and Union Rags to the same title in 2012, so there is a familiarity with what this race takes as well.
Then there is the matter of Commanding Curve, who finished second at Churchill Downs and didn't even run in the Preakness. That means he is theoretically fresher than California Chrome heading into the daunting mile-and-a-half Belmont race.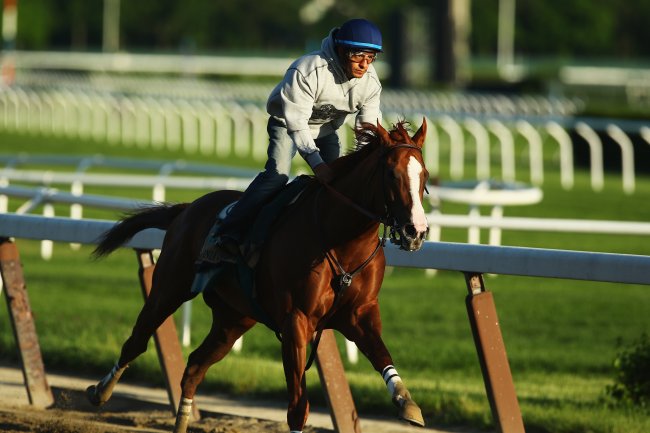 Al Bello/Getty Images
So what about that fatigue factor?
What is most concerning for California Chrome's Triple Crown chances?
California Chrome has competed in 12 races without a break longer than 57 days since his debut in April of 2013. The schedule has been even more grueling during California Chrome's six-race winning streak, where he has run an average of one race every 25 days.
Throw in the fact that he has literally traversed the country from West Coast to East Coast being from California and competing in the Belmont in New York, and the question now is whether he will have enough left over in the tank to actually win the Triple Crown.
Still, there's something different about this horse.
Veterinarian Shim Liberman discussed as much after the Preakness win, via Tim Layden of Sports Illustrated:
What you usually see in a race-horse is that their nostrils are flaring, their breathing is labored, their hearts are pounding. They're just very unruly. There was a dramatic difference with California Chrome. I didn't put a stethoscope on him, but he had clearly recovered very quickly from the race. He's obviously had some very good training, because he was so normal.

He has reportedly looked excellent during that training, via Mike Welsch of the Daily Racing Form:
California Chrome looks super in final Belmont prep cruises 4F in :47.47 with monster gallop out, :59.59, 1:12.76, 1:26.34 up mile 1:40.92

— Mike Welsch (@DRFWelsch) May 31, 2014
That training will certainly be critical at the Belmont, but chemistry with his jockey helps as well.
California Chrome is a perfect six-for-six with Victor Espinoza, and the runs at the Kentucky Derby and Preakness were nearly perfect. The breaks have been clean, Espinoza has shifted California Chrome into favorable position in the middle stretches and the closing speed is well documented.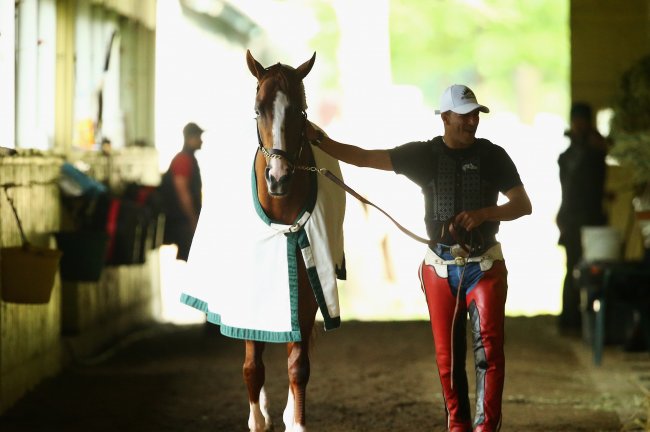 Al Bello/Getty Images
Yes, fatigue will play a factor in this race, as will a couple of strong competitors, but there is no reason to expect anything else but another victory from California Chrome.
He has already beaten the top competitors on the premier stages of the sport before, and he looks more like a machine than a horse with Espinoza leading the way. Look for Espinoza to hold back the reins a bit during the start and middle portion of the race because this is the longest of the three Triple Crown legs.
Then, California Chrome will turn on the jets during the lengthy homestretch and capture the well-deserved Triple Crown.
Follow me on Twitter: