The Big 12's Top Five Quarterbacks for 2009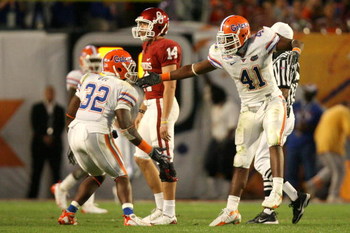 In 2008, the Big 12 had a great season when it comes to offensive output. These offenses were led by some very good quarterbacks that will not be back in 2009, like Graham Harrell and Chase Daniel.
How will the Big 12 quarterback situation look in 2009? There are going to be some very good ones. So here are the top 5.
5. Robert Griffin - Baylor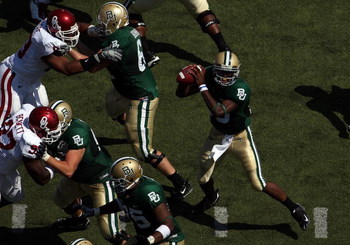 Profile:
Class: Sophomore
Height: 6-3
Weight: 210
Entering his second season at Baylor, Robert Griffin was the youngest starting quarterback in 2008. He brings a lot of speed and elusiveness to the game.
In 2008, Griffin compiled 2,091 yards on just 160 completions. He completed the season with a 59.93 completion percentage and a 142.00 passing efficiency, throwing 15 touchdowns to three interceptions.
He also ran the ball 173 times for 843 yards and 13 touchdowns.
If he can continue to improve these stats as the older he gets, Griffin will definitely move up this list, as well as national lists.
4. Todd Reesing - Kansas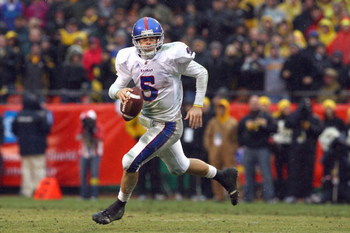 Profile:
Class: Senior
Height: 5-11
Weight: 200
Todd Reesing is entering his third season as the Jayhawk starter in 2009.
In his previous two seasons, Todd Reesing has thrown 965 passes, completing 619 of them. He has also thrown for 7,578 yards with 68 touchdowns to just 23 interceptions.
He has also rushed for 527 yards on 231 carries and nine touchdowns.
His Senior leadership and experience lands him at the No. 4 spot on this list and rightfully so.
3. Zac Robinson - Oklahoma State
Profile:
Class: Senior
Height: 6-3
Weight: 218
Zac Robinson is entering his third year as the starting quarterback for the Oklahoma State Cowboys.
In his brilliant career, Robinson has complied an impressive resume. He has thrown the ball 698 times, completing 430 of those passes for 6,233 yards, 51 touchdowns, and 19 interceptions.
He is also a very mobile quarterback if you do not respect his abilities. In his career as a rusher, he has rushed the ball 315 times for 1,553 yards and 18 touchdowns.
He has earned his spot in the top 3 for good reason. With him leading the way, Oklahoma State fans have reason to be optimistic.
2. Colt McCoy - Texas
Profile:
Class: Senior
Height: 6-3
Weight: 205
Entering his fourth year starting for the Longhorns, Colt McCoy is mentioned among the best in the nation when talking about quarterbacks.
In his career, McCoy has thrown for 9,732 yards, 85 touchdowns with just 33 interceptions. He has rushed for 1,223 yards on 318 attempts with 17 touchdowns.
In 2008, McCoy finished a very close second in the Heisman Trophy balloting. In his first season, he set the freshman touchdown record.
1. Sam Bradford - Oklahoma
Profile:
Class: Junior
Height: 6-4
Weight: 223
Sam Bradford is entering his third year as the starting quarterback at Oklahoma, as the reigning Heisman Trophy winner.
In his freshman season, Bradford set the NCAA record for most touchdowns thrown by a freshman quarterback, which was set the season before by Colt McCoy of Texas.
In his career, Bradford has thrown the ball 824 times, completing 565 of them. He has thrown 86 touchdowns to only 16 interceptions and rushed for 5 touchdowns.
The previous two seasons, Bradford finished the season as No. 1 in passing efficiency. He is also rewriting the Oklahoma Sooner record books.
Keep Reading