June has finally arrived, and California Chrome remains the talk of the town as the 2014 Belmont Stakes draws near. After winning the Kentucky Derby and Preakness Stakes, California Chrome's bid to capture the elusive Triple Crown is alive and well, though no horse has accomplished the feat since Affirmed did so in 1978.
Yes, that would be a 36-year drought.
So, does California Chrome have what it takes to be the first Triple Crown winner in many of our lifetimes?
Absolutely. But it won't be easy.
Let's take a look at a few horses capable of dashing those dreams when they take the track at Belmont Park June 7.
Commanding Curve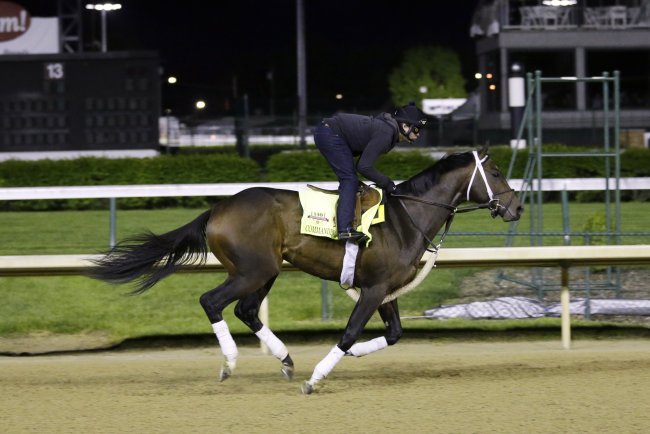 Morry Gash/Associated Press
This horse wasn't exactly a favorite in the Kentucky Derby. In fact, Commanding Curve entered the race at 50-1 odds.
He broke nicely out of the gate at Churchill Downs; however, starting far out wide in the No. 17 gate, he settled in at the rear of the pack to avoid the congestion up front.
Throughout the majority of the race, Commanding Curve maintained his pace and remained fresh heading to the far turn. Almost out of nowhere, he dashed through the pack, heading four-wide before finding himself in second place down the final stretch. He was one of the few horses capable of gaining ground on California Chrome in the waning yards of the race.
Take another look at the Kentucky Derby and keep a close eye on No. 17:
With great endurance and closing speed, expect Commanding Curve to be a big factor in the 1 1/2-mile Belmont Stakes.
Mike Welsch of Daily Racing Form tweeted his impression of Commanding Curve during the horse's Belmont workouts:
Commanding Curve certainly looks fit and ready for Belmont gallops impressive 2 3/8 miles the last 1/2 mile stronger than the first.

— Mike Welsch (@DRFWelsch) May 30, 2014
Wicked Strong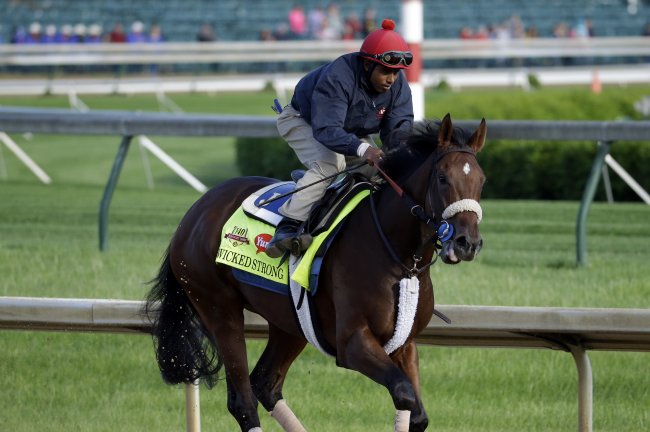 Morry Gash/Associated Press
Wicked Strong has a similar story to that of Commanding Curve. This is a horse capable of maintaining a steady pace throughout the race while utilizing his endurance to be a threat down the final furlong.
One of the best closers to compete at Belmont Park, Wicked Strong has a viable chance to win it all should he obtain a better starting position than his unfortunate No. 20 post at the Kentucky Derby,
He got a nice break out of the gate at Churchill Downs, but after starting so wide, he was forced to take the first turn extremely wide, lengthening the race. He made up some ground during the backstretch but simply had too much ground to make up to threaten the front of the pack.
Here's a look at Wicked Strong breezing along during his workout at Belmont:
This horse is certainly one that could benefit from the longer race at Belmont Park.
Ride On Curlin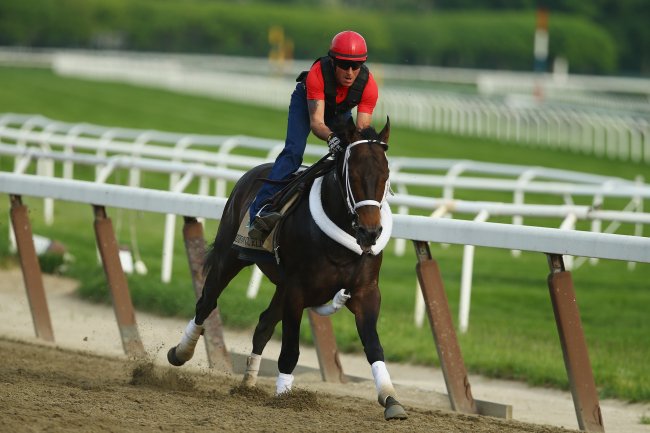 Al Bello/Getty Images
Ride On Curlin was very impressive in the Preakness Stakes. Starting out wide in the No. 10 gate, he quickly broke to the inside and settled in behind the lead pack. He maintained his speed despite the blistering pace set by the lead horses.
Smartly, he hugged the rail heading into the far turn, saving endurance for a run down the backstretch. He then made his move, going three-wide around the turn and quickly gaining ground on California Chrome.
With about 200 yards left, California Chrome and Ride On Curlin had distanced themselves from the pack. Both horses looked fantastic down the final stretch, as neither was able to pull away. Ride On Curlin hung in there and finished 1 1/2 lengths back from California Chrome. With a more fortunate post position, it's easy to speculate that the race could have turned out differently for Ride On Curlin.
Take a look at his sparkling performance at the Preakness Stakes:
This is yet another horse with great closing speed—possibly one of the greatest attributes heading into a longer race.
Here's a look at Ride On Curlin's gallop during his workouts at Belmont Park, courtesy of a tweet form NYRA:
[Video] Preakness runner-up Ride On Curlin turned in a strong gallop this morning over the Belmont Park main track http://t.co/Vz2xWdD8Xo

— NYRA (@TheNYRA) May 27, 2014
Ride On Curlin will give California Chrome a run for his money.
Of course, this race is highly unpredictable—if it weren't, we'd all be millionaires by now. Plenty will change in the days leading up to the race, as post positions are drawn and odds are set. For now, these horses appear to be California Chrome's biggest threats to the Triple Crown.