In perhaps the wildest and most unpredictable match of the 2014 French Open thus far, Andy Murray beat Philipp Kohlschreiber 3-6, 6-3, 6-3, 4-6, 12-10 to advance to the fourth round at Roland Garros.
Murray and Kohlschreiber pushed each other to the brink Saturday, so much so that the match was suspended due to darkness and had to be completed Sunday.
Murray entered the match as a fairly substantial favorite, but he was well aware of his previous issues against Kohlschreiber on clay, per ATPWorldTour.com:

It will be a very tough match for me. I played him once before on clay and I think I got three games. It will be very tough. He obviously won the tournament (in Dusseldorf) last week. He's not dropped a set here, I don't think. He's a very good player.
Although Murray, 27, owned a 1-1 career record against the 30-year-old German prior to Saturday's encounter, their one meeting on clay was one-sided in favor of Kohlschreiber. The underdog won that match with ease at the 2010 Monte-Carlo Masters (6-2, 6-1), but there was nothing easy for either man in this encounter.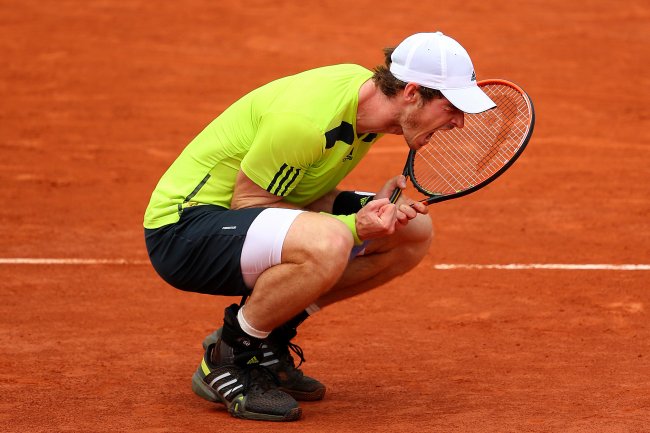 Clive Brunskill/Getty Images
Murray jumped out to an early advantage as he held serve twice and broke Kohlschreiber to take a 3-1 lead. The Brit seemed well on his way to a routine first-set win, but the scrappy Kohlschreiber was unwilling to go down without a fight.
Kohlschreiber turned the tables in his favor by securing a hold and then breaking back against a suddenly struggling Murray, notes BBC Tennis:
Kohlschreiber levels. 3-all. Murray not looking comfortable. http://t.co/Wg8hH3neOy

— BBC Tennis (@bbctennis) May 31, 2014
Murray's issues continued in the ensuing games as Kohlschreiber began to take full control of the match. Following a hold of serve, he broke Murray once again fairly easily, which caused the favorite to grow increasingly frustrated, per Neil Harman of The Times:
Right beneath us, Murray going through major angst as he drops serve. 5-3 Kohly.

— Neil Harman (@NeilHarmanTimes) May 31, 2014
As pointed out by Miguel Seabra of Eurosport, Murray was largely his own worst enemy, as he made constant errors throughout the latter part of the set:
The Murray forehand is breaking a bit; many unforced errors, including several crosscourt. And I remember Lendl, who was his forehand healer

— Miguel Seabra (@MiguelSeabra) May 31, 2014
Kohlschreiber put himself in position to serve out the set, and while Murray did manage to push him to deuce, Kohlschreiber refused to be denied. Aided by Murray's nine unforced errors and inability to get first serves in, the German veteran took the first set 6-3.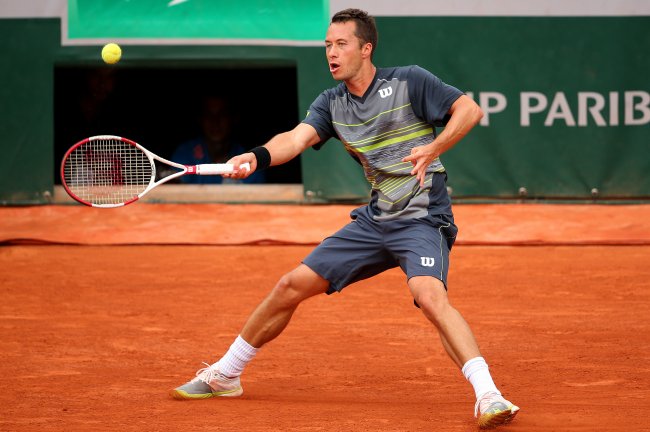 Clive Brunskill/Getty Images
Murray has a well-documented history of back problems, so there were inevitably some questions about his health after such a poor first set.
As seen in this photo courtesy of ESPN Tennis, Murray appeared to be favoring his back at times:
Is Murray's back bothering him? He pulled up rather than pursue this shot late in the first set. #RG14 #ESPNTennis pic.twitter.com/6pq6CjynqG

— ESPNTennis (@ESPNTennis) May 31, 2014
Murray looked lost as the first set came to a close, but he was able to put it behind him. Rather than dwelling on what went wrong in the first, Murray came out aggressively in an effort to level the match.
He sandwiched a break of Kohlschreiber's serve between two holds to take a commanding 3-0 lead, but he quickly gave back two games thereafter. Murray once again had nobody to blame but himself as a double fault gifted a break to Kohlschreiber, notes Dan King of The Sun:
Double fault from Murray and it's back on serve. This felt like a tricky one and so it's proving.

— Dan King (@DanKing_1974) May 31, 2014
Despite losing the momentum he built for himself and squandering a couple of break points to boot, Murray willed his way to a break of Kohlschreiber's ensuing serve to take a 4-2 lead:
But Murray takes his third break point and will serve at 4-2 in the second set.

— Dan King (@DanKing_1974) May 31, 2014
Murray and Kohlschreiber exchanged holds, which gave Murray an opportunity to serve for the set at 5-3. He made sure to not squander that chance as he dominated the service game and evened the match when Kohlschreiber failed to return a well-placed serve.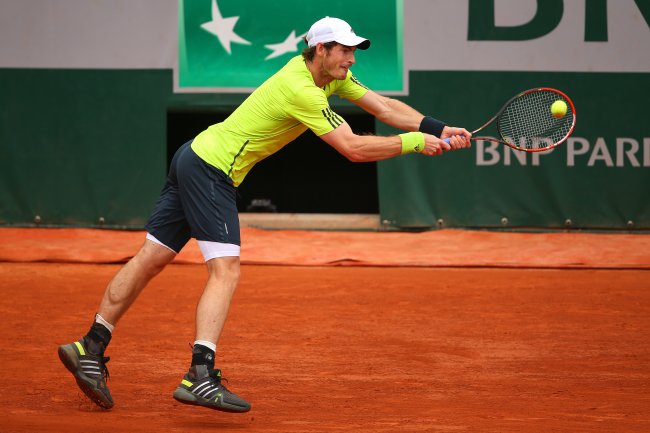 Clive Brunskill/Getty Images
While Murray certainly played much better in the second set, there were still a couple of concerning moments. He held his back in the first set, but his leg appeared to be bothering him in the second:
Murray still doing a lot of hopping on right leg. The left almost buckled under that serve.

— Neil Harman (@NeilHarmanTimes) May 31, 2014
It became even more obvious early in the third set as Murray came up lame and grabbed his hip area during Kohlschreiber's hold of serve.
Despite Murray's apparent discomfort, it didn't seem to hinder him much in the following games. He and Kohlschreiber held twice apiece to open the third set before Murray drew first blood by breaking his opponent after a spirited rally, per Andrew Burton of Tennis World:
Well earned break by Murray. Worked the rally, came in, finished with a volley winner.

— Andrew Burton (@burtonad) May 31, 2014
According to BBC's Russell Fuller, that seemed to ease concerns about Murray's condition:
Concerns about Murray's movement alleviated in last half an hour as he levels v Kohlschreiber at 1 set all & breaks for a 32 lead in 3rd

— Russell Fuller (@russellcfuller) May 31, 2014
Murray never relinquished that advantage as he added another break and took the set 6-3. The tide had clearly turned in the wake of the first set, and BBC's Piers Newbery believed Murray had taken clear control of the match:
Murray up 3-6 6-3 6-3, serve starting to click as the sun sinks lower, could get this done in 4 tonight maybe not 5 - http://t.co/9ZACU0AjFl

— Piers Newbery (@piersnewbery) May 31, 2014
The confidence gained by Murray in the third set spilled over into the fourth as he raced out to a 3-0 lead. He has a penchant for making things interesting, though, and that was the case once again as Kohlschreiber scratched out a break and gave himself a chance to even the score:
Murray broken. Concedes the advantage again. 3-2 but back on serve. http://t.co/Wg8hH3neOy

— BBC Tennis (@bbctennis) May 31, 2014
Murray's volatility was on full display from that point forward. He broke back to make it 4-2, but he fell apart when he had an opportunity to extend the lead to a nearly insurmountable level. He squandered a 30-0 lead on serve, which gave Kohlschreiber another chance to knot things up in the set.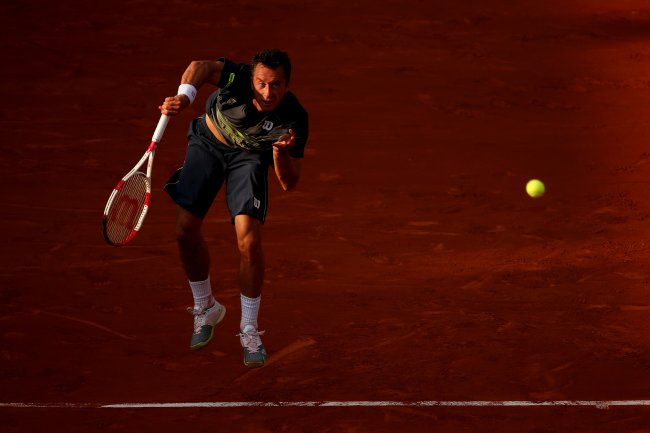 Clive Brunskill/Getty Images
Kevin Garside of The Independent was at a loss in terms of how to explain Murray's sudden issues on serve:
Amazing how a player of Murray's class can lose his service rhythm so spectacularly

— Kevin Garside (@GARSIDEK) May 31, 2014
Murray nearly broke Kohlschreiber again, but the resilient German fought back and held to make it 4-4, which put the pressure back on Murray to serve more effectively.
He once again held a 30-0 lead over Kohlschreiber, but perhaps he had flashbacks to his previous service game as the German rattled off four consecutive games and broke Murray again to come within one game of forcing a decisive fifth set.
Barry Flatman of the Sunday Times described the almost unthinkable breakdown that Murray experienced after seemingly having the set in hand:
Murray distracted to serve 2 DF's at 4-2 up & apparently in home straight. Now 4-5 down & facing going into the 5th. FOCUS!!! FOCUS!!!

— Barry Flatman (@Barry_FlatmanST) May 31, 2014
Murray looked demoralized by the turn of events, and he seemingly put no effort into Kohlschreiber's service game at 5-4 as the German held at love and made the match one set to a finish:
A very lame game. Kohly holds to love. Takes fourth set. Has momentum going into fifth. Murray's expression blank.

— Neil Harman (@NeilHarmanTimes) May 31, 2014
After Murray's nightmarish fourth set, Carole Bouchard of L'Equipe predicted it could be an ominous sign of things to come:
Murray has to be mad to see himself in a 5th set. Should be already under the shower. Could end bad...

— Carole Bouchard (@carole_bouchard) May 31, 2014
The unpredictable nature of the match continued right off the bat in the fifth set following a Murray hold as Kohlschreiber essentially handed the melancholy Brit a break with a pair of double faults.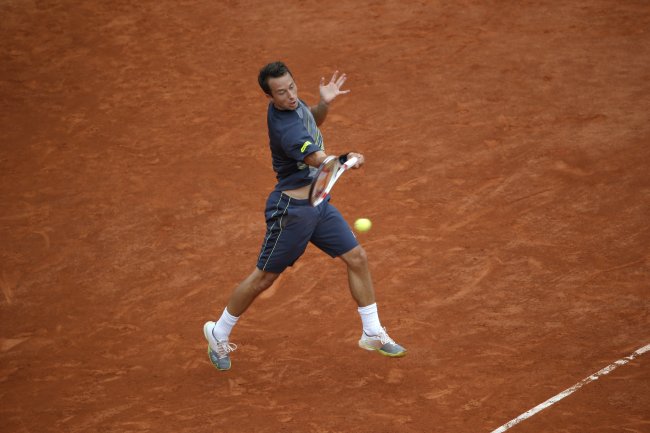 Michel Euler/Associated Press
That could have set the stage for Murray to dominate the fifth set, but things held true to form as he was broken yet again. His lead shrank to 2-1.
Murray's apparent leg issues continued to crop up as well, which put his ability to close out the match very much in question:
Incredible. PK breaks back. Murray once more clutches his left thigh. Slow motion replay makes it look pretty bad

— Dan King (@DanKing_1974) May 31, 2014
Kohlschreiber then held serve and continued his recent habit of breaking Murray to take a 3-2 lead with a chance to serve for a 4-2 advantage. With Murray unable to maintain any type of momentum, his hope seemed to be fading:
Murray in real trouble now. A break down in the decider at 32 and regularly clutching his left hamstring

— Russell Fuller (@russellcfuller) May 31, 2014
In keeping with the trend of nothing in this particular match having rhyme or reason, though, Murray reciprocated the break thanks largely to a gorgeous passing shot. He then consolidated it with a hold of serve at long last to regain the lead at 4-3.
Kohlschreiber tied things back up with a hold, at which point Murray called on a trainer to treat his ailing leg:
.Trainer Paul Ness on court to attend Murray's troublesome left hamstring.

— Barry Flatman (@Barry_FlatmanST) May 31, 2014
Even though neither Murray nor Kohlschreiber could hold serve to save their lives in previous games, they then went on a run of holds. Murray held to put the burden of staying in the match on Kohlschreiber's shoulders, but he held as well to make it 5-5.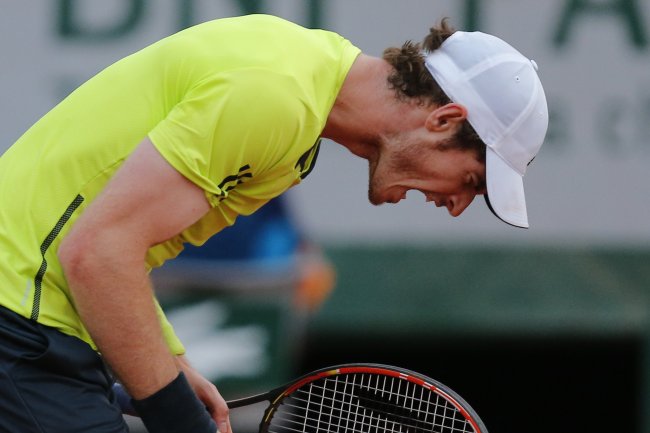 David Vincent/Associated Press
Murray held again to seize a 6-5 lead as a tricky Kohlschreiber drop shot went begging into the top of the net. Murray then gained the advantage early in Kohlschreiber's service game, but the underdog's never-say-die attitude led to another hold.
After that, it was determined that the match would be allowed to go for two more games before potentially being suspended for darkness:
Referee Brian Earley signals two more games on Lenglen as it's 6-all in the fifth between Murray and Kohlschreiber. #RG14 #ESPNTennis

— ESPNTennis (@ESPNTennis) May 31, 2014
Kohlschreiber gained a break-point opportunity with an absolutely spectacular passing shot while sliding behind the baseline, but Murray refused to be denied. He battled back and won the game with a perfect drop shot to set up a dramatic final game for the night.
Although Murray made it interesting, Kohlschreiber was able to hold, which meant that the match would have to be completed Sunday:
And play is complete for the day: #Kohlschreiber-#Murray tied at 7-all in the fifth. They'll continue tomorrow! #RG14

— Roland Garros (@rolandgarros) May 31, 2014
When the match resumed, so did the trading of serves until Murray pulled off the win. Murray moves on to face 24th-seeded Fernando Verdasco, who defeated Richard Gasquet in straight sets to match his career-best performance at Roland Garros.
Murray will again come in as a favorite. He's defeated Verdasco nine of the 11 times they've played previously, including last year at Wimbledon.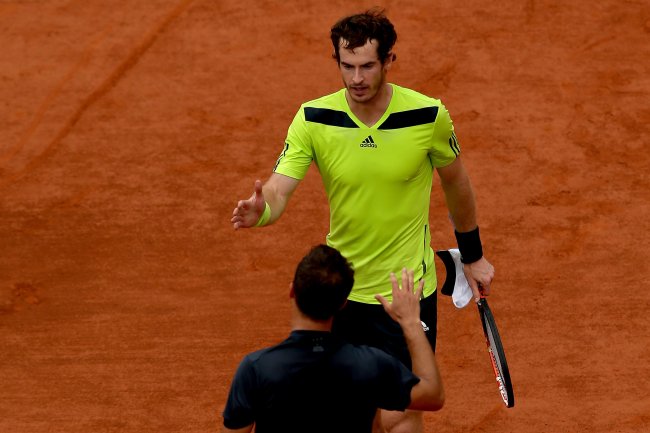 Matthew Stockman/Getty Images
It's worth noting that the Spaniard gave Murray all he could handle, taking him five sets in one of the biggest nail-biters of his run at the All England Club. Given he just went the distance against Kohlschreiber, it's a fate Murray would probably prefer to not repeat.
Then again, when it comes to major championships, it's a game of survive and advance. Murray did just that Sunday and still has a chance to earn his first Slam title on clay.
Follow @MikeChiari on Twitter