It doesn't get much better than this.
The last two Stanley Cup winners are going the distance, with only one able to move on for a chance to cement their status as a modern-day dynasty.
The Western Conference Final between the Chicago Blackhawks and Los Angeles Kings has been one of the most entertaining series in NHL playoff history. Its action might even make the Cup final moot to many hockey fans who have been feasting on the action in the Wild West.
A double-overtime decision in Game 5 to stave off early elimination; a late-comeback victory with frenzied action in the final seconds of Game 6 forcing one more showdown. The Blackhawks and Kings are headed back to the Chicago for a Game 7 to decide which team goes on to win—err...play for—the Stanley Cup against the resting Eastern Conference champion New York Rangers.
The best part of it all is you have a better chance at predicting the outcome by flipping a coin in best-of-seven fashion (with heads obviously representing the Blackhawks) than trying to guess who will come out on top of Sunday night's finale.
These two teams have been through it all in the playoffs before.
The Blackhawks trailed their opening series this spring 2-0 to the St. Louis Blues before rattling off four straight wins. They faced adversity against the Minnesota Wild in the second round after watching their 2-0 series lead disappear before finishing strong and winning in six.
The Kings were down 3-2 in their previous series against the Anaheim Ducks and finished with a victory on the road in Anaheim in Game 7. They were all but out of these playoffs in the first round, falling behind 3-0 to the San Jose Sharks and then winning all four of those elimination games that followed.
Sunday will be the Kings' third Game 7 this spring. The fact they're still breathing tells you how the others went.
Now all the Blackhawks have to do is beat the best Game 7 team in the history of forever. No biggie.

— Greg Wyshynski (@wyshynski) May 31, 2014
Drew Doughty: "We've been in this spot a few times and we know how to deal with it." #Blackhawks #LAKings

— Mark Lazerus (@MarkLazerus) May 31, 2014
The Blackhawks, meanwhile, are the ultimate closers.
In a combined 13 Game 5s, 6s and 7s over the past two playoffs, they're now a perfect 13-0.
No wonder they sounded so confident even after falling behind the Kings 3-1 in the series in Game 4. They seem to save their best for last.
"A lot of determination. We've got a good group in there with a lot of character. We've been in tough situations before. It's just a matter of believing and never really giving up," Hawks defenseman Duncan Keith told Cassie Campbell-Pascal on the CBC broadcast. "Now we've got a chance to finish it off."
In their favor?
Patrick Kane is playing at a Conn Smythe level in the last two games after being all but invisible early in the series. His emergence has given the Blackhawks two top lines that the Kings haven't been able to neutralize.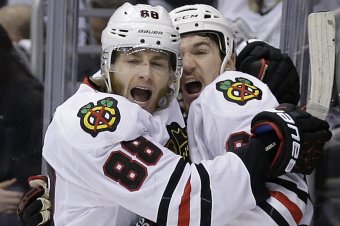 Chris Carlson/Associated Press
It came about when head coach Joel Quenneville put the struggling superstar with Andrew Shaw and Brandon Saad, creating a real dilemma for his counterpart Darryl Sutter.
Sutter now has to answer that coaching move.
Will he shorten his bench and get away from rolling four lines—a strategy that has served him well all spring and helped get the Kings to this point?
Will he find a new mix to his own lineup that will allow his Kings to keep both Jonathan Toews and Patrick Kane away from goaltender Jonathan Quick in Game 7? Drew Doughty can't possibly stay out there for each of their shifts.
How the west was won sets up to be an intensely dramatic finish.
These teams may be the deepest in the National Hockey League. The coaches might be the best in the postseason. The skill level is sky-high, and the speed and physical elements are equally evident.
Nobody wants this series to end. Not even the coaches, it seems.
"This is the 'Wow' factor in this series, especially the last two games," Quenneville said at the podium after the game, broadcast live on the NHL Network. "We have two competitive teams that have experience, have experienced players, experience in the situation. You know, it's been amazing. I mean, as good as it gets."
Breaking news: NHL's board of governors to hold emergency meeting to vote on decree to make LA-Chicago series a best-of-15.

— Ken Campbell (@THNKenCampbell) May 31, 2014
Can we have a repeat of this series in the Stanley Cup Final?

— Nicholas W. Goss (@NickGossNESN) May 31, 2014
I think they're going to be writing fan fiction and Choose Your Own Adventure books about this Kings/Hawks series for the next 50 years.

— Adam Proteau (@Proteautype) May 31, 2014
The good news is, we'll likely see plenty of this in the future.
As I've previously written, these two teams are the class of the Western Conference. The winner of this series gets the upper hand this spring, but there should be plenty more of these head-to-head battles for years to come.
Nothing would make hockey fans more happy.
"It's been a great series," said a typically brief Sutter in his postgame press conference broadcast live on the NHL Network. "Now it comes down to one game."
One heck of a game.
Steve Macfarlane has been covering the NHL for more than a decade, including seven seasons with the Calgary Sun. Follow him on Twitter @macfarlaneHKY.
All stats via NHL.com