The (Not So) Foreign Flavor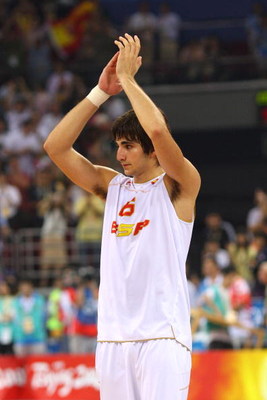 Ricky Rubio- Started for the Spainish National this summer at the age of 17. Was more amazing is that he made the team at 15. The last Spainard with this much potential was a young 7'0" swingman of a SF, barely 220 pounds, lanky man-boy Pau Gasol picked third to the Grizzles.
Yes, Gasol had changed, but he is an All-Star quality player, and this is what the T'Wovles hope for in Rubio. However, past years has shown that at least one foreign player picked in the lottery hasn't been up to par in expectations.
2008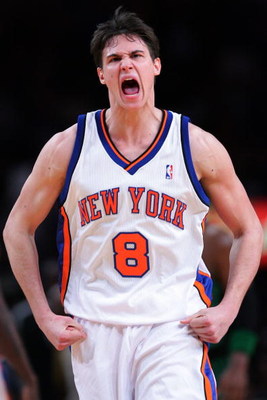 "And with the sixth pick in the NBA draft. The New York Knicks pick....DANILO GALLINARI?"

Knicks fan boo, once again in sure shock. Knicks select perhaps one of the biggest mistakes they ever made in the lottery.
Instead of going with the best pick available, the 19-year-old Indiana star, Eric Gordon, who was the top senior in the nation in high school (yes above O.J Mayo and Derrick Rose) the Knicks go with the soft Italian Danilo, even knowing how risky he would be.
If the Knicks say they were picking him on potenial. Lies. Gordon was 19 as well as Danilo, but Gordon proved in college he can play as the main man.
The Knicks were hoping that the Italian stud would be like Manu Ginobli, a off-the-bench star. Instead...they get a dud. Yeah he can shoot, but Eric (later picked by the Clippers) can do much more.
The Knicks watch as Gallinari struggles while Gordon scores 20 points.
Here is a list of players the Knicks could have picked.
1.Eric Gordon
2. Brook Lopez
3. Marresse Speights
4. Courtney Lee
5. D.J Augstin
2007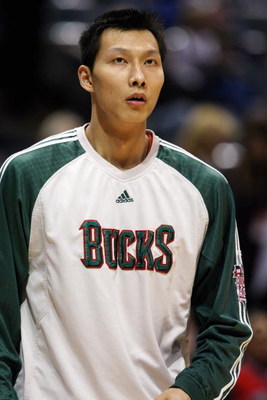 "And with the sixth pick in the NBA draft. The Milwakuee Bucks select....Yi Jianlian?"
Sixth overall pick...that's what seems to trick people. Can't really blame the Bucks on picking him. He was hyped up so much, scouts saying he is the next Dirk. Bucks was hoping for a franchise PF who can help Redd and Boget to get to the playoffs.
But a player who is the next Dirk going to Milwakuee, not happening. There was too many questions behind him.
First, question of age. No one knew how old he was.
Second, he didn't want to play with the Bucks. He wanted a big franchise, and the Bucks knew this. After one year of much failure, the Bucks don't make playoffs, and Yi isn't Dirk. The Bucks trade him to the Nets for Richard Jefferson.
Everyone happy? NO.
Yi has only caused problems with New Jersey. NJ lost a franchise player in RJ, and instead of looking to the playoffs, they decided to look to LeBron 2010. The Bucks had a chance to the playoffs, finally, but injuries to Redd and Boget, forced the Bucks to look at 2010 as well, by trading RJ.
Here is a list of players the Bucks could have picked.
1. Joakim Noah
2. Al Thorton
3. Rodney Stuckey
4. Aaron Brooks
5. Glenn Davis
2006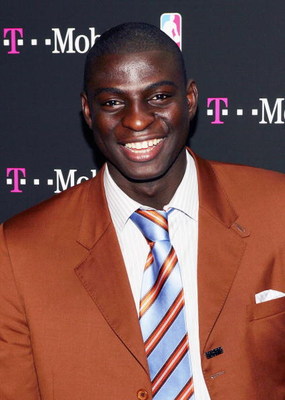 " With the 10th overall pick. The Seattle Sonics select...Saer Sene?"
WHO???
Yes, I know what questions you are asking.
Why isn't Andrea Bargnani here?
Who is Saer Sene?
I can't really say much for Andrea.
For his first year in NBA, he did pretty well and helped his team to the playoffs. He was successful.
Not much to say for Andrea. He just became too inconsistent. Everyone kept saying he was a bust and I say he might become one. This past year he had shown signs of his old self and the Raptors aren't going to give up on him.
But Sene is a mess.
I'm sure almost all of you don't know what team he is on now. He was actually on the Knicks. But now he is playing his time in the D-League. He was picked for potential and failed because of that.
His averages are 2.2 points per game and 1.6 rebounds per game. Not what you want at 10th overall. Last years 10th overall pick (Brook Lopez) averaged 13 points per game and 8 rebounds per game, in one year.
Here is a list of players the Sonics could have picked.
1.Rajon Rondo
2.Jordon Farmar
3.Daniel Gibson
4.Paul Millsap
5.Leon Powe
2005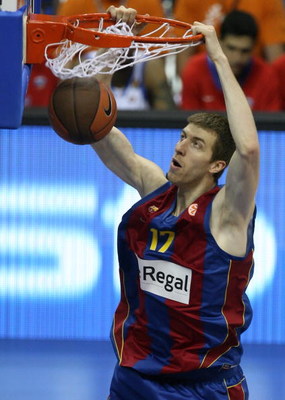 This slide will be short.
Fran Vazquez is 6'10" Spainish forward picked 11th overall by the Magic, hoping to be put side-by-side with Dwight. Instead, he decided to stay in Europe and has yet to play in the NBA. The Magic don't need him.
Yaroslav Korolev is a 6'9" Russian picked right after Fran by the Clippers. He played 24 games and decided he'd rather be a star in Moscow. He left the Clippers intending to never come back. His average was 1.1 points per game.
Here is a list the Magic or Clippers wished they had selected.
1.Danny Granger
2.Nate Robinson
3.Jason Maxiell
4.David Lee
5.Monta Ellis
2004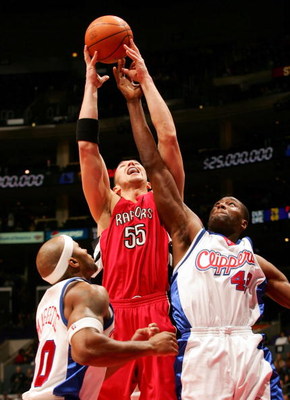 This is a pick the Raptors wished they had back.
At the time it didn't sound like a bad pick, a 6'10" PF/C averaging 15 points per game and 9 rebounds per game in Rafael Araujo.
But he wasn't able to make in impact in the NBA. His story is different. He went to college in America (like Boget), but his case was that he couldn't adapt to the NBA game. He found his way to the Jazz and is buried on the bench.
Here is a list of players the Raptors should have picked.

1.Andre Iguodala
2.Al Jefferson
3.Josh Smith
4.JR Smith
5.Kevin Martin
2003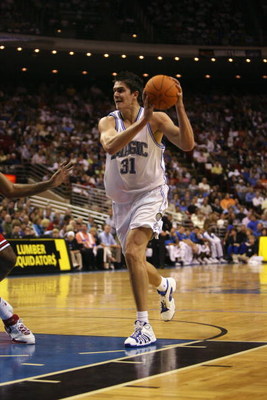 If you thought that he wasn't ending up on this list, you must be crazy.
The moment we've all been waiting for, the Pistons are on the clock. LeBron has just gone to Cleveland and the Syracuse superstar would be a perfect fit for this Pistons team. Of course they can't go wrong with Darko. He is the next Dirk you know.
Wow, I guess we can never rely on the next Dirk. But he went to all these scout camps and that was what everyone was saying. How was it that this player fooled everybody?
Well, Darko had a fine first season coming off the bench, but never really fond the groove. When he would get in by his second season, teams wouldn't guard him. They would double someone else. His time became scarce and he just wandered, becoming a journeyman.
He went to Orlando, to Memphis and finally the Knicks.
I hope that he becomes a superstar in New York, you got to feel a bit sorry for him.
Here is a list of players the Pistons could have picked.
1.Carmelo Anthony
2.Chris Bosh
3.Dwyane Wade
4.David West
5.Josh Howard
2002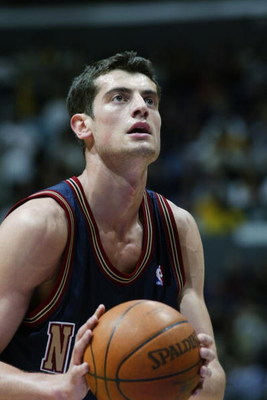 Nickoloz Tskitishvili- the 7'0" Georgian(Country) who was supposed to change the game, but never did. He was the first European bust. He wasn't the Darko of the draft, Darko was the Nickoloz of his draft.
After the success of Pau Gasol, the Denver Nuggets had decided to try their luck on this Georgian wonder.
But he never came, only having trouble in the NBA. He was the sign of what to come. And nobody took notice of it.
Here is a list of players the Nuggets had the chance to get.
1.Nene
2.Amare Stoudemire
3.Caron Butler
4.Tayshaun Prince
5.Carlos Boozer
The Good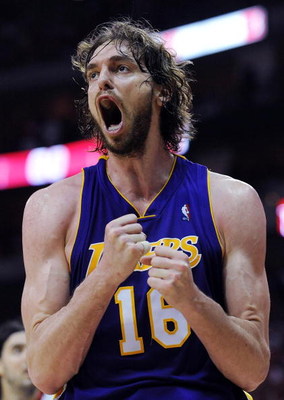 NOW i'm not saying that Ricky Rubio will be a bust. I honestly think he will be amazing. But to prove it, here is a list of all the good Foreign Lottery picks
2001-
1. Pau Gasol
2002-
1. Yao Ming
2. Nene
2003-
1. Mickaël Pietrus
2004-
1. Loul Deng
2.Andris Biedrins
2005-
1.Andrew Bogut (not born in USA)
2006-
1.Thabo Sefolosha(questionable, I agree)
2007-
1. Al Horford (not born in USA)
2008-
1. Joe Alexander ( not born in USA—questionable, I agree)
Keep Reading