So it seems the Miami Heat are still really, really good.
Although any NBA fan with a brain could see that they were going to win the Eastern Conference Finals sooner or later. The only question was when and how bad they'd make the Indiana Pacers look.
On Friday night, the Heat finally put Indy out of its misery, defeating the No. 1 seed in the East in Game 6, 117-92. Miami is now headed to its fourth consecutive Finals, which the second-longest streak all time, per ESPN Stats and Info:
Heat: 4th consecutive trip to the finals; tied with 1982-85 Lakers and 1984-87 Celtics for 2nd most all-time (1957-66 Celtics, 10)

— ESPN Stats & Info (@ESPNStatsInfo) May 31, 2014
Throughout the regular season, it seemed the Heat were stuck in first gear, of course of their own volition. Dwyane Wade played in only 53 games, and if there was a chance for LeBron James to take a rest, Erik Spoelstra gave him a break.
The feeling was that Miami would do enough to at least secure a top-two seed in the East and then turn it on in the postseason, channeling the Boston Celtics during Kevin Garnett and Paul Pierce's final years with the franchise.
Bleacher Report's Ethan Skolnick tweeted this in January:
Midseason prediction: Pacers push themselves to 64 wins, Heat cruise to 60. Heat win G2 in Indiana & everyone wonders why we wasted 6 months

— Ethan J. Skolnick (@EthanJSkolnick) January 19, 2014
How prophetic that tweet turned out to be.
The Heat finished second in the East and beat the Pacers in Game 2 in Indianapolis en route to taking the series.
Although Indiana had its fair share of problems before meeting the Heat, Miami exposed the Pacers flaws in every way possible. It took what was the top seed in the conference during the regular season and made it look like a lottery team.
Before Game 6, Paul George observed that coming back from a 15-point deficit against a team as good as the Heat can be extremely hard to do, per Candace Buckner of The Indianapolis Star:
Paul George: "It's just too hard to come out of a 15-point deficit to beat this team in this arena, so this game has got to be close."

— Candace Buckner (@CandaceDBuckner) May 31, 2014
It took all of two quarters for the Pacers to be staring at a 15-point hole:
#Pacers down 33-18 early in the 2nd Q #15PtDeathWatch

— Candace Buckner (@CandaceDBuckner) May 31, 2014
But that was only the beginning. At one point, the Heat held a 37-point lead:
Okay. 86-49 just jumps out at ya when you look up at the scoreboard.

— Candace Buckner (@CandaceDBuckner) May 31, 2014
Some critics wondered if complacency and inertia would have an effect on Miami as it pursues a third straight title.
Certainly some Heat players likely struggled during the regular season finding the motivation necessary to fight through an 82-game slog. However, they've shown during the postseason that when the important games start, their focus is attuned to the matters at hand.
After the game, James remarked that regardless of how many Finals the Heat make, their resolve will remain steadfast.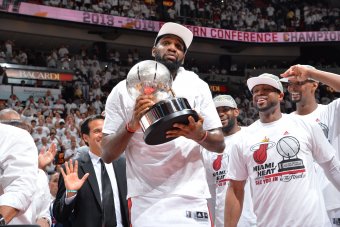 Jesse D. Garrabrant/Getty Images
"And we won't take this opportunity for granted," he said, per The Associated Press, via ESPN.com. "It's an unbelievable franchise, it's an unbelievable group. And we know we still have work to do, but we won't take this for granted. We're going to four straight Finals and we will never take this for granted."
Fatigue isn't an issue, either, with Wade and Chris Bosh posting their highest scoring averages—19.8 points and 16.2 points, respectively—of the postseason in the conference finals.
What's perhaps the most scary aspect of this team is the production that it's getting from the bench.
Rashard Lewis has spaced the floor wonderfully, with ESPN.com's Israel Gutierrez making the parallel to Mike Miller:
Is Rashard Lewis the new Mike Miller?

— Israel Gutierrez (@IzzyESPN) May 31, 2014
Unbelievably, Lewis led the Heat in plus-minus in the Eastern Conference Final, per ESPN.com's Tom Haberstroh:
Rashard Lewis led the Heat in plus-minus this series, +58. Of course.

— Tom Haberstroh (@tomhaberstroh) May 31, 2014
Chris Andersen was another player who gave the Heat a positive jolt in his minutes on the court. He was crashing the boards and defending in the paint. His effect on Miami was also evident by plus/minus rating heading into Game 5:
Chris Andersen active tonight. The Heat are +28 with Andersen on court this series and -14 with him off court.

— ESPN Stats & Info (@ESPNStatsInfo) May 31, 2014
Rounding out Miami's not-so-quite "Big Three" was Norris Cole. Grantland's Zach Lowe felt that Cole's defending of Lance Stephenson helped Miami grab back the momentum earlier in the series:
Another really nice game for Norris Cole. His ability to guard Lance, or Indy's refusal/inability to post Lance, has changed series.

— Zach Lowe (@ZachLowe_NBA) May 25, 2014
After Stephenson's 25-point outburst in Game 2, he scored a combined 42 points over the next four games.
Miami's fortunes in the NBA Finals are unquestionably linked to the performances of James, Wade and Bosh. But if the guys like Andersen, Cole and Lewis are stepping up like this, the Heat are untouchable.
And the way in which they dispatched the Pacers in Game 6 is an ominous sign for their NBA Finals opponents.