The saying goes to never underestimate the heart of a champion, and the Chicago Blackhawks certainly proved that Friday against the Los Angeles Kings.
The defending Stanley Cup champions trailed 3-2 in the third period but scored the game's final two goals to come away with a critical 4-3 victory, forcing Game 7 on Sunday. Patrick Kane buried the game-winning goal with just less than four minutes remaining and put a hush over the entire crowd at Staples Center.
Game 6 of the Western Conference Final was playoff hockey at its best in the third period when Los Angeles scored two straight goals to take a 3-2 lead and Chicago tied it mere minutes later. Kane's goal will grace all of the highlights shows, but the entire contest kept fans at the edge of their seats.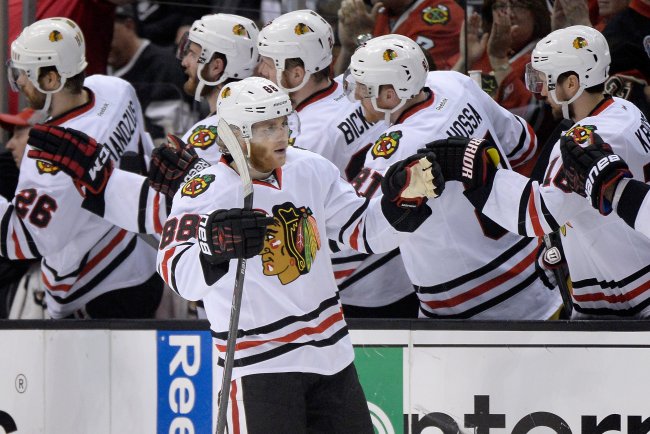 Harry How/Getty Images
The Blackhawks had their backs against the wall heading into this game, and the fact that it was on the road was particularly worrisome given Chicago's struggles in Los Angeles earlier in the series.
Mark Potash of the Chicago Sun-Times pointed out that the lack of a road win in a postseason series is unlike the Blackhawks:
The #Blackhawks have one last chance to extend their streak of winning at least one road game in 12 consecutive playoff series.

— Mark Potash (@MarkPotash) May 30, 2014
Still, it was the visiting Blackhawks that opened the game with some energy, which led to a couple of early opportunities, as the team's Twitter page and Elliott Teaford of InsideSoCal.com described:
#Blackhawks with good energy to start the game; shots 2-1, but good chances by both the Toews and Shaw line. #CHIvsLAK

— Chicago Blackhawks (@NHLBlackhawks) May 31, 2014
Marian Hossa right in front and denied.

— Elliott Teaford (@ElliottTeaford) May 31, 2014
As to be expected, the Kings responded with some shots of their own. It was a back-and-forth affair and very fast start to the game, and the crowd was absolutely buzzing, per Teaford and the Blackhawks:
That was some big boy hockey right there, ladies and gents.

— Elliott Teaford (@ElliottTeaford) May 31, 2014
So - how 'bout this pace? Chances at both ends of the ice, shots are even at 6. 8:17 left in the 1st. #CHIvsLAK

— Chicago Blackhawks (@NHLBlackhawks) May 31, 2014
Chicago earned the game's first power play with just more than six minutes remaining in the opening period. However, given the way it has converted on those opportunities, that wasn't necessarily a good thing. Tracey Myers of CSN Chicago filled fans in on the details:
#Blackhawks only have one road power-play goal in the postseason: Seabrook's in Game 1 vs. STL.

— Tracey Myers (@TramyersCSN) May 31, 2014
Not surprisingly, the Blackhawks failed to score with the man advantage. In fact, they didn't even tally a single shot on goal.
Of course, with the Kings playing defense like this, getting shots on target was easier said than done, via the team's Twitter page:
and boom goes the dynamite GIF: http://t.co/9XiFcstAoZ

— LA Kings (@LAKings) May 31, 2014
After Chicago failed to convert on its opportunity, the Kings broke the scoreless tie near the end of the first period when Dwight King found the back of the net. Arash Markazi of ESPN and Teaford described the play, while Jon Rosen of LAKingsInsider.com noted that it was business as usual for King:
Kings 1, Blackhawks 0 with 2:54 left in the 1st period. Dwight King with his second goal of the playoffs.

— Arash Markazi (@ArashMarkazi) May 31, 2014
Jarret Stoll chased down Justin Williams dump-in behind the net and fed a criminally unmarked King on the goal. LAKs up 1-0.

— Elliott Teaford (@ElliottTeaford) May 31, 2014
That's seven goals in 16 career Western Conference Final games for Dwight King. On a beach somewhere, Mike Smith just shuddered.

— Jon Rosen (@lakingsinsider) May 31, 2014
Los Angeles took that 1-0 lead into the first intermission.
It took a whopping 20 seconds into the second period for Chicago to seize another power-play opportunity. Unlike the initial chance, the Blackhawks controlled the puck the entire time in the Los Angeles zone and eventually capitalized.
Mr. Clutch for Chicago, otherwise known as Patrick Kane, scored to tie the game at one, and Mark Lazerus of the Chicago Sun-Times, Rosen and ESPN Chicago provided context for the critical goal:
That ended a streak of 24 straight road power plays without a goal for the #Blackhawks.

— Mark Lazerus (@MarkLazerus) May 31, 2014
Much better looks on that Chicago power play. Kane finishes off a give-and-go with Toews, and we're tied at one.

— Jon Rosen (@lakingsinsider) May 31, 2014
Kane with his seventh goal of the playoffs. Toews and Seabrook with the assists.

— ESPN Chicago (@ESPNChiHawks) May 31, 2014
It must have been a heck of a speech during intermission from head coach Joel Quenneville because the Blackhawks wasted little time scoring again to take a 2-1 lead. In fact, some of the fans weren't even back in their seats yet from the break between periods.
David Haugh of the Chicago Tribune praised Ben Smith for his efforts:
Ben Smith again...He's had a terrific series. Resourceful. Relentless. Reponds. 2-1.

— David Haugh (@DavidHaugh) May 31, 2014
The building came alive, though, when Chicago missed a golden opportunity to stretch the lead to 3-1. In fact, it had a two-on-none break but Jonathan Quick was up to the task. Curtis Zupke of NHL.com pointed out that it could be a critical moment:
A 2-on-none by Chicago and Quick gets a piece of it? Are you kidding me? Remember that one, folks.

— Curtis Zupke (@curtiszupke) May 31, 2014
Kings forward Justin Williams suggested this game wouldn't be easy after Game 5, and that seemed to be the case in the second period, according to The Associated Press, via ESPN.com: "It's not easy. Attaining your ultimate goal is never easy, and we're going to do our best to get it done."
Los Angeles responded with a flurry of energy and offensive chances in the middle of the second period and eventually forced a penalty. Corey Crawford was brilliant, though, with a number of his saves, and the Blackhawks survived the power play, via Haugh:
As big as Quick's save on Sharp was for Kings, that burst of brilliance from Crawford meant every bit as much to Hawks. Clutch.

— David Haugh (@DavidHaugh) May 31, 2014
Chicago deflected every single Kings shot the rest of the period and took a 2-1 lead into intermission. On top of the back-and-forth action, we almost got a goalie fight as the teams were heading to the locker room, per Teaford:
Jonathan Quick and Corey Crawford running it at center ice after a scrum at the end of the period. Yeah ... nah.

— Elliott Teaford (@ElliottTeaford) May 31, 2014
The pace of play to start the third period was much slower than the first two. Chicago had a couple of chances, but nothing materialized, which is more than could be said for Los Angeles in the first five minutes, as Rosen pointed out:
No shots on goal in the first five minutes of the third period for the #LAKings...

— Jon Rosen (@lakingsinsider) May 31, 2014
However, the Blackhawks defense completely fell asleep for a few seconds, and Drew Doughty took advantage to tie the game at two goals apiece, per Myers:
#Blackhawks can't clear, Kings keep it in for a while, Drew Doughty scores. It's 2-2.

— Tracey Myers (@TramyersCSN) May 31, 2014
Merely seconds later, Chicago committed a penalty, setting up a Kings power play. All it takes is one miscue to completely change the flow of a hockey game, and that was exactly what happened after that penalty, from Lazerus:
GOAL: Kings up 3-2 at 7:38.

— Mark Lazerus (@MarkLazerus) May 31, 2014
The Kings' hold on that momentum was short-lived though, as Chicago established control of the tempo in Los Angeles' zone. Eventually, the defending champions found the back of the net to tie it at three and set up a gut-wrenching final eight minutes, as Haugh noted:
Kane again...sets up Keith, who buries it. What execution in the clutch. Tied again. 8:26 left.

— David Haugh (@DavidHaugh) May 31, 2014
Neither team really threatened for the next few minutes, until Kane made Blackhawks fans fall in love with him all over again. He skated through multiple defenders and fired a slap shot all the way to the back of the net with less than four minutes remaining to give Chicago a 4-3 lead.
It was truly a thing of beauty.
Michael DeCourcy of Sporting News couldn't believe what he saw:
Patrick Kane is a joke.

— Michael DeCourcy (@tsnmike) May 31, 2014
Los Angeles pulled Quick to get an extra attacker in the final minute, trailing 4-3, but it was to no avail. Chicago won the game 4-3, and just like that, the Blackhawks forced a decisive Game 7 after trailing in the series 3-1.
Kane's goal was the defining moment of the game, and it was a brilliant one at that.
What's Next?
The best words in sports are Game 7 is next, and that is exactly what hockey fans get to hear Sunday night.
The series shifts back to Chicago for the final contest after the Blackhawks victory, and it's hard to imagine the defending champions falling short in front of their home fans.
Los Angeles held a lead in the third period in Game 6 at home and couldn't close the series out. That was the type of golden opportunity that may only come around once in a postseason series, and the Kings missed out on it. They are, however, 2-0 on the road in Game 7s this year.
Chicago will look to do what the Sharks and Ducks each failed to do earlier this postseason: win a Game 7 at home against the Kings.