The Miami Heat became the third franchise in NBA history to reach four consecutive NBA Finals on Friday night, thrashing the Indiana Pacers 117-92 in Game 6 of the Eastern Conference Finals.
The blowout win improves Miami to 10-0 in potential series-clinching home games during the LeBron James-Dwyane Wade-Chris Bosh era. James and Bosh paced Miami, scoring 25 points each.
Paul George led the Pacers with 29 points on 8-of-18 shooting, but made little impact when the outcome was still in doubt.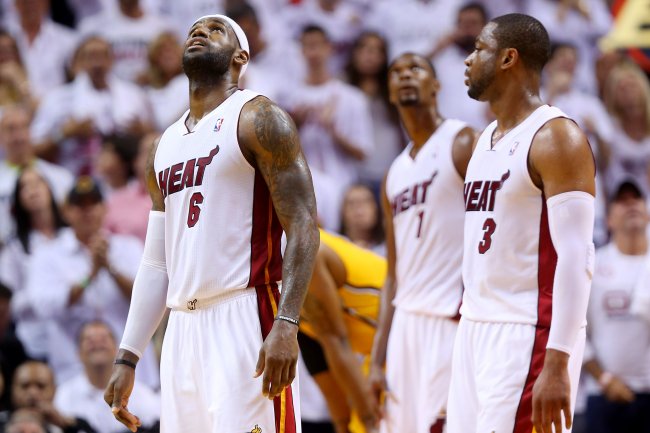 Mike Ehrmann/Getty Images
Despite squandering an opportunity to close out the series on the road in Game 5, Wade and his teammates were optimistic coming into Friday's close-out game, per the Miami Herald's Barry Jackson:
"We're at home to close out a series. That's the best position to be in...ideal for anyone."
Wade was also confident that James would deliver after scoring just seven points in 24 minutes in Game 5 as a result of foul trouble, per Jackson:
"I do know that guy [James] and I know how he responds. I know he's going to put his mark on the game."
Game 6: Heat 117, Pacers 92 (Heat win series 4-2)

| | | | | | |
| --- | --- | --- | --- | --- | --- |
| | 1st | 2nd | 3rd | 4th | Final |
| (1) Indiana Pacers | 13 | 21 | 24 | 34 | 92 |
| (2) Miami Heat | 24 | 36 | 31 | 26 | 117 |
Source: ESPN
Picking up where they left off in Game 5, the Pacers jumped out to a quick 9-2 lead, quieting the sea of white inside AmericanAirlines Arena.
But the Heat responded right on cue, igniting an 11-0 run of their own to take a lead they never relinquished. Lance Stephenson momentarily stopped the bleeding with a timely three-pointer, but Miami's defense got the last laugh, stifling Indiana as the Heat closed the period on a 9-0 run.
Unsurprisingly, Stephenson continued to go at James in an effort to get under the four-time MVP's skin:
Lance just cupped LeBron in the face. No call. Officials now huddled at midcourt. Larry Bird has to be seething.

— Ira Winderman (@IraHeatBeat) May 31, 2014
The plan backfired, though, as the Heat turned the taunts into fuel.
In addition to the stellar play of the Big Three, Miami also got a huge lift from Chris "Birdman" Andersen in the first half, as noted by Miami Herald Heat beat writer Joseph Goodman:
Andersen with 6 and 6 in seven minutes. Heat 30, Pacers 18

— Joseph Goodman (@JoeGoodmanJr) May 31, 2014
Andersen, who finished with nine points and 10 rebounds in 13 minutes, was making his first appearance in the series since suffering a thigh injury in Game 3.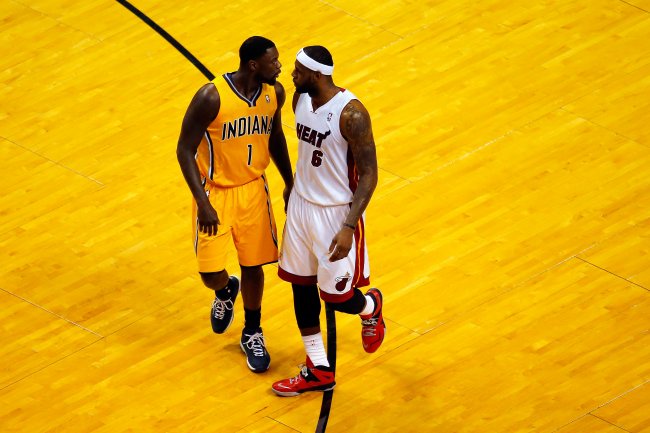 Chris Trotman/Getty Images
Despite sparking a reaction from James by cupping his face in the first quarter, Stephenson continued to play on the edge in the second quarter, catching Norris Cole with a forearm to the face on a loose ball play that resulted in a flagrant foul:
Stephenson is called for a personal foul, but after review, it's changed to a Flagrant-1.

— Indiana Pacers (@Pacers) May 31, 2014
Unfortunately for the Pacers, Stephenson's brash style took a backseat to what Miami was doing, as pointed out by Bleacher Report Miami Heat lead writer Ethan J. Skolnick:
Lost in the Stephenson stuff..... Miami is playing extremely unselfish offensive basketball tonight.

— Ethan J. Skolnick (@EthanJSkolnick) May 31, 2014
Nonetheless, Stephenson was getting reactions from the Heat, per Goodman:
Udonis Haslem told Lance Stephenson on the sideline: "I'm going to f--k you up."

— Joseph Goodman (@JoeGoodmanJr) May 31, 2014
Firing on all cylinders defensively, the Heat pushed the lead to 20 points following a Wade three-pointer midway through the second quarter. The Heat's barrage continued over the remainder of the half as they took a commanding 26-point lead into the halftime break.
Associated Press writer Tim Reynolds summed up the situation perfectly:
A 54-21 run. This is abusive now.

— Tim Reynolds (@ByTimReynolds) May 31, 2014
Miami's Big Three combined to outscore the entire Pacers team, 37-34, in the first half.
With the game getting out of hand, even the commentators conceded that it was all but over, as relayed here by The Oklahoman's Anthony Slater:
Mike Breen asks Jeff Van Gundy what Frank Vogel should tell his team at halftime. JVG: "We had a good year. Bring it in."

— Anthony Slater (@anthonyVslater) May 31, 2014
The Heat lead ballooned to nearly 40 points in the second half as both teams appeared content to simply let the clock run out.
Leading by 31 points heading into the final quarter, Heat head coach Erik Spoelstra wisely sat James the rest of the way.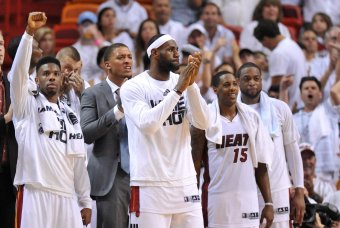 USA TODAY Sports
The Heat will have to wait to learn whether they'll face the San Antonio Spurs or the Oklahoma City Thunder in the NBA Finals, with that series still ongoing and Game 6 coming Saturday night. Regardless of which team comes out of the West, we are guaranteed a rematch of either the 2012 or 2013 NBA Finals.
Miami topped Oklahoma City in five games two years ago to secure its first title of the Big Three era and survived a dramatic seven-game series with San Antonio last year.
Which is the more favorable matchup for the Heat in the NBA Finals?
Either team is sure to trouble the Heat, but Spoelstra and his players are will be well-rested with Game 1 scheduled for Thursday. The rest is key for Miami's banged-up older players like Wade, Andersen and Ray Allen.
Although the Heat are far from a lock to win it all, the two-time defending champions will gear up for the NBA Finals with a tremendous psychological advantage. For a proven squad like Miami, it's a matter of execution at this point.
Meanwhile, for the Pacers, it's back to the drawing board as they bow out of the Eastern Conference Finals for the second straight year.
While Indiana clearly has a talented core capable of contending for a title, the Pacers will have a tough decision to make on Stephenson this summer as he's set to become a free agent. The front office will also have to assess other areas, including the coaching staff, to see what changes potentially need to be made in order for the team to finally get over the hump in 2014-15.
Follow Bleacher Report Featured Columnist Patrick Clarke on Twitter.