New York Knicks president of basketball operations Phil Jackson has a plethora of questions to answer about the organization's future. The Zen Master addressed many of those inquiries, on subjects like the team's coaching search and the future of Carmelo Anthony, while speaking with reporters Friday.
Since TNT analyst Steve Kerr spurned the Knicks and his former coach in favor of signing on with the Golden State Warriors, Jackson has been forced to look at other options to patrol the sideline.
As an interesting wrinkle, Jackson explained that Kerr had verbally agreed to sign on as the Knicks' next head coach. When Golden State fired Mark Jackson, however, Phil allowed Kerr to pursue the opportunity and admitted it was a better fit for him.
Per The Wall Street Journal's Chris Herring and Newsday's Al Iannazzone:
One correction to a tweet from b4: Phil Jackson said Kerr verbally agreed to the Knicks' HC job one day before GSW fired Mark Jackson.

— Chris Herring (@HerringWSJ) May 30, 2014
Phil said Kerr committed to him but then golden state became available so Phil let him go.

— Al Iannazzone (@Al_Iannazzone) May 30, 2014
Phil, on why he believes Kerr took GSW job: "It was California. And to be honest, that's a better team for him." Says GSW has better roster.

— Chris Herring (@HerringWSJ) May 30, 2014
Sliding down from his front office position to take on the vacant coaching role is not something Jackson is considering. Per the New York Daily News' Frank Isola:
Phil Jackson said it has been "suggested" that he coach the team for a year and mentor a young coach. Phil's not interested.

— Frank Isola (@FisolaNYDN) May 30, 2014
That lack of interest—not surprisingly—is tied to his health. As ESPN New York's Ian Begley tweeted:
Phil Jackson says "at this point, unless the lord heals me" he wouldn't be physically able to coach. #Knicks

— Ian Begley (@IanBegley) May 30, 2014
So what types of candidates will Jackson target now that Kerr is bound for Golden State? According to Begley, the 11-time NBA champion wants someone he has a prior relationship with to coach:
Phil says he'd like to have a prior relationship with the #Knicks next coach.

— Ian Begley (@IanBegley) May 30, 2014
One name that sticks out like a sore thumb as a result of that insight is Oklahoma City Thunder point guard Derek Fisher. He won five championships with the Los Angeles Lakers under Coach Jackson.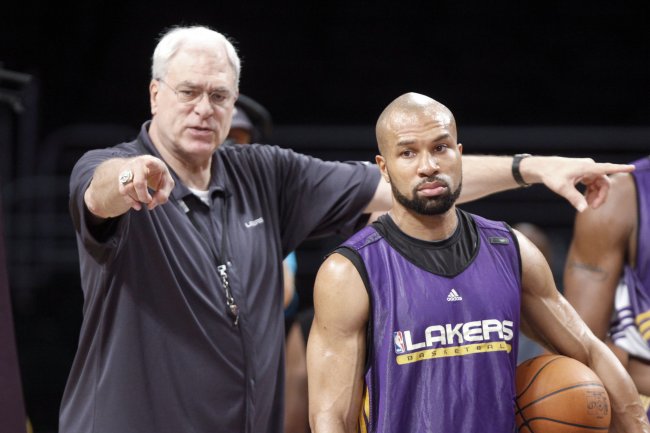 Reed Saxon/Associated Press
OKC is still in the midst of a playoff run, but there's certainly a chance the 39-year-old will opt for retirement when the Thunder's season winds to a close.
Phil is intrigued by D-Fish, but he's not sure if there will be mutual interest, per Begley:
On Derek Fisher, Phil says he's "definitely" on his list of potential candidates. He's unsure if Fisher wants to coach at this point.

— Ian Begley (@IanBegley) May 30, 2014
While it's logical to believe Jackson will wait to hire potential candidates at least until after speaking with Fisher, he doesn't expect the ongoing search to drag on deep into the summer, per Iannazzone:
Phil doesn't expect his search to extend into July.

— Al Iannazzone (@Al_Iannazzone) May 30, 2014
Also, Jackson didn't rule out the possibility of putting a college coach on his radar. Still, his preference seems to be a target he has a previous relationship with, as Iannazzone tweeted:
Phil didn't rule out hiring someone coaching in college, but it sounds like he wants someone he has ties with.

— Al Iannazzone (@Al_Iannazzone) May 30, 2014
The coaching search in New York remains a huge priority, but Jackson isn't going to make a rash decision after Kerr opted for G-State. At some point, he'll be able to woo a candidate to the Big Apple.
Whether Phil can convince Anthony to stay on board remains a gigantic question mark. The newly minted Knicks president addressed that situation as follows, per Herring:
Phil: "Im not losing sleep over [Carmelo leaving], but I am concerned about this guy" opting out and hitting free agency.

— Chris Herring (@HerringWSJ) May 30, 2014
Interestingly, Jackson suggested the superstar look into an option that postpones free agency until next summer, according to Iannazzone:

Phil said he suggested to Carmelo to not opt out and wait the year to see what changes are made. He said Carmelo said he'd think about it.

— Al Iannazzone (@Al_Iannazzone) May 30, 2014
Isola added the following insight that could potentially convince Anthony to forgo a long-term deal this offseason:
Phil says he advised Carmelo not to opt out until July 2015 because the club can be in the hunt for two "headline players."

— Frank Isola (@FisolaNYDN) May 30, 2014
CBS Sports' James Herbert wrote the following of Jackson's intriguing proposal:
Opting in would give Anthony the option of going somewhere else in 2015 if Jackson's Knicks fail to attract a co-star for him. It could be a good compromise for both sides, but there will certainly be better choices for Anthony if his No. 1 goal is to compete for a championship next season.
Jackson's hands are tied in 2014 due to the Knicks' salary-cap situation. When numerous contracts come off the books next year—like those of Amar'e Stoudemire, Andrea Bargnani and Tyson Chandler—he'll have much more leeway in terms of targeting big-name free agents to place beside Anthony.
Per Isola, Jackson added the following message with regard to his concern about Anthony potentially opting out to test free agency:
Phil says he is concerned with Carmelo going into free agency because "it only takes one bidder."

— Frank Isola (@FisolaNYDN) May 30, 2014
Also, due to trades made prior to Jackson's acceptance of the new position, the Knicks won't have a draft pick in 2014. Phil may try to remedy that, per Herring:
Phil says Knicks "will approach teams" about purchasing a draft pick, but says NYK has limited, prorated funds to do so.

— Chris Herring (@HerringWSJ) May 30, 2014
Purchasing a pick from another team seems like a long shot. Nevertheless, hopping into the second round with hopes of finding a diamond in the rough would be a good step in Jackson's regime.
Knicks fans are forced to deal with uncertainty surrounding the coaching situation, as well as the future of a seven-time All-Star in Anthony. Netting Jackson's "Plan B" as coach while retaining Melo—at least for next season—would alleviate the stresses of the fanbase, as well as the front office.