To paraphrase Robert Frost, something there is that doesn't love a clay court, that sends ranked players home before even the second round has finished. Stan Wawrinka and Li Na were among the early losers, marking the first time ever that both Australian Open champions made such an exit from Roland Garros.
With Li Na and Stan Wawrinka losing, It's the 1st time both Australian Open champions lost in the first round of the French Open.

— ESPN Stats & Info (@ESPNStatsInfo) May 27, 2014
Both Venus Williams and Serena Williams fell flat as well. Incredibly, Serena managed to win only four games in losing to Garbine Muguruza.
While Thursday did not bring any upsets of that magnitude, three early matches came to surprising conclusions, with winners and losers alike taking to social media to register their reactions.
Bertens Defeats No. 24 Pavlyuchenkova (Retired)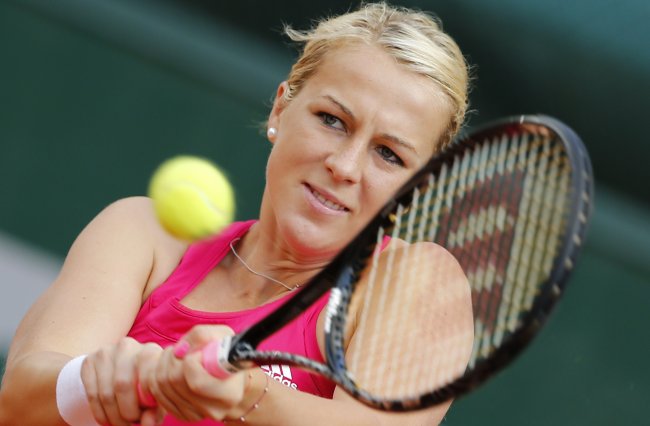 David Vincent/Associated Press/Associated Press
Dutch woman Kiki Bertens advanced after 24th-ranked Russian Anastasia Pavlyuchenkova had to retire with Bertens leading 3-0 in the third set. That in itself was not so much surprising as merely unfortunate, since injuries can befall any player at any time.
However, the truly surprising aspect of the upset came when Pavlyuchenkova logged on to Twitter and lobbed a few angry comments in the direction of Bertens and her Dutch supporters.
She began by addressing her back injury and the disappointment over withdrawing from the match:
So sad to not be able to finish my match in 2nd set!I ve never had so much pain in my back!Such a tough and unlucky day!!;( #RolandGarros

— A. Pavlyuchenkova (@NastiaPav) May 29, 2014
Hate to end @rolandgarros in this way!Tears and pain...But i will come back stronger next time ;)! Thanks 4 all ur support!

— A. Pavlyuchenkova (@NastiaPav) May 29, 2014
Then she lowered the boom on Bertens, claiming the Dutch had disrespected her on the court:
Impressed,how disrespectful was my opponent and the Duch crowd today due to my condition!#RolandGarros

— A. Pavlyuchenkova (@NastiaPav) May 29, 2014
Allegedly, fans of Bertens had cheered at the sight of Pavlyuchenkova struggling with severe back pain, which forced her to retire. She cried on the court before offering her opponent a less-than-graceful congratulations, perhaps because she was already irked by the reaction from the stands:
Pavlyuchenkova just retired mid-service motion, burst into tears then gave Bertens a Schnyder-esque hand slap at the net...

— Tumaini (@tumcarayol) May 29, 2014
…Pavlyuchenkova said Dutch fans (and Bertens herself) were "totally disrespectful" for the way they cheered while she was in visible pain.

— Ben Rothenberg (@BenRothenberg) May 29, 2014
That portion of the bracket, which had included Li Na, now has only one ranked player left in No. 28 Andrea Petkovic.
Bertens, who didn't bite on the Twitter bait immediately following Pavlyuchenkova's comments, will face Spain's Silvia Soler-Espinosa in the next round.
Young Defeats No. 26 Lopez
American Donald Young upset 26th-ranked Spaniard Feliciano Lopez in straight sets, 6-3, 7-6, 6-3. Young trailed in winners 26-17, but Lopez littered his day with 48 unforced errors—16 more than Young.
Lopez also disappointed by winning just 45 percent of his second-serve points, while Young won 62 percent of his. Perhaps the most crucial number lies in the break points, where Young won on four of his five opportunities. Lopez broke Young just twice.
Can Donald Young make the fourth round?
Young, ranked 79th, will need to stay on top of his game when he faces Guillermo Garcia-Lopez—the man who defeated Wawrinka—next.
As Young told the New York Times' Naila-Jean Meyers, "Wawrinka going out in my half, it's not like it's an insurmountable task for me to make the fourth round as well. But I'm going to take it one match at a time and see how it goes."
As Meyers notes, Young reached the No. 1 ranking as a junior player, but "has had a disappointing professional career, marked by disputes between the United States Tennis Association and his parents, who coach him."
Wawrinka's exit could prove fortuitous for the former junior star.
Glushko Defeats No. 21 Flipkens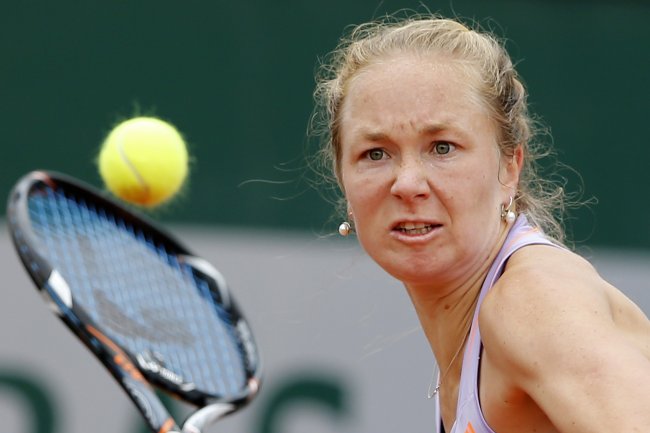 David Vincent/Associated Press
Belgian Kirsten Flipkens, ranked 21st, waffled and fell in three sets to Israel's Julia Glushko, 6-4, 3-6, 6-4.
The match stats tell the tale of an evenly played three sets, with Glushko hitting only two more winners and making just four fewer unforced errors. Four double faults by Flipkens to none for her opponent did not help the cause, and neither did getting only 59 percent of her first serves in.
Ben Rothenberg of the New York Times points out that the winner immediately celebrated by mingling with fans after the match and snapping some exultant selfies:
Julia Glushko upsets Kirsten Flipkens 6-4, 3-6, 6-4 to make R3 at #RG14. Israeli flags and selfies with fans quickly ensue.

— Ben Rothenberg (@BenRothenberg) May 29, 2014
Glushko will have a tough time staying on the upset train, however, with her next match against No. 10 Sara Errani.