Seventh-seeded Andy Murray remained on a potential semifinal collision course with Rafael Nadal Thursday as he defeated Marinko Matosevic 6-3, 6-1, 6-3 to advance to the third round of the 2014 French Open.
The two-time Grand Slam winner has never advanced past the semifinals at Roland Garros, but Murray certainly took a step toward doing so and established himself as a true contender with a nearly flawless performance against Matosevic.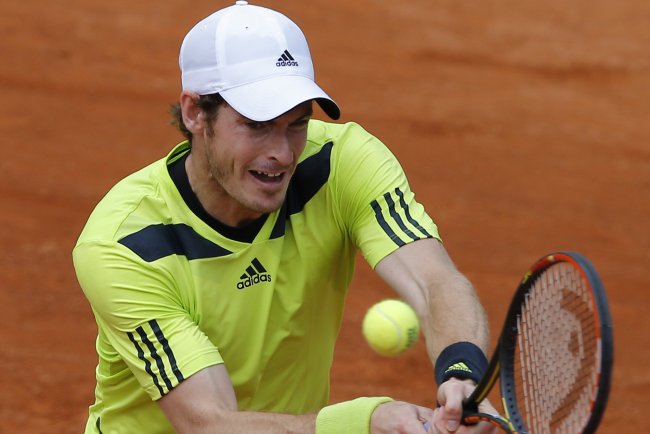 Michel Spingler/Associated Press
Murray has worked hard to get into top form over the past several months since returning from a back injury, and he seemed to be playing some of his best clay-court tennis leading up to the French Open.
Although Murray fell to Nadal in the quarterfinals of the Rome Masters, he pushed the eight-time Roland Garros champion to three sets, so he presumably entered the tournament with confidence on his side.
Following his first-round triumph against Andrey Golubev, Murray revealed that Grand Slam success is his biggest desire as a tennis player, per BBC Sport's Piers Newbery:
The way I train in the gym is tough, it's hard. I enjoy that and getting into shape to perform over five sets in the tournaments, and my goal is to try to win Grand Slams. That's what motivates me. Some people think No. 1 should be my goal, but what motivates me is Grand Slams, so I want to get myself in the best possible shape to win another one if I can.
Murray's stamina wasn't tested much against Matosevic as he was able to make fairly quick work of his Australian opponent. The British star set the tone early by taking the first set in impressive fashion.
Matosevic's serve was broken right off the bat, but it looked like he might be able to take it right back from Murray. According to Live Tennis, however, Murray held strong and managed to maintain his advantage:
Break back averted for Murray after a bit of a lax game there - doing enough to get it done

— Live Tennis (@livetennis) May 29, 2014
That was essentially Murray's only nervous moment in the opening set as he averted three break points and went on to take the set 6-3, per Newbery:
Murray takes the set 6-3, comfortable apart from one game when he came back from 0-40. Matosevic's level of toweling down is world class.

— Piers Newbery (@piersnewbery) May 29, 2014
Despite being 28 years of age, this match marked Matosevic's first second-round tilt at a Grand Slam. He won his first-ever Grand Slam match over Dustin Brown in the first round, which ended the longest drought in Grand Slam history, according to Tennis Stats on Twitter:
Marinko Matosevic playing @andy_murray today is the FIRST player in Grand Slam History to take 13 tournaments to reach the 2nd round! #ATP

— Tennis Stats (@TennisStatistic) May 29, 2014
Matosevic had to be riding high coming into the Murray match after arguably the biggest win of his career, but he was simply unable to channel that momentum and confidence.
The Aussie struggled mightily in the second set as he fell behind the eight ball once again by dropping a service game early in the set:
Murray just keeping the pressure on Matosevic, making him rush - breaks again, 63 20 up

— Live Tennis (@livetennis) May 29, 2014
Murray played well, but he received a lot of help from Matosevic in the form of miscues. The early break was largely the product of Matosevic missing an easy shot, which caused frustration to set in for the underdog, per Neil McLeman of Daily Mirror:
Fair dinkum Aussie Marinko Matosevic misses easy forehand put-away and loudly exclaims: '**** me!' Murray set & break up #RG14

— Neil McLeman Mirror (@NeilMcLeman) May 29, 2014
That trend continued throughout the set as Matosevic could never get comfortable. His inability to get first serves in proved detrimental as Murray ate his second serve alive to the tune of a 6-1 second set in favor of the Brit:
Murray 6-3 6-1, some industrial language from Matosevic every time he sends a 2nd serve into Murray's backhand and sees it thumped past him.

— Piers Newbery (@piersnewbery) May 29, 2014
As BBC's Russell Fuller pointed out, Murray couldn't have hoped for a much better result than what he achieved in the second set:
Murray's best set of tennis of the week as he takes it 61 and leads into a 2 set lead over Matosevic.

— Russell Fuller (@russellcfuller) May 29, 2014
Matosevic needed to do anything possible to put that disastrous second set behind him in order to get back in the match, but it wasn't meant to be. He scratched and clawed in an effort to hold serve at the start of the set, but Murray finally secured the immediate break, as Dan King of The Sun shared:
Very long game on Matosevic serve at start of third. He fails on drop and Murray is two sets and break up pic.twitter.com/9c9LIBC0nE

— Dan King (@DanKing_1974) May 29, 2014
Things continued to snowball from there as Matosevic simply didn't have an answer for what Murray was throwing at him. ESPN's Brad Gilbert noted how it was a dominant showing for Murray from start to finish:
Muzzard taking Matosevic to woodshed u had that feeling about that matchup

— Brad Gilbert (@bgtennisnation) May 29, 2014
Matosevic did manage to finally score a break with Murray serving for the set, but Murray broke back immediately to take the third set 6-3 and the match to boot.
After breezing through the first two rounds in Paris, Murray must now prepare for some more difficult opponents. The uptick in quality begins immediately as Murray will face No. 28-seeded Philipp Kohlschreiber in the third round.
Murray and Kohlschreiber each have one win over each other, but they haven't played since 2010. Kohlschreiber's victory came on clay at the Monte-Carlo Masters, so he does have some experience when it comes to knocking off Murray on the red stuff.
How will Andy Murray fare in the 2014 French Open?
Even so, Murray will be a heavy favorite and should able to win that match if he plays his game. Matches against either Richard Gasquet or Fernando Verdasco in the fourth round and either Fabio Fognini or Gael Monfils in the quarterfinals loom as well.
There isn't a pushover among them, but Murray has lucked out in his quarter with No. 3 seed Stanislas Wawrinka going out in the first round. Murray is very much favored to reach the semis, where he would then likely take on Nadal.
That would certainly be an intriguing matchup considering how well Murray played against him in Rome, but there is plenty of work left to be done.
Clay has never been Murray's preferred surface, but he has proven to be quite dangerous through the first two rounds in Paris and is definitely among the four or five players who could realistically win this tournament.
Follow @MikeChiari on Twitter