Tell us how you really feel, Bristol.
Judging by a chyron fail on SportsCenter Thursday morning, ESPN has officially hitched its wagon to the Miami Heat.
Spotted by the good folks at Busted Coverage, the graphic read, "Heat Back to Finals."
SportsCenter: "Heat back to Finals" pic.twitter.com/FlQwTuJvNX

— Busted Coverage (@bustedcoverage) May 29, 2014
Paul George would beg to differ.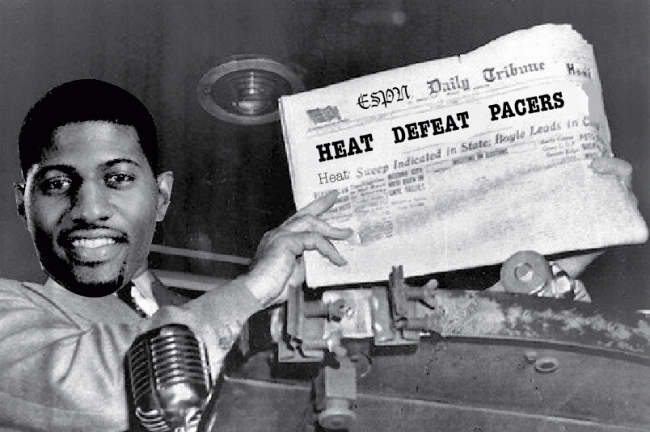 BR
The Pacers star cooked up 37 points against the Heat in a must-win Game 5 on Wednesday night and reminded everyone of exactly how dangerous this Indiana team can be when it hits its stride.
Thus, Indiana staved off elimination and brought the series back to Miami for a critical Game 6 on Friday, and you can bet George and Co. will keep this in mind.
While producers at ESPN may be retooling their annual LeBron-hugging-the-Larry-O'Brien-championship-trophy montage, the Eastern Conference Finals continue. Lance Stephenson isn't ready to blow out the candles just yet.
It may not be our birthday but Lance Stephenson gave a gift to us all. #YaBlewIt #literally pic.twitter.com/GMUXXshiOa

— FOX Sports Live (@FOXSportsLive) May 29, 2014
Be ready for a street fight on Friday night. The Pacers are fighting for their playoff lives, and a win would mean returning to Indianapolis for Game 7.
Then again, ESPN already has the Heat in the Finals. Who are we to question that?
On the Twitters.