The Indiana Pacers got what they needed in Game 5—a confidence-building win at home and a chance to take things back to Miami and try to even up their series against the Heat.
Several factors came together, giving them a chance to snatch Game 5, but the biggest were fouls, tough shots and rotation changes.
The most important fouls in this game were the five called on LeBron James. Five personal fouls in just over 23 minutes is more than five times the rate at which he normally accumulates fouls. There are differing opinions about the legitimacy of each of these calls, but they undoubtedly gave the Pacers an opening. James was on the bench for almost all of the second and third quarters, and it was a few minutes into the fourth quarter before he really started to find a rhythm.
The tough shots in this game were mostly made by Paul George, who finished with 37 points, 31 of which came in the second half. According to the NBA's SportVU Player Tracking Box Score, 19 of George's 28 field-goal attempts were contested (defined as having a defender within at least four feet). He made 57.9 percent of those contested shots after making just 32.0 percent of them through the first four games of this series.
The rotation changes in this game were about Frank Vogel and the Pacers tightening things up. Over the past three seasons, the Pacers' starting lineup has generally had a big edge on the Heat. It's the bench that has been their undoing. On Thursday, Vogel played his starters a series-high 31 minutes, and they delivered, outscoring the Heat by 11 points over that stretch.
The challenge for the Pacers is that of those three big factors in their Game 5 win, only one is really within their control moving forward. They simply can't pin their Finals hopes on James getting himself into foul trouble or George continuing to knock down difficult shots at a heroic rate. They can continue to ride the starting lineup, but that still brings all the same challenges they've struggled with throughout the series.
Before Game 5, Grantland's Zach Lowe detailed some of those challenges the Pacers were facing offensively:
The Pacers have no one who can turn the corner, and without a hard trap to exploit, the Pacers' ball handlers have too often just dribbled aimlessly toward the sideline. That is death against Miami, which feasts upon weak cross-court passes. Indiana's huge lead in Game 3 vanished under an avalanche of turnovers along the right sideline.
And defensively:
Most intriguing: Miami has gone right at Hibbert in this series, more than it did last season, when the Heat preferred to stash Hibbert in the far corner.

They've put him directly in pick-and-rolls by having his guy set the screen, and then risked having James, Wade, and even Cole and Mario Chalmers attack Hibbert on drives.

Wade has reminded everyone what an artful midrange player he is. James has raced Hibbert to the basket, and even revived the floater he famously unveiled as a Hibbert-only weapon in 2012 — a shot he largely scrapped last season. Hibbert doesn't like to challenge those midrange floaters, preferring to protect the basket and prepare to box out. But the Heat have made him pay.
Despite coming away with the win in Game 5, the Pacers still haven't really solved any of those problems.
Their pick-and-roll game all but evaporated in Game 5. According to mySynergySports (subscription required), the Pacers scored just two points on six possessions finished by the ball-handler or the screener in the pick-and-roll.
Here, on the Pacers' very first offensive possession of the game, a side pick-and-roll with Lance Stephenson and Roy Hibbert plays out in the exact way Lowe describes. Stephenson can't turn the corner or slip a pass in to the rolling Hibbert. A dangerous cross-court pass is almost picked off by Rashard Lewis, and the ball works its way back around to Stephenson for a stale isolation.
In this play, C.J. Watson can't get around the corner and telegraphs his pass back to Luis Scola. Dwyane Wade jumps the pass, creating a turnover and a transition opportunity for Miami.
With the pick-and-roll producing nothing and the menu of Roy Hibbert post-ups looking as stale as usual, the Pacers offense down the stretch was mostly George knocking down shots with a hand in his face.
On the other end, as Lowe mentioned, the Heat have continued to involve Hibbert in pick-and-rolls with great success. Here, Mario Chalmers literally runs circles around him before dropping in a layup.
The Heat have also been disturbingly active from behind the three-point line in the series. During the regular season, the Pacers were one of the best defenses in the league at both discouraging three-point attempts and holding down their opponents' accuracy, particularly from the corners.
In the regular season, the Pacers allowed just 5.0 percent of their opponents' shot attempts to be corner three-pointers, on which their opponents shot 38.0 percent. In this series, 9.9 percent of the Heat's shot attempts have been corner three-pointers, and they've made 45.7 percent of those shots.
As the Heat's pick-and-roll has been increasingly successful, it's caused a cascade effect, pulling the Pacers' wing defender in to help and leaving the corners regularly uncovered.
If the Pacers are looking to force a Game 7, these are the issues that need to be resolved, not figuring out how to draw fouls on James or looking for four-leaf clovers to give to George.
Hibbert has been inconsistent in the series, but there are ways the Pacers can do more with him offensively. They continue to post him up, a good thing if he's going to be on the floor, but in the most simplistic and obvious ways possible. It seems like there could be some value added if the Pacers used some wrinkles like cross screens in the lane, or some other action, to help him get good post position.
You can see here how far away from the basket he's catching the ball.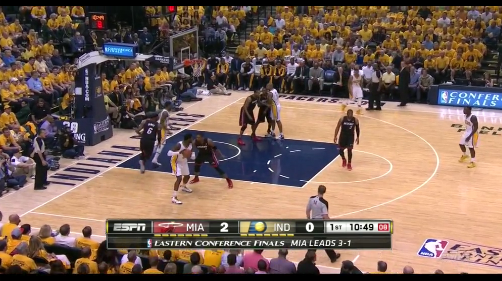 NBA.com
The Heat have been declining to double-team him, a perfectly reasonable choice. Even with his superior size, asking Hibbert to back Bosh down here is not going to lead to a great look.
But if the Pacers can move into those post-ups out of another action, they should be able to get Hibbert the ball closer to the basket and in a better position to hurt the Heat's defense. Asking the Pacers to fundamentally rework their offense at this point in the season is an outlandish request, but doing everything they can to eliminate stagnation could go along way.
Defensively, the Pacers introduced an interesting wrinkle in the second half of Game 5, putting Stephenson on James and George on Wade. Nate Duncan of Basketball Insiders explained the rationale:
Re: PG on Wade, matchups aren't just about your best vs. their best. It's where you can find a matchup that subtracts greatest marginal diff

— Nate Duncan (@NateDuncanNBA) May 29, 2014
Diff between PG/LS on LeBron is less than diff between LS/PG on Wade. At least so far.

— Nate Duncan (@NateDuncanNBA) May 29, 2014
Also consider that PG is a much better help defender than Lance. Can leave Wade open for 3s. Can't do that with LeBron.

— Nate Duncan (@NateDuncanNBA) May 29, 2014
It was a change that made a small difference, but it helped tighten the Pacers defense down the stretch.
The Pacers know they have a tough road ahead of them. After Game 5, George talked about the challenge of extending the series in Miami (h/t Chris Mannix, Sports Illustrated).
"We know with our backs against the wall we have proved we can come out. This is different. We're playing against the champions. This Game 6 is going to be about performing like champions."

Ultimately, those kinds of changes are what the Pacers need to stay in this series. Unexpected tweaks of rotations, trying a defensive experiment, moving some offensive players into different places—any bit of creativity that can be included at this point could be the difference.
Game 5 was an opportunity that the Pacers seized. But they can't count on another chance like that to present itself, and simply going ahead with business as usual is unlikely to create one for them.
Statistical support for this story from NBA.com/stats