Updates from Monday, July 21
BJ Kissel of KCChiefs.com confirms Alex Smith's presence at Chiefs' training camp:
Saw Alex Smith this morning so I can in fact say that he's here. #ChiefsCamp

— BJ Kissel (@ChiefsReporter) July 21, 2014
Updates from Friday, July 18
Randy Covitz of the Kansas City Star has the latest news on Smith's negotiations with the Chiefs:
Chiefs quarterback Alex Smith still isn't assured of what his future holds beyond the upcoming season.

But Smith, who has one year left on his contract, wants to sign an extension and continue his career in Kansas City.

"I'd love to have it done," Smith said in a phone interview on Thursday. "I love Kansas City, I love the coaching staff, the players. … But when you're talking about this many years and that type of deal, you want it done right. You want both sides happy, and you want it to be something that is going to last and you can play out. A lot of things go into it.

"With that, there's still plenty of time. I still have a whole year left. And who knows what will happen?"

Smith said his representatives had discussions with Chiefs general manager John Dorsey until this month, when the league goes dormant before camp, which starts for Chiefs quarterbacks and rookies Monday in St. Joseph.

"This time of year, the whole NFL is put on hold because this is the little time coaches and general managers have off, just like the rest of us," said Smith, speaking from Lake Tahoe, Nev., where he is competing in the American Century Celebrity Golf Championship.

"We've continued talks, had open conversation, but no news to report."

Read more here: http://www.kansascity.com/sports/nfl/kansas-city-chiefs/article756019.html#storylink=cpy
Updates from Thursday, May 29
Terez Paylor of the Kansas City Star has the latest on Smith:
Reid on Smith deal: "I said what I said before. Alex said it, Dorse said it. As long as they're working at it, then that's all good…" (1/2)

— Terez A. Paylor (@TerezPaylor) May 29, 2014
...I think that's enough said on it. I don't think he's concerned and we're not. I'm sure it will get worked out down the road." (2/2)

— Terez A. Paylor (@TerezPaylor) May 29, 2014
Original Text
Alex Smith's future with the Kansas City Chiefs remains up in the air as the veteran quarterback heads into the final year of his current three-year deal.
General manager John Dorsey and head coach Andy Reid have remained optimistic that Smith will ultimately agree to a long-term deal with the franchise. However, NFL Network insider Ian Rapoport reports that sources close to the situation in Kansas City say talks between the two parties have been anything but productive, via NFL.com's Chris Wesseling.
The Kansas City Star's Terez A. Paylor reports that little progress has been made since the offseason began:
I'm told that extension talks between the #Chiefs & Alex Smith have been "almost nonexistent" in recent months, per a league source.

— Terez A. Paylor (@TerezPaylor) May 27, 2014
Rapoport, who also reports that sources within the organization say placing the 2015 franchise tag on Smith is a real option if talks don't progress, breaks down the type of money Smith's camp is aiming for:
Correct. $18M. RT @JasonPhilCole Back in January, I know Alex Smith wanted a deal above Jay Cutler (7 yr, $126M). Can't imagine it changed.

— Ian Rapoport (@RapSheet) May 28, 2014
On Tuesday, Reid discussed Smith's contract situation, expressing optimism and stressing the importance of open communication, per NFL.com's Marc Sessler:
Well, there's open communication between both parties. Now, I'm not in that business anymore -- that's (general manager) John Dorsey's side of it -- but there's been open communication. I've always believed that if there's open communication, then normally good things happen. So, I'm sure something will get done. I can't put a time frame on that, but I'm sure something will get done.
The Chiefs acquired Smith via a trade with the San Francisco 49ers in March 2013 and experienced tremendous success in his first season with the team, going 11-5 and earning a wild-card berth in the AFC.
The 30-year-old threw for a career-high 3,313 yards and 23 touchdowns in 15 regular-season games. He also rushed for 431 yards and a score.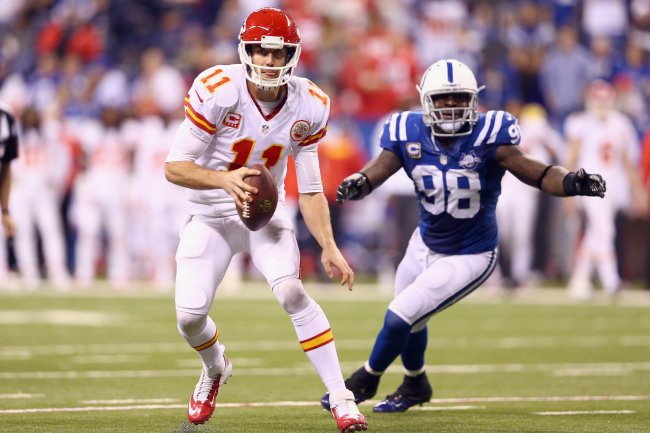 Andy Lyons/Getty Images
What route should the Chiefs take with Smith?
Although Smith has yet to establish himself as an elite starting quarterback in the NFL, he's proven to be a quality option under center. His performance in the Chiefs' lone playoff game last January also speaks to his potential under Reid's watchful eye. Kansas City blew a massive lead against the Indianapolis Colts, but Smith finished 30-of-46 for 378 yards and four touchdowns.
While letting Smith walk at season's end might not ultimately doom the franchise, successful quarterbacks are tough to come by in today's NFL, and the Chiefs would definitely be taking a significant step backward.
The franchise tag is also an option for the Chiefs, but they'll have a few more months to work through negotiations before being forced to truly consider that route.
Follow Bleacher Report Featured Columnist Patrick Clarke on Twitter.