We're About to Witness Why the Cowboys Can't Afford to Give Up on Sean Lee
May 28, 2014

Tony Gutierrez/Associated Press
When the Rob Ryan era ended in Dallas 16 months ago, the top four players on a defense that ranked in the bottom 10 in terms of points allowed and turnovers forced were DeMarcus Ware, Anthony Spencer, Jason Hatcher and Sean Lee. 
When the 2014 regular season gets underway in September, Rod Marinelli's unit will very likely be without all four of those veterans in the front seven. That's because Ware and Hatcher are now gone and Spencer and Lee are again hurt. 
That latest blow may be the most crippling, simply because it came abruptly during the Cowboys' first OTA session Tuesday, with Lee suffering a torn ACL that will, according to ESPN's Ed Werder, keep him out for the entire 2014 campaign. 
The Cowboys have had time to prepare for life without Ware, Hatcher and, to an extent, Spencer. But this is a D that allowed the third-highest yardage total in NFL history last season and doesn't have the depth to simply replace a man who has 232 tackles and nine interceptions in only 32 games since becoming a starter in 2011. 
When he's healthy, Lee is simply one of the most dominant linebackers in football. The problem—and the Cowboys were well aware of this when he dropped to them in the second round of the 2010 draft, mainly due to injury-related red flags—is that he's rarely healthy. 
Sean Lee's long list of injuries
Injury
Date
Time missed
Torn left ACL
May, 2014
Entire 2014 season
Hamstring
Nov., 2013
Five games
Neck
Dec., 2013
Three games
Toe
Oct., 2012
10 games
Wrist
Oct., 2011
One game
Hamstring
Nov., 2010
Two games
Sprained left ACL*
Sept., 2009
Three games
Torn right ACL*
Apr., 2008
Entire 2008 season
* At Penn State
By the time this season has come to an end, Lee will have missed at least 53 of a possible 106 games due to injury since the start of Penn State's 2008 campaign. He hasn't stayed healthy for a complete season since 2007. 
But there's nothing the Cowboys can do about that now. They just have to move on for this year and hope that the 27-year-old can still deliver on that lucrative contract and those high expectations in 2015 and beyond, because he'd cost too much to cut and they have no better options.
How much will his absence hurt the Cowboys this year? A lot of that depends on who might emerge in his place.
Veteran Ernie Sims has typically been the first man up in these situations, so he'll get a long look. Sims has a history with Marinelli and has 87 starts under his belt despite the fact he's still only 29. 
There's also youngsters DeVonte Holloman and Anthony Hitchens, both of whom were mid-to-late-round draft picks the last two years, respectively. Neither are ideal fits at middle linebacker in a 4-3 defense, though, and the 21-year-old Hitchens, who was a fourth-round selection earlier this month, admits he's not ready to step in for Lee. 
Here's what he said when asked if he's prepared to do so, according to Rowan Kavner at DallasCowboys.com: 
Honestly, right now, no. But I will get there. It's going to take time. I've still got to get everything down. If we had a game tomorrow, no, but it's a good thing we don't. I have time to get better.
They could dip back into the free-agent market for a vet like Jonathan Vilma, Rocky McIntosh or Dan Connor, but those guys are still available for a reason. They might not be better options than the young guns at this stage. 
Dallas could also move Bruce Carter inside and leave Holloman, Hitchens and Sims to battle it out on the weak side.
The point is that there are plenty of potential strategies and they have several months in order to figure this out. But it's not going to be easy regardless. The last couple years, this D just hasn't been the same without its man in the middle. 
Cowboys defense: With/without Sean Lee since 2012
With Lee
No Lee
Takeaways/game
1.65
1.07
Points allowed/game
25.6
26.4
YPA allowed
4.56
4.69
Pro Football Reference
The numbers themselves might not be overwhelming, but consider that Chicago put up 45 points on the Dallas defense with Lee barely factoring in coming off an injury last December. Also consider that Lee is only one man out of 11, and the sample size is large enough that it's safe to conclude he's saving this team at least 0.8 points per game while generating an extra turnover every two games. 
In the NFC East, that's significant. 
And for those who argue statistics don't tell the whole story, you're bang on. When breaking down tape from the last two seasons, it's plainly obvious that the gap between Lee and his replacements has been enormous. 
Lee isn't just fast and strong and versatile, but he's nailed down the cerebral aspect of playing linebacker. His ability to anticipate plays is off the charts, as evidenced on a two-yard pass play shut down against San Diego last season...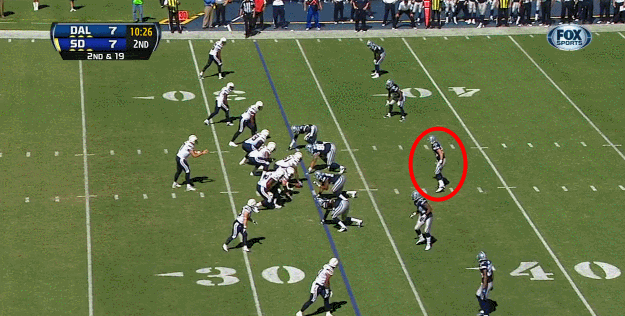 NFL Game Pass
As well as this cross-field takedown of LeSean McCoy for a three-yard loss in 2013...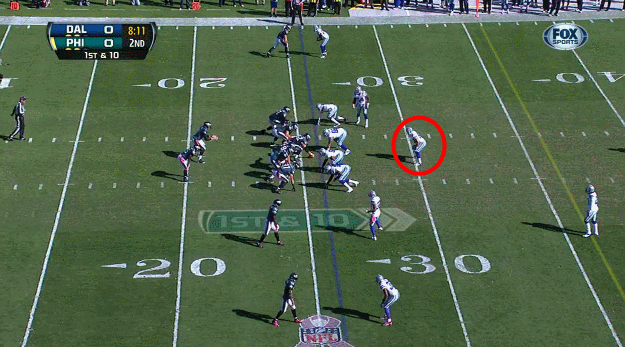 NFL Game Pass
He sees everything on the field and his pursuit is a thing of beauty. Another fine example comes on a stop of Alfred Morris against the Redskins...
NFL Game Pass
Now, with Lee out, here's Sims trying and failing to do his best Lee impression on a big Morris gain from Week 17 in 2012...
NFL Game Pass
Sims lacks that vision and doesn't have the same physical skills. Just watch what John Connor did to him on a big Andre Brown run last year against the Giants...
NFL Game Pass
And with Lee out this past December, Eddie Lacy made that entire linebacking corps look foolish. On this particular play, Sims, Holloman and Kyler Wilber over-commit and get torn apart by a nice cutback. 
NFL Game Pass
So they're just not able to do as much, especially as run defenders. But there's also a big difference in terms of their ability to defend the pass and intercept passes. Lee lurks in coverage as if he's wearing camouflage, creating turnovers like this one against Detroit...
NFL Game Pass
And this one against the Eagles...
NFL Game Pass
Lee is the only linebacker in football with more than eight interceptions the last three seasons, despite the fact he's missed 31 percent of the games the Cowboys have played during that span. 
Most interceptions by linebackers since 2011
Linebacker
Interceptions
Games
INT/game
1. Sean Lee
9
32
0.28
2. DeAndre Levy
8
46
0.17
3. London Fletcher
7
48
0.15
3. Paul Posluszny
7
47
0.15
Pro Football Reference
Sims has one interception in 109 career games. Vilma has just two the last four years. Holloman had three as a senior at South Carolina but forced no turnovers as a rookie. Hitchens had just a single pick in four years at Iowa. 
So while the Cowboys are probably thinking twice about that seven-year, $42.6 million deal they gave Lee nine months ago, they can't give up on him now. Look within the division at the redemption story Jon Beason is creating with the Giants. Look at what Thomas Davis is doing in Carolina despite having undergone three ACL repairs. Medical science makes it possible to get back, and Lee is still only 27. 
It sucks that he'll be 29 before he plays another NFL game, but by watching Sims and/or whoever else steps in this season, the Cowboys are likely going to come to the realization that even an injury-prone Lee is a better option. 
"He's a guy that's worked really hard ever since he got here," said tight end Jason Witten, according to ESPN.com's Tim MacMahon. "One of the hardest-working guys on the team, great approach to the game. He's passionate, he's smart, he's tough."
Lee might have the work ethic to get back, so now the Cowboys just have to hope. They have to hope that someone (or a combination of players) can fill his shoes just enough to get by in 2014. And then they have to hope that he can finally tackle this injury issue in 2015 and beyond.