The Complete 2009 NFC Running Back Predictions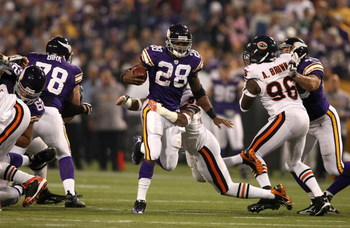 The NFC produced a ton of talent at the running back position in 2008.
The top four rushers in the NFL came from the NFC: Adrian Peterson (Vikings), Michael Turner (Falcons), DeAngelo Williams (Panthers), and Clinton Portis Redskins).
The running game ultimately sets up the passing game. It is said that if a running game can be successful in a game, a passing game will develop.
We have cleared the quarterback position as well as the AFC predictions.
Here are the 2009 NFC running back predictions!
Dallas Cowboys: Marion Barber/Felix Jones/Tashard Choice
Barber is the veteran of the crew with four years of experience under his belt. His first three were backing up Julius Jones.
He got the starting nod and his ground-game performance fell while he flexed his ability to catch the ball out of the backfield.
He's the bruiser. He won't outrun the faster defensive backs in the league, but who needs speed when you can run over people?
He still managed nearly 900 yards rushing despite nagging injuries throughout the season.
The Cowboys second round draft choice, Felix Jones, was truly a game changer for them.
He was only able to play in five games, but put up great numbers with 266 yards rushing, averaging nearly nine yards per carry.
Jones has the speed to outrun anybody on the field. Give him a two-yard cushion and you have no chance of catching him.
Choice was the Cowboys secret draft pick that nobody knew of. He came out of nowhere to rush for 472 yards and averaging 5.1 yards per carry.
It's not certain how they will use Choice in 2009 with two great complimentary backs, but you can still expect Choice to get his fair share of the carries.
2009 Predictions:
Barber: 981 yards, 223 carries, 4.4 yards per carry, 11 touchdowns
56 receptions, 465 yards, 2 touchdowns
Jones: 823 yards, 168 carries, 4.9 yards per carry, 6 touchdowns
19 receptions, 140 yards, 0 touchdowns
Choice: 244, 52 carries, 4.7 yards per carry, 1 touchdown
10 receptions, 92 yards, 0 touchdowns
New York Giants: Brandon Jacobs/Ahmad Bradshaw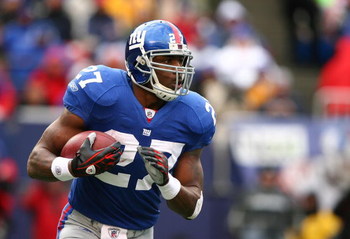 They become one of only a handful of teams to every have two running backs rush for over 1,000 yards in the same season.
Jacobs got a new contract after a huge season in which he ran for 1,089 yards, 15 touchdowns. He averaged barely under five yards per carry.
He had the perfect complimentary back to work with in Derrick Ward who was the other half of the 1,000 yard rushing duo.
Earth, Wind, and Fire is no more.
Ahmad Bradshaw will be asked to step in and perform well enough to allow Jacobs to perform the way he did last season.
With 355 yards of his own, he too rushed for around five yards per carry. He'll get a chance in 2009 to improve on those numbers.
With one back out of the way, the Giants can utilize a two-running back system a little more.
Fewer carries to a third back will put more pressure on Jacobs to perform even better.
Will more carries hurt Jacobs or will the Giants keep his carries down in order to preserve his legs?
The loss of Ward will hurt his offense. He brought a lot to the table and took a load off of Jacobs, something I don't see Bradshaw fulfilling that role nearly as well.
2009 Predictions:
Jacobs: 1,109 yards, 236 yards, 4.7 yards per carry, 10 touchdowns
32 receptions, 211 yards, 2 touchdowns
Bradshaw: 783 yards, 178 carries, 4.4 yards per carry, 4 touchdowns
22 receptions, 189 yards, 0 touchdowns
Philadelphia Eagles: Brian Westbrook/LeSean McCoy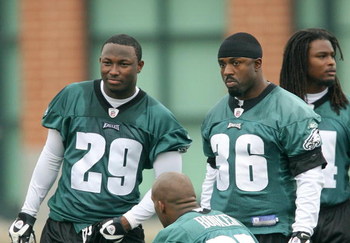 Westbrook lost his backup, but gained a new one in the second round of the 2009 NFL draft in LeSean McCoy.
As we all know, Westbrook is very injury prone and is already battling yet another surgery to his legs to prolong his brilliant career in an Eagles uniform.
Westbrook had a down year in 2008 averaging only 4.0 yards per carry. He had his lowest reception yardage total in five years, barely eclipsing 400 yards.
Westbrook is the ultimate all-around back. He is the definition of a workhorse.
In seven years in the NFL, Westbrook has rushed for 5,721 yards and caught for another 3,609 yards.
To help take some of the load off him this season will be rookie LeSean McCoy. He is a speedy runner who also has the ability to catch and run.
He is a mirror image back to Westbrook. Both are 5'10" and about 200 pounds.
Both can catch and both can run. It could form a scary combination with both on the field.
Though Correll Buckhalter left for Denver, Westbrook shouldn't miss a beat. He has a younger and more athletic pair of legs backing him up.
2009 Predictions:
Westbrook: 994 yards, 226 carries, 4.4 yards per carry, 6 touchdowns
43 receptions, 328 yards, 3 touchdowns
McCoy: 434 yards, 101 carries, 4.3 yards per carry, 2 touchdowns
19 receptions, 134 yards, 1 touchdown
Washington Redskins: Clinton Portis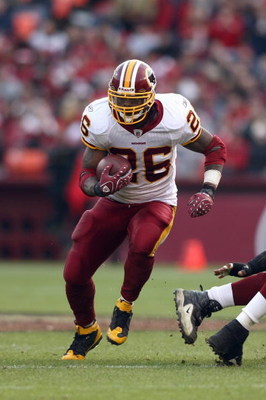 Portis has been one of the quietest players in NFL history to rush nearly 10,000 yards, something he's bound to accomplish this season.
He'll still be only 28 years old and could very well play until he's 32.
Portis had another great season rushing for 1,487 yards, good for fourth in the NFL, and nine touchdowns. He earned his sixth trip to the Pro Bowl for his efforts.
The Redskins still lack an ideal passing game and as long as they have Portis, they will keep pounding the ball on the ground.
He has over 2,000 carries in his career and hasn't showed any signs of slowing down.
Portis took nearly 80 percent of the teams' handoffs last season. His backup, Ladell Betts took only 14 percent.
2009 Predictions:
Portis: 1,529 yards, 348 carries, 4.3 yards per carry, 13 touchdowns
31 receptions, 234 yards, 2 touchdowns
Chicago Bears: Matt Forte
The kid proved in 2008 that he can flat out play the game. Whether you want the guy to run or catch, he can do it.
He ranked second in the league last season in all-purpose yards and he could be a strong candidate to rank in the top three again in 2009.
He totaled 1,238 yards on the ground and another 477 receiving. He fumbled the ball only once all season and had 12 total touchdowns. That's very solid for a rookie.
He brought a power running game to Chicago and very reliable hands out of the backfield. He is a force to be reckoned with for years to come.
I don't see the "sophomore slump" for Forte. The guy is just too good and now he has a deadly quarterback to help.
His carries may go down next season, but his yards shouldn't. He only averaged 3.9 yards per carry last season.
With an "improved" offensive line and new quarterback, that number should improve slightly.
The Bears have some depth behind Forte in Kevin Jones and Adrian Peterson, but they aren't the everyday backs that Forte is. They won't see much time and don't add a whole lot to the offense.
2009 Predictions:
Forte: 1,281 yards, 301 carries, 4.3 yards per carry, 11 touchdowns
74 receptions, 548 yards, 3 touchdowns
Detriot Lions: Kevin Smith/Rudi Johnson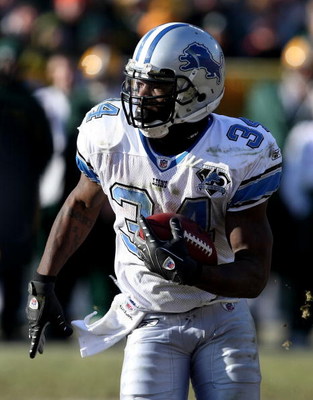 Kevin Smith is the least-known rookie of the 2008 running back draft class.
It's really sad considering he picked up 976 yards rushing and another 286 yards receiving.
Just because you played for an 0-16 team doesn't mean you shouldn't get some recognition for your efforts.
Smith was a great rookie to watch last season. He dazzled his way past defenders and broke a ton of tackles with one of the worst offensive units in the league.
With all the changes surrounding the Lions organization, expect Smith to carry a greater role in the offense. He was the go-to guy and produced well.
Rudi Johnson will be entering his second season for the Lions. He recorded 237 yards on 76 carries in his first year and could very well see more playing time.
Johnson was a solid running back for the Bengals and is a very reliable backup to one of the more talented sophomore running backs in 2009.
The Lions won't be an 0-16 team this season. They added the right talent and have young players to build around. It should be in interesting year in Michigan.
2009 Predictions:
Smith: 1,341 yards, 312 carries, 4.3 yards per carry, 8 touchdowns
43 receptions, 305 yards, 2 touchdowns
Johnson: 296 yards, 83 carries, 3.6 yards per carry, 0 touchdowns
18 receptions, 120 yards, 1 touchdown
Green Bay Packers: Ryan Grant/Brandon Jackson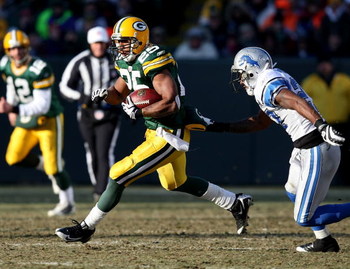 Ryan Grant's performance was up and down all season long. He'd have his great games and his terrible games. It's hard what to expect out of the fourth year player.
Grant still put up 1,203 yards last season, but averaged a mediocre 3.9 yards per carry. If he wants to hold onto the starting job, he's going to have to perform better than that.
Grant hasn't shown the reliable hands out of the backfield that the Packers would like either.
He needs to keep his consistency and prove to the rest of the NFL that he was not a one-shot wonder under.
Grant's backup, Brandon Jackson, is waiting in the wings for a chance to get the ball. In two seasons as Grant's backup, Jackson has performed well averaging 4.3 yards per carry and over 300 yards receiving.
If Grant fails to perform, Jackson could very well be the new starter for the Pack. The gave big money to Grant before last season. If he doesn't live up to expectations, he could be gone.
The Packers rely heavily on their running game to set up a deadly passing game. The moment the run is shut down, Rodgers struggles. It'll be up to Grant to keep Rodgers strong and hopefully lead the Packers to the playoffs.
2009 Predictions:
Grant: 1,268 yards, 302 carries, 4.2 yards per carry, 6 touchdowns
23 receptions, 256 yards, 1 touchdown
Jackson: 490 yards, 104 carries, 4.7 yards per carry, 4 touchdowns
34 receptions, 290 yards, 1 touchdown
Minnesota Vikings: Adrian Peterson/Chester Taylor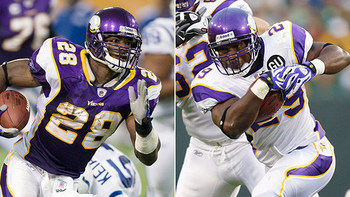 They have one of the best running back tandems in the NFL and will use it to their advantage in 2009.
Peterson is the best running back in the game. He has everything you want in a running back, size, power, and speed.
He does need to improve on his nine fumbles in 2008 though.
Peterson received his first rushing title in 2008 with 1,760 yards rushing.
He became only the fifth back in history to rush for over 3,000 yards in the first two season of their career.
Backing up Peterson is Chester Taylor, the one-time starter for the Vikings. Though his contributions fell in 2008, he still performed well picking up a much needed 399 yards on the ground and adding 399 more receiving.
Peterson will look to defend his rushing crown with a new quarterback at the helm, most likely Brett Favre. That should allow Peterson more room to run and really bring his number through the roof.
Expect the Vikings' running game to lead the league for the second time in three years.
2009 Predictions:
Peterson: 1,819 yards, 342 carries, 5.3 yards per carry, 13 touchdowns
23 receptions, 150 yards, 1 touchdown
Taylor: 608 yards, 135 carries, 4.5 yards per carry, 4 touchdowns
51 receptions, 421 yards, 2 touchdowns
Atlanta Falcons: Michael Turner/Jerious Norwood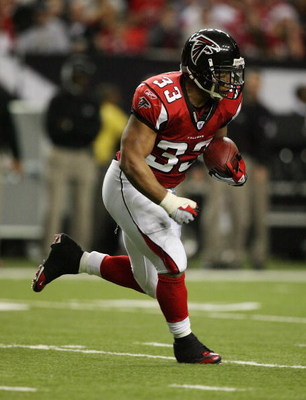 After backing up LaDainian Tomlinson for four years, Michael Turner finally got his chance to prove that he's a capable every day back.
He answered with 1,699 yards and 17 touchdowns, second in yards only to Adrian Peterson.
Turner was very inconsistent through the first part of the season, but settled down in the second half, evening out his 4.5 yards per carry average.\
While Turner isn't known for his catching abilities, but he can catch if he's needed to.
He needs to develop his pass catching abilities to make it to the next level of a modern day NFL running back.
Turner has great speed for a 245-pound back and is very hard to bring down. He made his season by plowing through defenders while his backup, Jerious Norwood, simply ran by them.
Norwood is another typical scat-back. He doesn't like to take punishment and will rather run out of bounds instead of taking the hit and gaining an extra yard or two, but he stays healthy and that's all the Falcons ask.
Norwood has amazing speed. He's probably one of the fastest running backs in the game and is very underrated. He is dangerous with the ball in his hands no matter what.
Norwood has averaged close to six yards per carry in his three seasons. He could get more carries in 2009 and cause even more damage than his 489 yards did last season.
2009 Predictions:
Turner: 1,477 yards, 342 carries, 4.3 yards per carry, 14 touchdowns
21 receptions, 115 yards, 1 touchdown
Norwood: 849 yards, 149 carries, 5.8 yards per carry, 6 touchdowns
34 receptions, 310 yards, 3 touchdowns
Carolina Panters: DeAngelo Williams/Jonathan Stewart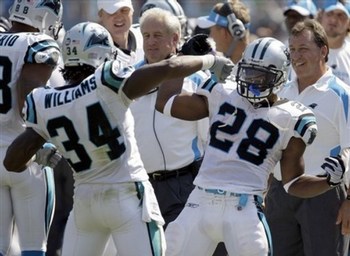 The Panthers rode the fantastic running duo of DeAngelo Williams and Jonathan Stewart to a first round bye in the playoffs last season, only to be eliminated by the eventual Super Bowl contending Arizona Cardinals.
Williams was one of the biggest surprises at running back in 2008, carrying the ball 273 times for 1,515 yards, good for third in the NFL. He also scored a league leading 18 touchdowns.
Williams averaged 5.5 yards per carry and appears that he's finally coming into his own. With a talented runner like Jonathan Stewart to keep his legs fresh, Williams thrived.
Williams didn't produce much in the first seven games rushing for only 414 yards, averaging only 4.0 yards per carry.
In the last nine games though, he rushed for 1,001 yards and averaging 6.9 yards per carry.
Oh, and Williams didn't fumble once all season long.
Stewart had an impressive rookie campaign rushing for 836 yards and 10 touchdowns.
Though Williams is an important part of the offense, Stewart will still get a good share of the carries.
It doesn't seem likely that the Panthers plan on passing the ball anytime soon. Their ground game worked just fine last season and they will continue to use it until someone stops them.
However, it could take a while...
2009 Predictions:
Williams: 1,405 yards, 281 carries, 5.0 yards per carry, 12 touchdowns
24 receptions, 131 yards, 0 touchdowns
Stewart: 909 yards, 202 carries, 4.5 yards per carry, 9 touchdowns
19 receptions, 135 yards, 1 touchdown
New Orleans Saints: Reggie Bush/Pierre Thomas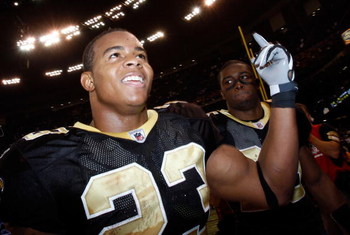 He was expected to make a huge impact in the NFL. People couldn't believe that Mario Williams was selected over him.
In three seasons, Reggie Bush has struggled to provide any sort of running game for the pass-happy Saints.
What he does well though is catch and run, something he doesn't get enough recognition for.
As for as a running back goes, Reggie has been a bust. For the passing game, he's meant more to the Saints than anyone can imagine.
Reggie is fast and doesn't like to take punishment. The sooner he can learn that hits are okay in the NFL, he'll be a solid back.
Pierre Thomas did great filling in for the injured Bush and provided a steady running game rushing for 625 yards and nine touchdowns.
With Reggie healthy though, I don't know if Thomas can assume an everyday role with the team.
The team's all-time leading rusher is gone, Deuce McAllister. He was released this last off-season for salary cap issues and is struggling to find a new home. The fans loved him and will always remember his accomplishments with the team.
2009 Predictions:
Bush: 857 yards, 204 yards, 4.2 yards per carry, 7 touchdowns
81 receptions, 672 yards, 4 touchdowns
Thomas: 570 yards, 124 carries, 4.6 yards per carry, 5 touchdowns
31 receptions, 269 yards, 2 touchdowns
Tampa Bay Buccaneers: Derrick Ward/Earnest Graham/Cadillac Williams
The Bucs went ahead and signed free agent Derrick Ward away from the Giants last off-season hoping to bolster their weak rushing attack after letting future Hall of Famer Warrick Dunn go via free agency.
Ward was the other half of the Giants duo to rush for over 1,000 yards. He did so on only 182 carries.
Ward is leaving a great offensive unit and going to a depleted Bucs team that is in complete rebuilding mode after barely missing the playoffs after the 2008 season.
Ward thrived in New York, but I can't see him doing the same in Tampa Bay. They gave him a descent size contract, but I think the lack of talent around him could cause trouble for him in 2009.
Earnest Graham has been a solid running back option the last two seasons, but both were cut short due to injuries.
He had 563 yards on the ground in ten games last season, but as a third running back option next season, he probably won't come anywhere near that mark again.
Cadillac Williams has battled injuries throughout his four-year career, but he finally looks healthy and could provide valuable backup to Ward who hasn't been an everyday back before.
Williams will look to regain his rookie season form and rid himself of the ever so popular bust label.
2009 Predictions:
Ward: 1,068 yards, 246 carries, 4.3 yards per carry, 6 touchdowns
30 receptions, 220 yards, 1 touchdown
Williams: 479 yards, 114 carries, 4.2 yards per carry, 5 touchdowns
41 receptions, 341 yards, 2 touchdowns
Graham: 137 yards, 36 carries, 3.8 yards per carry, 2 touchdowns
6 receptions, 43 yards, 0 touchdowns
Arizona Cardinals: Chris Wells/Tim Hightower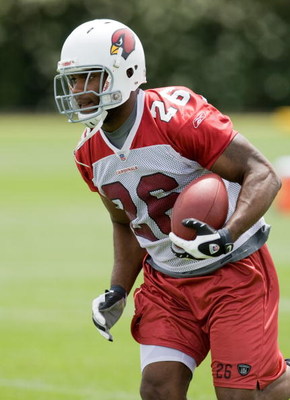 They have the deadliest passing attack in the NFL, but a rushing attack that couldn't quite keep up until the postseason arrived.
They let Edgerrin James go via his own wishes and is still looking for a new job. They also let J.J. Arrington go. Neither should really be missed after a poor 2008 season by both.
Despite what critics may say, Hightower performed terrible for the Cardinals. A 2.8 yards per carry average is what an offensive lineman should be able to do. It's pathetic that a running back has those numbers.
I'll give him his 10 touchdowns. Those were hard earned yards, but all but one came outside the 20-yard line. Again, that's not something you look for in a running back.
In steps rookie Chris Wells, a bruising running back out of Ohio State. He should help a great passing game become better and a poor running game to become more than just mediocre.
He's got the size, speed, and agility to run by or over any defender. He was widely regarded as the most physical running back in college. That's exactly what the Cards are looking for.
I look for him to be doing some pretty big things as the feature back for the Cardinals. As long as he's healthy, he should become a deadly weapon in the Arizona offense.
2009 Predictions:
Wells: 1,122 yards, 253 carries, 4.4 yards per carry, 11 touchdowns
45 receptions, 310 yards, 2 touchdowns
Hightower: 271 yards, 73 carries, 3.7 yards per carry, 1 touchdown
18 receptions, 112 yards, 1 touchdown
St. Louis Rams: Steven Jackson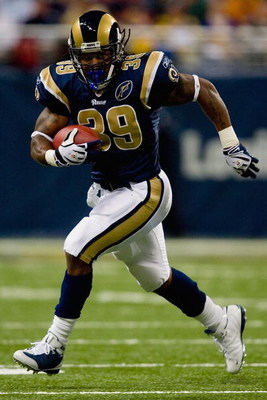 He's a good back, but he's not a top ten like so many people assume. In my opinion, he's not even a top 15.
He is a steady power running who utilizes his strength to bull over smaller defenders.
He's been in the league for five seasons now and only once has he played all 16 games. He'll need to show that he can play every week.
Jackson is very consistent. He won't dazzle you with moves and juke by you, he'll just run you over.
He has deceptive speed for a 6'2" and 235 pound running back. If he wants to stay healthy, he should take a chance and run our of bounds every so often.
He's the only threat in the St. Louis backfield you have to worry about. The backups aren't much. If you take Jackson out of the game, the Rams lose. It's as simple as that.
He's managed over 1,000 yards the last four seasons, but barely. If he can manage a 1,200-yard season and stay healthy, I'll consider him for a fantasy roster spot.
2009 Predictions:
Jackson: 1,310 yards, 316 carries, 4.1 yards per carry, 9 touchdowns
41 receptions, 297 yards, 2 touchdowns
San Francisco 49ers: Frank Gore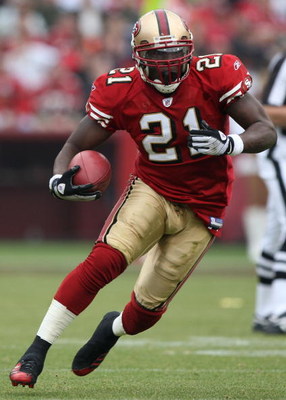 Gore had a great sophomore season in 2006, but has been an average back the last two seasons.
In 2008, Gore rushed for 1,036 yards and six touchdowns in 14 games.
He has been the go-to guy in the 49er offense the last three seasons. That's something that may change this upcoming season.
With the addition of Michael Crabtree, the 49ers are hoping that Gore can be more effective.
The idea is to keep Gore fresh and not tire him down to early in the ballgame.
If they can spread out his touches a little more, his production should skyrocket back to his 2006 form.
Gore is a very talented runner and a very good receiver out of the backfield. His only vice is holding onto the ball.
He's fumbled the ball 18 times and lost it 13 times in his four-year career, only three of which he started.
If Gore can remain healthy, he's a great running back. He's had trouble staying healthy the last two seasons.
With a new head coach and a playmaking receiver, Gore should be able to build off of the talent around him and make the best of it.
The 49ers did pick up Glen Coffee with the 10th pick in the third round, but I'm not sure he'll get too many opportunities to do much his rookie season.
2009 Predictions:
Gore: 1,422 yards, 316 carries, 4.5 yards per carry, 11 touchdowns
41 receptions, 345 yards, 2 touchdowns
Seattle Seahawks: Julius Jones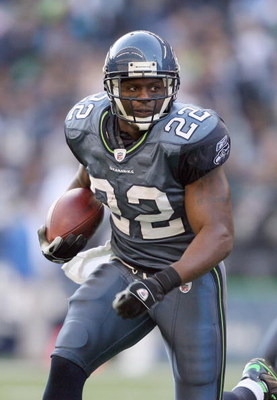 Jones is getting yet another opportunity to start in the NFL. He doesn't have a backup to rely on and will be the only focus at the running back position.
Sure they have T.J. Duckett, but did you honestly watch him play last season?
Jones didn't accomplish a whole lot in Dallas and didn't do much last season, but with more carries in 2009, his production will increase.
In four and half seasons of starting in the NFL, Jones has rushed for just over 4,000 yards and barely managing 4.0 yards per carry.
He's not a touchdown machine and doesn't have the top-end speed that other running backs do.
With nowhere else to go, the Seahawks might be good to find someone in free agency like Selvin Young who could provide good depth behind Jones.
The Seahawks do have a few running backs, but a lot of them are rookies. Tyler Roehl, who I had the pleasure of watching at North Dakota State University, is a beast who could make a very good third down back, but that's just the fan in me speaking.
2009 Predictions:
Jones: 1,178 yards, 274 carries, 4.3 yards per carry, 7 touchdowns
41 receptions, 329 yards, 2 touchdowns
Keep Reading

Minnesota Vikings: Like this team?