Could Arsenal manager Arsene Wenger take a leap of faith in signing Almeria midfielder Ramon Azeez? To cover that hypothetical, here is a scouting report on the 21-year-old Nigerian international.
Positives
Azeez is a 5'7", 148 pound footballer who started as a defensive midfielder in a 4-2-3-1 and a central midfielder in a 4-3-3.

Source: Marca.com.
Azeez is athletically gifted, technically proficient, has solid football IQ, is tactically flexible and positions himself well.
He cut off the angle as Atletico Madrid central attacking midfielder Diego shaped up to shoot and altered the shot of Malaga defensive midfielder Ignacio Camacho.
Azeez swept up play, covered and pressed.
There were moments of intercepting prowess, like against Real Valladolid when he cut off a pass, played the ball back which precipitated an Almeria counter-attack.
There is a Chameleon-type complex to Azeez's passing game.
Take a look at his passes against Real Madrid, per Squawka.com.
It is reminiscent of Denilson Pereira—accurate, conservative and safe.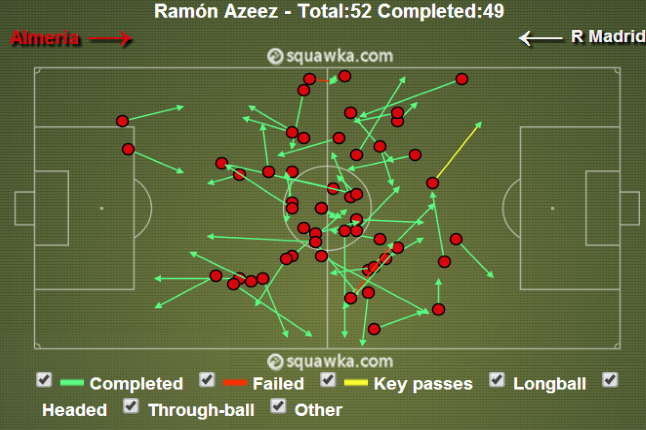 Source: Squawka.com.
Then you review Azeez's passes against Granada, per Squawka.com, it is bold, daring and imaginative.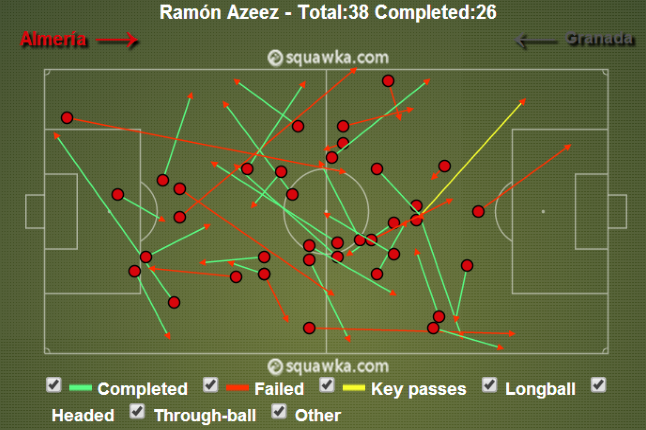 Source: Squawka.com.
Azeez took the ball out of defence and played a classy instep pass to Vidal against Valencia.
"This season I've played defensive, holding and attacking roles in midfield," Azeez said, per Oluwashina Okeleji at BBC Sport. "I'm just very comfortable to play anywhere."
Ramon Azeez is one of La Liga's rising stars & surge to prominence has taken him to the brink of the Nigeria squad: http://t.co/a9ELdcBpVU

— Oluwashina Okeleji (@oluwashina) January 20, 2014
Azeez has shown glimpses of box-to-box potential.
He threw himself at Almeria central attacking midfielder Fernando Soriano's cross to head home a stoppage-time winner against Real Betis.
2 – Ramón Azeez has scored two goals in La Liga this season for Almería, both against Betis (winning six points). Hero

— OptaJose (@OptaJose) May 4, 2014
Azeez's late run drew a last-man foul from Granada centre-back Jeison Murillo and won a penalty.
Negatives
Azeez needs to be more authoritative in demanding the ball as nine of his teammates averaged more passes than him (25).
While Azeez's defending style is cautious, minimalistic and reactive, like Philipp Lahm when he plays in midfield for Bayern Munich, it would be preferable if Azeez upped his defensive productivity (averaged 1.3 tackles and 1.5 interceptions per game).
The primary problem with Azeez's game is an inability to consistently finish in front of goal.
He had a shot blocked against Valladolid and ignored a wide-open Vidal against Granada only to drag the ball wide.
Azeez scored two goals in La Liga from 31 shots and failed to convert 92.3 percent of his goal-scoring chances, per Squawka.com.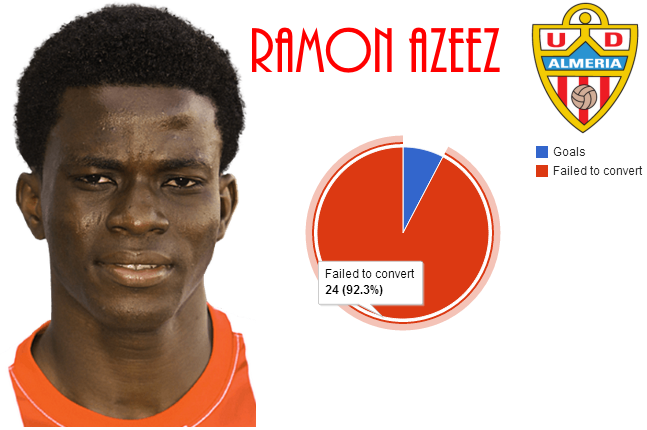 Source: Squawka.com.
Bottom Line
Arsenal central midfielder Aaron Ramsey's transformation from a scapegoat to arguably the club's most important player reinforces how special Wenger is at developing footballers.
Azeez has superb pedigree, according to FIFA's technical study group:
"Tireless defensive midfielder with good vision and technique, links defence and attack," per FIFA.com; 2011 FIFA U-20 World Cup.

"Defensive central midfielder, shields the defence well, good passes and technique," per FIFA.com; 2009 FIFA U-17 World Cup.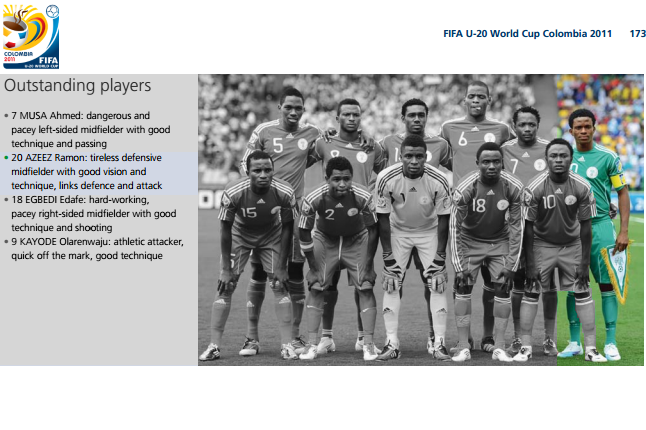 Source: FIFA.com.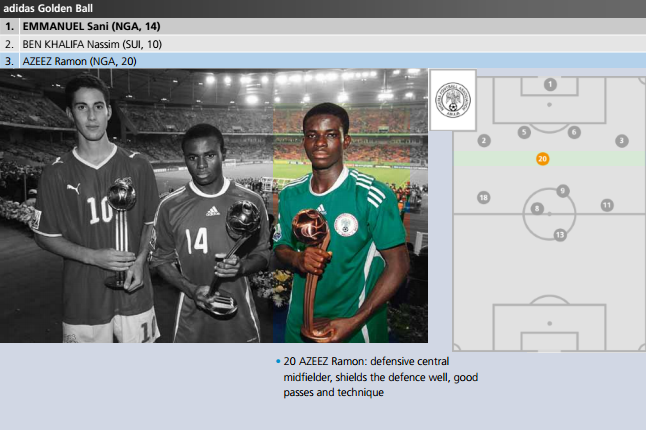 Source: FIFA.com.
When Claude Makelele was at Nantes, Deco at Salgueiros, Gennaro Gattuso at Salernitana, Michael Ballack at Chemnitzer, what do you think they all wanted?
Just one shot at the big time.
Azeez has the potential to turn into an elite midfielder and he would be a low-risk, high-reward type of signing for Arsenal.
Statistics via WhoScored.com