Updates from Thursday, July 10
MLB announced Crawford's return and subsequent roster move:
The @Dodgers reinstate OF Carl Crawford from 15-day DL (left ankle sprain); designate 1B Clint Robinson for assignment.

— MLBRosterMoves (@MLBRosterMoves) July 10, 2014
Updates from Friday, July 4
Bill Plunkett of the Orange County Register provides an update on Carl Crawford's recovery:
#Dodgers mgr Don Mattingly said Carl Crawford is scheduled to start a rehab assignment with @AbqTopes tomorrow

— Bill Plunkett (@billplunkettocr) July 4, 2014
Updates from Monday, June 9
Carl Crawford spoke about his injured ankle to Bill Shaikin of the Los Angeles Times:
Carl Crawford says he does not have full strength back in his ankle. It's unlikely he'll be ready Thursday, when he can be activated.

— Bill Shaikin (@BillShaikin) June 9, 2014
Updates from Wednesday, June 4
Ken Gurnick of MLB.com has the latest update on Carl Crawford and a potential return date from the DL:
Mattingly said he was hopeful Crawford will return from DL when eligible next Thursday.

— Ken Gurnick (@kengurnick) June 5, 2014
Updates from Wednesday, May 28
The Dodgers' official Twitter feed reported bad news regarding Crawford:
#Dodgers today placed Carl Crawford on the 15-day DL (left ankle sprain) and selected the contract of Jamie Romak (#35) from @AbqTopes.

— Los Angeles Dodgers (@Dodgers) May 28, 2014
Original Text
Los Angeles Dodgers outfielder Carl Crawford exited Tuesday night's game against the Cincinnati Reds in the eighth inning after suffering a left ankle sprain.
Carl Crawford left tonight's game with a left ankle sprain. #Dodgers

— Los Angeles Dodgers (@Dodgers) May 28, 2014
Per Don Mattingly, X-rays were negative on Carl Crawford's left ankle. #Dodgers

— Los Angeles Dodgers (@Dodgers) May 28, 2014
Crawford was scrambling to the left field corner to field a Chris Heisey double down the line and rolled his ankle as he planted near the warning track.
Crawford talks about the injury while Orange County Register reporter Pedro Moura confirms his fear:
Carl Crawford: My leg just slipped and it swelled up real quick. They're going to put me on the DL. I think it's going to take a while.

— Los Angeles Dodgers (@Dodgers) May 28, 2014
Carl Crawford is using crutches with a hefty boot on his left ankle. He will go on the 15-day disabled list.

— Pedro Moura (@pedromoura) May 28, 2014
After fielding the ball and throwing it back into the infield, Crawford began hobbling toward the dugout and called for the trainer. He walked mostly on his own power before going back into the clubhouse to undergo further evaluation.
Scott Van Slyke came in as a defensive replacement.
In his third season with the Dodgers, Crawford, 32, is hitting .267/.293/.400 with four home runs and 18 RBI. He has been largely an everyday fixture for the Dodgers, playing in all but six games through Tuesday night. That marked a stark contrast to the last few seasons, where Crawford has mostly been an expensive piece sitting on the disabled list in Boston and Los Angeles.
Although they'd prefer him in the lineup, the Dodgers have MLB's best insurance plan in place. The recently benched Matt Kemp should take Crawford's place if he has to miss any extended time. Kemp, a two-time All-Star and the second-place NL MVP finisher in 2011, was recently parked by manager Don Mattingly as he tries to reignite a spark in his struggling ballclub.
Carl Crawford rolls an ankle. And this -- again -- is why there are five OFers in LA.

— Tim Brown (@TBrownYahoo) May 28, 2014
Andre Ethier took Kemp's everyday spot in center, with Yasiel Puig in right and Crawford in left. In announcing the shuffling, Mattingly said he planned to have Kemp occasionally play left—though that may be more often than he dreamed after Tuesday.
"I don't want to put him in a bad spot from the standpoint of not being out there," Mattingly told reporters. "We want to get him some work there so he's comfortable in that spot."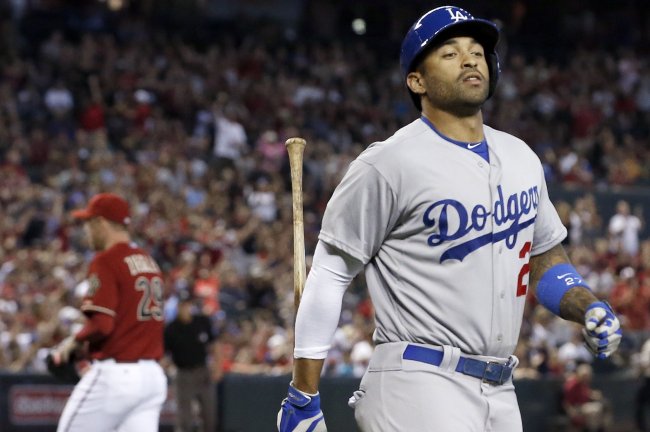 Ross D. Franklin/Associated Press
Kemp, 29, is hitting .264/.327/.453 with five home runs and 13 RBI in 42 games. He has only one at-bat since May 22. While his public comments have been minimal since the move Mark Saxon of ESPN and others have reported on a growing tension in the Dodgers clubhouse. It's unclear how Mattingly will choose to handle the situation from here.
At the very least, Kemp's presence allows Crawford to take his time getting back into the lineup. There is little reason to rush back when your team has Matt Kemp waiting in the wings. Then again, maybe having such a talented backup might not be the best thing for job security.
The Dodgers will start baseball's most talented outfield regardless.
Follow Tyler Conway (@tylerconway22) on Twitter.