As one No. 10 falls, another one rises. Wearing the shirt made famous by Landon Donovan, Mix Diskerud provided the spark in the United States' 2-0 win over Azerbaijan in San Francisco's Candlestick Park on Tuesday night.
Many fans watched the friendly to see how the team would perform following the exclusion of Donovan from the final 23-man World Cup roster.
For a while, the U.S. looked very sluggish, but Diskerud was a breath of fresh air after he entered as a substitute in the 71st minute. He scored what proved to be the winner in the 75th minute.
Diskerud made the most of his sparse time on the pitch, running to the right areas, closing down on the ball when not in possession and distributing it nicely among his teammates. As ESPN's Max Bretos tweeted out, Diskerud didn't seem adversely affected at all by taking over in Donovan's stead:
The #10 jersey can be a heavy one. Nice to see Mix Diskerud handle that burden well in his first game wearing it for USA.

— Max Bretos (@mbretosESPN) May 28, 2014
Although this friendly was mostly about getting the players ready for the 2014 FIFA World Cup, coach Jurgen Klinsmann discussed how scheduling Azerbaijan allowed him to gain an extra edge.
The head coach of Azerbaijan is Berti Vogts, a legend in German football who won a World Cup and European Championship as a player and a Euro title as manager of Die Mannschaft. Klinsmann felt that Vogts' vast experience and guidance could be vital to the United States ahead of this summer's tournament, per USA Today's Kelly Whiteside:
He's very excited to be part of our path to Brazil and during the World Cup because that's where the big music is played, and he wants to be part of the big music. For me he's been a big mentor throughout my life, and he just has an outstanding soccer brain, an outstanding knowledge the way he reads the game, the way he analyzes things. His tremendous experience, is unquestionable, a huge benefit for us.
Before the match, U.S. Soccer announced captain Clint Dempsey was suffering from groin soreness and would be replaced in the starting lineup by Chris Wondolowski:
Lineup change for the #USMNT - Dempsey out, Wondolowski in. Soreness in groin; purely precautionary. pic.twitter.com/aBnicQAsGd

— U.S. Soccer (@ussoccer) May 28, 2014
As a result, the friendly was a great chance for the San Jose Earthquakes striker to prove his worth ahead of the World Cup. Goal's Thomas Floyd also thought that pairing in a strike partnership with Jozy Altidore would also play to Wondolowski's strengths:
This is a huge opportunity for Wondolowski next to Altidore. He's always been better floating underneath a bigger target forward. #USMNT

— Thomas Floyd (@thomasfloyd10) May 28, 2014
Although the 31-year-old won't be entirely dispirited by his performance, he'll certainly rue his missed opportunities early in the match.
In the fourth minute, Wondolowski found himself completely unmarked in the box, with a free header on the Azerbaijan goal. Unfortunately for the U.S., the most he could do with Graham Zusi's free kick was send his chance right at Azerbaijan goalkeeper Kamran Agayev.
Eleven minutes later, Wondolowski again had a headed chance go begging. He was on the end of an Alejandro Bedoya cross, but Agayev got a hand on the header to tip it harmlessly over the bar for a corner.
Those were far and away the best opportunities for the U.S. in the first half. Between the swirling conditions inside Candlestick Park and the defensive style of Azerbaijan, the Americans struggled to create many attacking moves.
Brian Sciaretta of The New York Times felt that the United States weren't rising above the competition:
The story of the 1st half: the #usmnt is playing down to the level of its opponent

— Brian Sciaretta (@BrianSciaretta) May 28, 2014
Soccer writer Jeff Bradley believed that the Americans were simply getting their feel for the game back:
US looks like a team that's been doing a lot of fitness, not playing a lot of soccer. It will get better. I think

— Jeff Bradley (@JerseyJBradley) May 28, 2014
The slow pace of the first half carried over to the second. The United States lacked the cutting edge that would've broken through the tactical morass.
Brad Davis, who was subbed on at halftime for Graham Zusi had a penalty shot denied in the 48th minute. The replays showed that the foul did come inside the 18-yard box, but the referee decided that it was outside, so the U.S. had to settle for a free kick, which amounted to nothing.
It looked like the U.S. might have to settle for a scoreless draw before Diskerud's goal. Although it wasn't the prettiest you'll see, you have to credit the midfielder for being in the right place, reacting quickly and finishing.
Aron Johannsson doubled the United States' lead in the 81st minute off a corner kick from Davis. The marking from Azerbaijan could only be described as comical, as the AZ Alkmaar striker had about five yards of space between him and the closest defender in the 18-yard box.
With that goal, the Alabama-born forward looks to have jumped ahead of Wondolowski in Klinsmann's pecking order—if he wasn't there already.
Plenty of American supporters who watched the match likely walked away disappointed with what they saw. After all, Azerbaijan sit 85th in the most recent edition of the FIFA rankings.
Fox Soccer's Leander Schaerlaeckens put this friendly in the correct perspective:
The Americans looking awful sloppy at times. But worth remembering the full A-team hasn't played an official game together since November.

— LeanderLastNameNoFit (@LeanderOnFOX) May 28, 2014
With as little time as the Americans have had on the pitch together, some rust in these friendlies is to be expected. That's why Azerbaijan were put on the schedule. If the United States are still playing poorly at the end of their send-off series, then fans would have more of a reason for concern.
Klinsmann said he was happy with attack but "we know we have a lot of work still ahead of us."

— Jeff Carlisle (@JeffreyCarlisle) May 28, 2014
Key Player Grades
Mix Diskerud, United States: B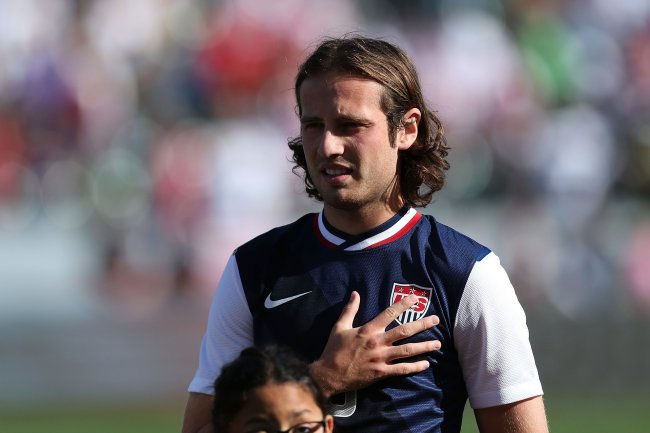 Victor Decolongon/Getty Images
Replacing a legend is never easy, but Mix Diskerud made it seem so. Although he only played about 20 minutes of the match—counting injury time—Diskerud did enough to set himself apart. As somebody who's spot in the starting XI is far from assured, the 23-year-old needs to maximize his impact on the pitch, and that's exactly what he did Tuesday.
Chris Wondolowski, United States: B-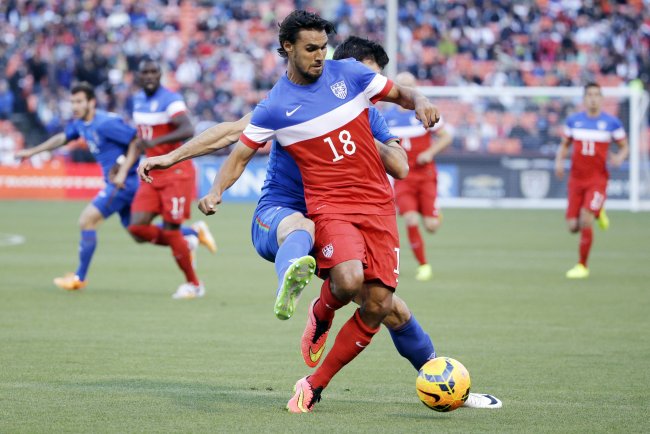 Marcio Jose Sanchez/Associated Press
Although Chris Wondolowski didn't have a ton of warm-up prep before the match, given the timing of Dempsey's injury, he really should've done better in this match.
One of Wondolowski's best traits is his poaching in front of goal. While he got into scoring position, his finishing touch wasn't there. He should've put at least one of his two first-half headers away.
In a match that featured few real chances in front of goal for the Americans, Wondolowski's misses stand out.
Brad Davis, United States: B+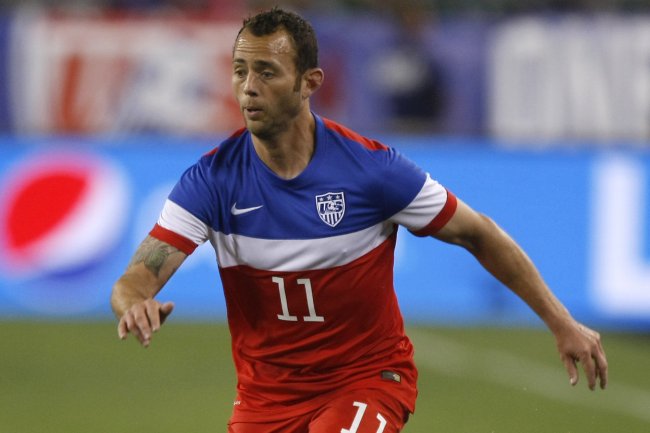 Rick Scuteri/Associated Press
Coincidentally, one of the players believed to have beaten out Donovan for a spot on the squad arguably had the best performance Tuesday night. Davis was excellent on set pieces and, in general, created scoring opportunities from the wing. He worked extremely hard in the second half and was one of the few bright spots for the United States.
Brad Davis has had a very good half. Not just the set pieces. He's worked hard. Unless something changes, he's my MOTM so far #USMNT

— Brian Sciaretta (@BrianSciaretta) May 28, 2014
USA Player Grades

| | |
| --- | --- |
| Player | Grade |
| Tim Howard | B- |
| Fabian Johnson (off '61) | B+ |
| Geoff Cameron (off '46) | B |
| Matt Besler | B |
| DaMarcus Beasley (off '46) | C+ |
| Jermaine Jones | B |
| Graham Zusi (off '46) | B- |
| Alejandro Bedoya | B |
| Michael Bradley | C+ |
| Chris Wondolowski (off '61) | B- |
| Jozy Atidore | C- |
| Substitutes | |
| Omar Gonzalez | C+ |
| Brad Davis | B+ |
| Timothy Chandler | C+ |
| DeAndre Yedlin | B- |
| Aron Johannsson | B |
| Mix Diskerud | B |
Lineup via U.S. Soccer
Azerbaijan Player Grades

| | |
| --- | --- |
| Player | Grade |
| Kamran Agayev | B- |
| Mahir Shukurov (off '47) | C+ |
| Rasim Ramaldanov | C+ |
| Elvin Yunuszade | C |
| Ufuk Budak | C |
| Gara Garayev | C |
| Ruslan Abishov (off '46) | C- |
| Abdulla Abasiyev (off '71) | C |
| Rufat Dadasov (off '66) | C+ |
| Vagif Javadov (off '59) | C- |
| Rauf Aliyev | C |
| Substitutes | |
| Badavi Guseynov | C- |
| Ilkin Qirtimov | C- |
| Dimitrij Nazarov | C |
| Pardis Fardjad-Azad | C |
| Maksim Medvedev | C |
| | |
Lineup via Fox Soccer
What's Next?
The United States have Turkey next and then play Nigeria for the final match in their send-off series. After that, it's on to the 2014 FIFA World Cup in Brazil. The Americans clearly have a lot to iron out over the next few weeks, so it will be interesting to see if their performance picks up over their next couple of friendlies.