After three straight wins, two of them of thorough beatings, the Los Angeles Kings will look to make it four Wednesday night and punch their ticket to the Stanley Cup Final.
The Chicago Blackhawks will look to avoid elimination in Game 5 of the Western Conference final, which took a drastic turn at United Center in Game 2. The Blackhawks were leading 2-0 late in the second period when a Justin Williams goal triggered an avalanche of Kings offense that as led to them grabbing a 3-1 lead in the best-of-seven series.
The Kings jumped to a 4-0 lead in Game 4 and held on for a 4-2 victory Monday. They'll look for a repeat performance and a chance to play for their second Stanley Cup in three seasons.
When: May 28, 8 p.m. ET
Where: United Center, Chicago
Watch: NBCSN, CBC, RDS
Kings' Top Storylines
Anyone noticed Jonathan Quick hasn't been great?
On one end of the ice, Corey Crawford has proven to be more permeable than water. But on the other end of the ice, Jonathan Quick hasn't exactly been spectacular in this series, either.
Quick's save percentage in this series is .896, something that hasn't been an issue with the Kings scoring 15 goals the past three games. For the entire postseason, Quick has a .911 save percentage, which is below league average.
Jonathan Quick's save percentage by round: .914 vs. Sharks .916 vs. Ducks .896 vs. Blackhawks

— PumperNicholl (@PumperNicholl) May 27, 2014
This means that either the Kings could be in trouble if the Blackhawks solve their defensive issues or that Quick is long overdue to play his best in this series.
Can their power play be stopped?
In the past three games, the Kings are 5-for-10 on the power play. After running that through my super computer, we learn that the Kings have scored on half their power-play chances during this three-game winning streak. According to sources, that's very good.
The Los Angeles Kings buck recent playoff history with a fruitful power play. http://t.co/0zBuD2oc9o

— Curtis Zupke (@curtiszupke) May 27, 2014
And they've been big goals, too: In Game 4, two of the Kings' three first-period goals came on the power play; in Game 3, Slava Voynov answered a Jonathan Toews' shorthanded goal to tie the score in the first period and in Game 2, Jeff Carter tied the score on the power play, then Jake Muzzin put the Kings ahead for good with a power-play goal.
If the Blackhawks can get their penalty killing together, it will present a new challenge for the Kings in terms of generating offense. But if this trend continues, the Blackhawks will have next to zero chance in Game 5.
Closing time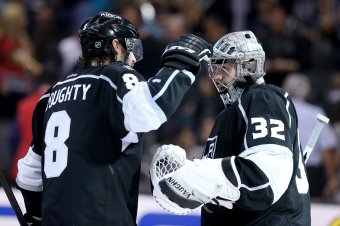 Jeff Gross/Getty Images
The Kings are 6-0 when facing elimination in the playoffs. That's limited the number of opportunities to close series, although they are 2-0 in that regard.
Dating to their Stanley Cup run in 2012, the Kings are 8-5 with a chance to win a series. Four of those losses occurred in 2012 during series in which the Kings had 3-0 series leads—only the New Jersey Devils were able to force a series to a sixth game after falling into a 3-0 hole.
With a chance to win a series on the road since 2012, the Kings are 4-2.
Coffee is for closers, and the Kings have consumed their fair share the past three years.
Blackhawks' Top Storylines
Can they overcome 3-1 again?
Last year in the second round against the Detroit Red Wings, the Blackhawks won Game 1 before losing the next three games in mostly lopsided fashion. They turned it around in the nick of time winning the final three games of the series to advance to the conference final.
#Blackhawks facing 3-1 deficit in best-of-7 series for 13th time in history. They are 1-11 all-time in that scenario (beat Wings last year).

— Chris Kuc (@ChrisKuc) May 27, 2014
It's a familiar script for the Blackhawks, although the challenge is much greater this time around.
The Blackhawks allowed nine goals in those three losses to the Red Wings; the Kings have scored 15 goals in their past three games and are a far superior team than the 2013 Wings.
It will take something special to beat the Kings three times in a row (hey, the Sharks did it in the first round), but the Blackhawks could be the team to do it.
Will Corey Crawford be at least average?
The Blackhawks aren't built around goaltending, but they need it to be at least somewhat above average in order to win. Heck, they'd take average at this point from Corey Crawford.
do people honestly not think corey crawford is, like, the definition of an average goalie?

— ryan lambert (@twolinepass) May 25, 2014
Since allowing a late second-period goal to Justin Williams in Game 2, Crawford has given up 13 goals on 65 shots (.800 save percentage). Some of it has been the poor defense in front of him, but Crawford has been a natural disaster at times in this series.
Last year against the Red Wings, Crawford righted the ship in Games 5-7 to win that series. He'll need to do it again.
Will home ice make a difference?
The Blackhawks are 7-1 at home in the postseason at home. Away from United Center, they are 2-6.
The Blackhawks do everything better in Chicago.
#Blackhawks Hossa & Sharp combined in 2014 Playoffs At Home: 15 Points On Road: 6 Points

— Sportsnet Ticker (@SportsnetTicker) May 27, 2014
They are 7-for-22 (31.8 percent) on the power play at home, tops in the league; the penalty kill at home ranks first (88 percent) among the four teams in the conference final.
It's the difference between night and day for the Blackhawks in terms of home/road splits. They still have to find a way to win in Staples Center in order to win this series, but that won't be an issue if the home magic isn't there for Game 5.
Prediction: Blackhawks 4, Kings 2
Dave Lozo covers the NHL for Bleacher Report. You can follow him on Twitter @DaveLozo.
All statistics via NHL.com.