Loic Remy is still undecided on extending his loan at Newcastle United into a permanent deal, per L'Equipe (h/t Sky Sports), so could a summer transfer-window replacement be Vitesse centre-forward Mike Havenaar?
To cover that hypothetical, here is a scouting report on the 27-year-old Japanese international.
Positives
Havenaar is a 6'6", 179-pound centre-forward who is in his element when crosses are flung into his zone.
His height advantage over the large majority of opposing centre-backs, his ranginess and his well-timed leaps allow him to score headers with regularity.
Those skills were on show with headed goals against Twente and Roda:
You can certainly envision Newcastle's robust utility player Moussa Sissoko outmuscling the opposing left-back and whipping in a cross for Havenaar to head home.
Havenaar is an all-round attacking threat because he can also create.
Against Heerenveen, he squared the ball for Vitesse left-forward Lucas Piazon, who scored:
In a play against NAC Breda, Havenaar nodded the ball in the direction of Piazon, who took Havenaar's lay-off, created space and finished:
Havenaar accumulated 38 goalscoring opportunities in 34 Eredivisie games.
Negatives
Havenaar is an Eredivisie-standard No. 9 and thus is far from special.
There were 13 players in the Eredivisie who surpassed his 10-goal tally in league play.
Despite being 6'6", Havenaar's headers won percentage (55.8) was inferior to that of NEC Nijmegen centre-forward Michael Higdon (57.2), who is five inches shorter: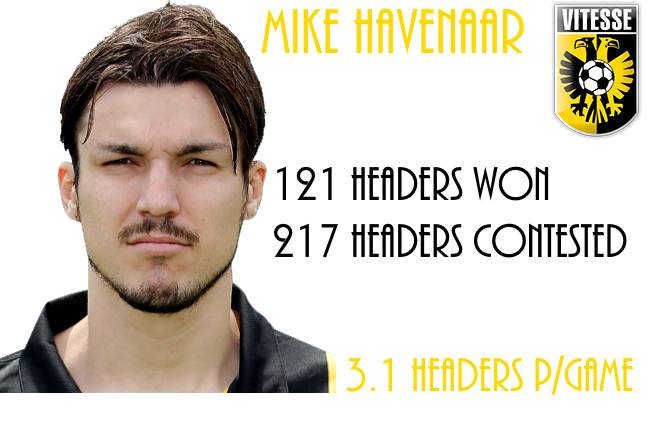 Source: Eredivisie.nl.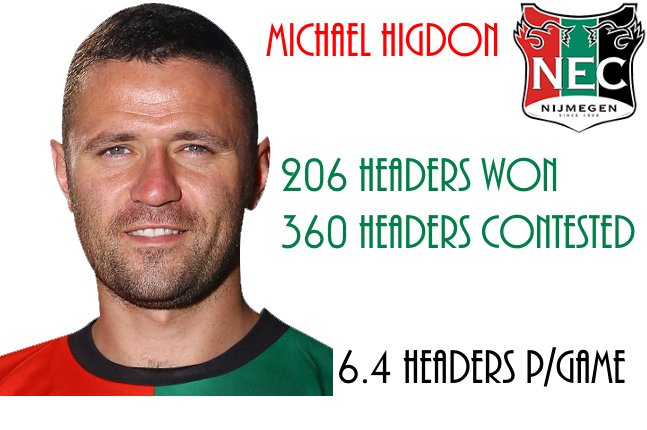 Source: Eredivisie.nl.
In addition, Higdon is a superior player to Havenaar:
League Only
Michael

Higdon

Mike

Havenaar

Goals
14
10
Shots Per Goal
5
7.6
Assists
7
5
Key Passes Per Game
1.5
1.1
Higdon is a serviceable footballer, but he is not in the league of Feyenoord centre-forward Graziano Pelle, who scored 27 and 23 goals in his first two seasons for the club.
21 - No player from the bottom half of the 2013/14 Eredivisie table scored (14) or assisted (7) more goals than Michael Higdon. Solace.

— OptaJohan (@OptaJohan) May 27, 2014
FOTO | Matchwinnaar Graziano Pellè na zijn eerste goal tegen PSV vanmiddag [via @vi_images] pic.twitter.com/9yvotVqU9j

— VI (@VI_nl) December 1, 2013
This is the same Pelle who struggled mightily in Serie A, once scoring one goal from 24 shots in the 2011-12 season for Parma.
One red flag with Havenaar is his poor competitive spirit, as he has inexplicably given up in several games.
2 - Over the last 2 years, only 2 players have a better league goals per game average than Graziano Pellè. Potent. pic.twitter.com/WEs0lAPbsE

— OptaJohan (@OptaJohan) May 15, 2014
How much is Havenaar willing to compete?
Upon hearing of Napoli's interest in signing him, Havenaar's reaction was one of a defeatist.

"Napoli won't be it I don't think," Havenaar said, per ANP (h/t Sky Sports). "I don't want to sit on the bench the whole season."
Havenaar could have put a positive spin on it, saying he would be an invaluable impact sub.
If he does not believe in himself, how can he elevate himself to the next level?
Bottom Line
0 - Mike Havenaar has failed to produce a single shot on target in his last five matches. Crisis.

— OptaJohan (@OptaJohan) May 9, 2014
Havenaar is 6'6", great in the air, comfortable with the ball at his feet and is a team player.
Before Remy signed with Queens Park Rangers, he started 14.3 percent of Ligue 1 games he was involved in during his last season for Marseille.
He scored once from 17 shots, had fitness issues and looked down and out.
Havenaar had a better season for Vitesse than Remy did for Marseille.
Look at Remy now: He was Newcastle's leading scorer in the Premier League with 14 goals.
Havenaar can elect to exercise his Bosman right to a free transfer, so signing him would be in line with Newcastle owner Mike Ashley's budget.
Statistics via WhoScored.com