Arsenal's FA Cup-winning goalkeeper Lukasz Fabianski will follow through with his decision to quit the Gunners, per ESPN, so manager Arsene Wenger needs a replacement.
One suggested summer transfer window target is Saint-Etienne keeper Stephane Ruffier, so here is a scouting report on the 27-year-old French international.
Positives
Ruffier is a 6'2", 198-pound keeper with experience having started every single Ligue 1 game for Saint-Etienne in the last three seasons.
He possesses length and powerful hands, as evident when he convincingly thwarted a goal-bound header against Lille.
Ruffier reaffirmed how strong his wrists are by quashing high-velocity shots from then-Valenciennes (now Lyon) left attacking midfielder Gael Danic and Bastia right-back Gilles Cioni with one-handed saves.
Ruffier closes down quickly, which was on show when he denied Monaco central attacking midfielder James Rodriguez in a one-on-one situation.
Ruffier demonstrated his lateral quickness by stopping a penalty from then-Toulouse (now Tottenham Hotspur) central midfielder Etienne Capoue.
Ruffier's statistics are near identical to Arsenal No. 1 Wojciech Szczesny, the joint holder of the Premier League Golden Glove (he shares it with Chelsea keeper Petr Cech).
Petr Cech & Wojciech Szczesny share the Barclays Golden Glove. Most clean sheets: 16 - Cech, Szczesny 15 - Howard 14 - Lloris, Boruc

— Premier League (@premierleague) May 12, 2014
The 16 cleans sheets by Petr Cech & Wojciech Szczesny is the fewest to win the Golden Glove in the 10 years it has been around.

— Dale Johnson (@dalejohnsonESPN) May 13, 2014
League Only
Saves
Saves Per Game
Clean Sheets

Stephane

Ruffier

[1]
112
2.9
16

Wojciech

Szczesny

[2]
113
3.1
16
[1] per Ligue1.com; blocks included as saves.
[2] per the official Premier League website; click defending.
---
Negatives
Ruffier is prone to Fabien Barthez-esque lapses of judgement.
His failed punch clearance led to then-Bordeaux centre-back Carlos Henrique (has since quit the club) scoring.
Ruffier should have punched the ball away from goal, but instead he deflected the ball straight into traffic, which fortuitously fell into the path of Henrique.
Ruffier assumed Troyes (now Sochaux) right-back Julien Faussurier did not have the audacity to shoot near post.
Consequently, Ruffier was lax in his positioning, and Faussurier slid the ball through for a cheap goal.
Paris Saint-Germain left-forward Ezequiel Lavezzi lost control of the ball, yet Ruffier recklessly collided with the Argentine international to concede a harebrained penalty.
Lorient centre-forward Vincent Aboubakar would not have scored if Ruffier had not charged out and completely whiffed at the ball Iker Casillas-style.
Ruffier bizarrely conceded innocuous-looking shots, which gifted goals to then-Lyon (now Al Ain) left-winger Michel Bastos and Lorient right-winger Yann Jouffre.
Ruffier divides opinion.
He was rated as the fifth-best Ligue 1 keeper by France Football, the 10th by Sports.fr and was not included in L'Equipe's best XI for the first half of the season, or the entire season.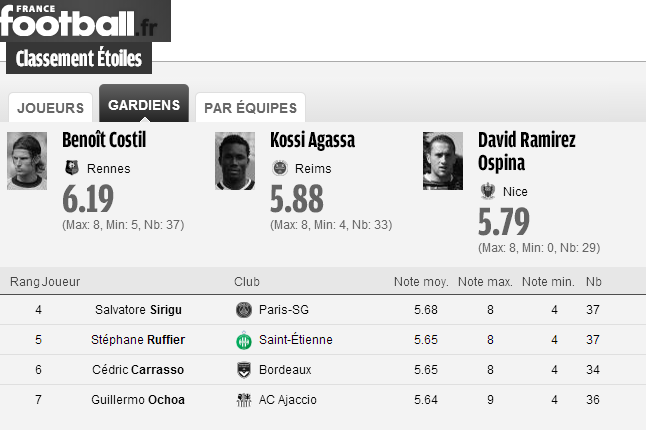 Source: FranceFootball.fr.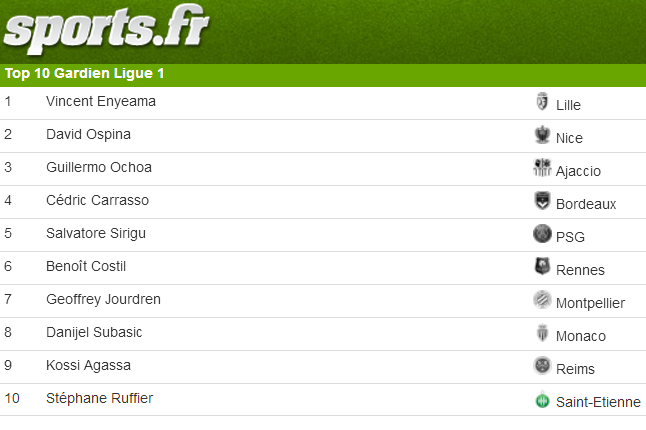 Source: Sports.fr.
L'équipe type de Ligue 1 de la phase aller pic.twitter.com/pfO3lCFRUq

— L'ÉQUIPE (@lequipe) December 24, 2013
L'équipe type de la saison en Ligue 1 pic.twitter.com/4x6RMTVJyt

— L'ÉQUIPE (@lequipe) May 19, 2014
Yet, Ruffier was a contender for the National Union of Professional Footballers Ligue 1 Goalkeeper of the Year award.
Ligue 1 Goalkeeper of the Year @UNFP - Vincent Enyeama (LOSC), Steve Mandanda (OM), Stephane Ruffier (St-Etienne), Salvatore Sirigu (PSG)

— FFW (@FrenchFtWeekly) May 1, 2014
Bottom Line
It was an odd decision from French national team manager Didier Deschamps to replace the injured Steve Mandanda, the backup to No. 1 Hugo Lloris, with Ruffier.
Ruffier was on the outside looking in, whereas Mickael Landreau was the third-choice keeper.
Overall Deschamps has picked a very balanced squad. Although how Landreau is in there ahead of Ruffier is very bizarre, if judging on form.

— Jerome Pugmire (@jeromepugmire) May 14, 2014
Steve Mandanda announces "with sadness" that he will not be able to go to the World Cup with France after injuring his neck last night.

— Tom Williams (@tomwfootball) May 18, 2014
France coach Didier Deschamps confirms Stephane Ruffier is Les Bleus' 2nd choice GK behind Hugo Lloris after Steve Mandanda loss. #EDF #WC14

— Jonathan Johnson (@Jon_LeGossip) May 25, 2014
Now Ruffier is the new No. 2.
There is a lack of consistency in Deschamps' decision.
With Lloris' sweeper play, it exposes him to contact, thus increasing the chance of injury. This will give Ruffier hope of making an appearance at the 2014 FIFA World Cup.
Arsenal will be getting an international-calibre keeper in Ruffier.
While he has flaws, he can make every save in the book, plays with intensity, is still 27 years old and would adequately fill the void left by Fabianski.
Here's Lukasz Fabianski celebrating with @Arsenal fans at Wembley! #GunningForTheCup pic.twitter.com/2AvKYBZZLy

— Arsenal FC (@Arsenal) May 18, 2014
Statistics via WhoScored.com