Maybe trash-talking the best player in the NBA when you're the second- or third-best player on your own team should be taken out of Lance Stephenson's playbook.
LeBron James responded like the defending champion he is and absolutely dominated Stephenson and the Indiana Pacers, as the Miami Heat won Game 4 of the Eastern Conference Finals, 102-90. James finished with 32 points, 10 rebounds, five assists and two steals behind 13-of-21 shooting, while "Born Ready" himself totaled a whopping nine points on 3-of-7 shooting.
The Heat took a commanding 3-1 lead in the series with the victory. In fact, James and Co. never trailed for a single second.
Miami is clearly clicking on all cylinders right now, and it doesn't look as if anything is going to stand in the way of an incredible fourth consecutive appearance in the NBA Finals. Certainly not the Pacers team that showed up at American Airlines Arena Monday.
With Miami leading, 2-1, coming into the game, this was as close to a do-or-die contest for the Pacers as a team can face without actually having the deck stacked against them. Tim Reynolds of The Associated Press noted that Frank Vogel seemed to have the appropriate sense of urgency before tipoff:
Vogel's pregame speech makes the obvious seem crystal clear: Indiana is all-in tonight.

— Tim Reynolds (@ByTimReynolds) May 27, 2014
The Pacers caught something of a break before the ball was even tipped, as Ira Winderman of the South Florida Sun Sentinel pointed out:
With no Oden and no Birdman, it leaves Bosh, Haslem as only players in power rotation, and likely means time for Lewis. (Or Hamilton?)

— Ira Winderman (@IraHeatBeat) April 6, 2014
Stephenson stirred up some controversy after Indiana's Game 3 loss by calling out LeBron James for trash-talking, and Candace Buckner of The Indianapolis Star let readers know the Pacers guard wasn't intimidated by the crowd:
During #Heat starters intros, Lance has hands on his hips and staring into the crowd. Not backing down to the earlier boos

— Candace Buckner (@CandaceDBuckner) May 27, 2014
Perhaps a bigger sign of mental weakness than trash-talking, though, is coming out in a critical playoff game completely flat, and that is exactly what Indiana did. Chris Bosh was killing the Pacers on the perimeter right out of the gate, as Winderman and Scott Agness of Pacers.com said:
Two threes . . . and then Bosh makes the crazy-man face toward the Heat bench.

— Ira Winderman (@IraHeatBeat) May 27, 2014
Chris Bosh, who has scored nine points in each of the first three games, has all 8 of MIA's points. 8-0.

— Scott Agness (@ScottAgness) May 27, 2014
Miami cruised throughout the first quarter and forced plenty of turnovers along the way. Kent Sterling and ESPN's Kevin Pelton seemed particularly frustrated with Indiana's energy level and overall play:
Indifference with the ball killing #Pacers. Empty possessions are death against a champ on the road. Terrible passing + Bosh = big lead.

— Kent Sterling (@KentSterling) May 27, 2014
If the Pacers can't make up ground with their starters against a Haslem-Battier frontcourt, might be a long night.

— Kevin Pelton (@kpelton) May 27, 2014
Miami held a 27-19 lead after the first quarter, and ESPN Stats & Info and John Schuhmann of NBA.com stressed just how incredibly dominant the Heat were in the opening 12 minutes:
This is only the 2nd time all season that the Heat played a turnover-free 1st quarter. They lead by 8 pts after 1

— ESPN Stats & Info (@ESPNStatsInfo) May 27, 2014
Thanks to that Scola foul, the Heat played the 1st quarter without going more than 1 possession without a score: pic.twitter.com/l2JHc4DBLZ

— John Schuhmann (@johnschuhmann) May 27, 2014
The second quarter didn't start any better for Indiana, and Stephenson picked up his third foul quickly. Michael Grady of 1070 The Fan hit the nail on the head when calling out the guard for running his mouth before the game:
Lance won't admit it….but his trash talk back-fired. Tried to do too much himself to start the game. Now sits with 3 fouls.

— Michael Grady (@Grady) May 27, 2014
It was something of an uphill battle for Indiana for much of the second quarter, but thanks to some timely shooting, it stayed in the game. NBA on ESPN captured one of those baskets:
Pacers are shooting 50% from the field, but still trail the Heat 42-35 with 2:59 left in the 2nd. #INDvsMIA http://t.co/8p98j5J0r2

— NBA on ESPN (@ESPNNBA) May 27, 2014
However, Reynolds pointed out the Pacers' biggest problem in the first half:
Stephenson and Hibbert: 0 points, 6 fouls.

— Tim Reynolds (@ByTimReynolds) May 27, 2014
Indiana was treading water when James made the Pacers defense look physically weak with this incredible move to the basket and dramatic finish:
LeBron James defies gravity for an EMPHATIC finish & the foul. #NBARapidReplay @ESPNNBA http://t.co/zbWg9FVnpd

— NBA (@NBA) May 27, 2014
Despite all of Miami's momentum, though, Paul George hit a three-pointer right before the end of the half, and somehow, someway, Indiana was only down 49-44 at intermission. Perhaps getting off to a poor start and battling back was the way to go for the Pacers, since Game 3 saw them start quickly and run out of gas.
"Tough loss for our guys," Vogel said, according to The Associated Press, via ESPN.com. "Thought we competed pretty well, came out of the gates really strong, got off to a good start and then didn't manage our foul trouble well and didn't manage picking up their defensive intensity well."
Instead of seizing on that momentum they had heading into the locker room, the Pacers came out even flatter in the second half than they did to start the game. Before the fans even returned to their seats, Miami held a 12-point lead. ESPN's Dan Dakich was miffed to say the least:
Can u believe that?? Huge 1st possession to start 1/2 and George turns it over w a half assed 1hand pass..impossible to win w that

— Dan Dakich (@dandakich) May 27, 2014
ESPN's Jason Whitlock was more than ready to criticize Vogel, and he certainly made a compelling case:
Chance to play Scola and West vs Bosh and Lewis and Vogel passes again. Vogel is blind. Watching different game than you and me. #imdone

— Jason Whitlock (@WhitlockJason) May 27, 2014
ESPN's Numbers Never Lie pointed out that Indiana's big man was once again conspicuously missing in action:
It's happening again... Roy Hibbert: 0 points, 4 fouls

— Numbers Never Lie (@ESPN_Numbers) May 27, 2014
Indiana simply looked overwhelmed by Miami's suffocating defense. Ethan Skolnick of Bleacher Report pointed out that seemingly everyone on the Heat roster was getting involved on that end of the floor:
The world where Rashard Lewis can't shoot but is a strong defender isn't one that anyone in 2008 would recognize.

— Ethan J. Skolnick (@EthanJSkolnick) May 27, 2014
Fran Fraschilla of ESPN had a different perspective on Vogel's perplexing decisions:
Worst part of Pacers not playing Scola is what they gave up in trade with Suns: 1st Round pick plus improved Gerald Green & Miles Plumlee.

— Fran Fraschilla (@franfraschilla) May 27, 2014
In fact, all Vogel and the Pacers seemed to be able to do was complain to the officials:
Frank Vogel called for a technical foul w/ 1:57 remaining int he 3rd Q and still arguing with Danny Crawford before yelling at Roy to get in

— Candace Buckner (@CandaceDBuckner) May 27, 2014
Miami completely opened the game up in the third quarter. James put on an absolute basketball clinic and was likely enjoying the floundering effort that Stephenson was putting forth. James responded to the pregame trash talk like the best player in the world should and frankly embarrassed the Pacers for the majority of the third quarter.
The Heat led after three quarters, 80-64, and Rob Dauster of NBC Sports and Jeff Goodman of ESPN made worthwhile points:
Lance Stephenson learned a hard lesson today: You come at the King, you best don't miss.

— Rob Dauster (@RobDauster) May 27, 2014
I'd like to say that I believe Lance Stephenson learned a lesson today. But I am not sure he did -- or will.

— Jeff Goodman (@GoodmanESPN) May 27, 2014
The fourth quarter was more of the same. James actually sat on the bench for some of the final 12 minutes because there was absolutely no need to risk injury with such a commanding lead. ESPN's Skip Bayless summed up the action nicely:
Heat are just toying with the Pacers now. This series ends in five games.

— Skip Bayless (@RealSkipBayless) May 27, 2014
Perhaps nothing highlighted the discrepancy between the two squads in Game 4 more than when Indiana went on a something of a sizable run between the seven-minute and four-minute marks of the fourth quarter, and it didn't seem to make a difference.
At least George was shooting well:
Paul George with his best shooting night of the series, 8-for-15 with 23 points. His last three cut it 13. 4:27 left.

— Scott Agness (@ScottAgness) May 27, 2014
Stephenson even tied up the race between him and Zach Harper of CBS Sports during Indiana's 13-1 run in the fourth quarter:
Lance buckets: 2, tacos I've consumed: 2. This is a dead heat.

— Zach Harper (@talkhoops) May 27, 2014
The Pacers cut the lead to single digits in the final minutes, but it was all in vain. Miami controlled the action throughout and won a critical Game 4 in wire-to-wire fashion.
What's Next?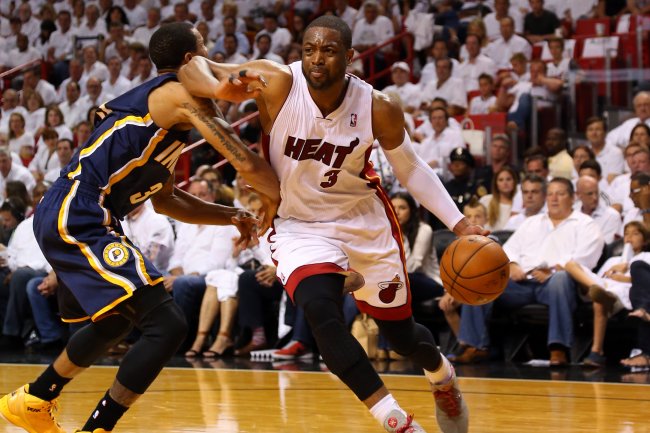 Mike Ehrmann/Getty Images
At least the Pacers can hang their hat on the fact that Game 5 is back in Indiana Wednesday.
How many games does this series go?
It seems as if the Pacers missed their opportunity to challenge the defending champions in Games 2 and 3 in this series. Both of those contests were winnable for Indiana, and Miami has been absolutely dominant since the start of the fourth quarter in Game 3.
Sure, the next contest is back in Indiana, but James and his teammates would certainly like some rest before they battle the likes of the San Antonio Spurs or Oklahoma City Thunder. Expect the Heat to come out completely motivated in Game 5 and dominate accordingly.
We may just be well on our way to a rematch of the 2013 NBA Finals.