Updates from Thursday, July 17
Candace Buckner of The Indianapolis Star provides a statement from Rodney Stuckey discussing his negotiations with the Indiana Pacers and eventually signing with the organization:
Stuckey: "My main goal, I want to get back into the playoffs. I want to compete and I want to win."

— Candace Buckner (@CandaceDBuckner) July 17, 2014
Stuckey: "This right here is a fresh start. I think it is something that I need and something that I want and I'm just excited about it."

— Candace Buckner (@CandaceDBuckner) July 17, 2014
Stuckey: "We just kept in contact with them throughout the whole free agency process. They always showed interest in me…"

— Candace Buckner (@CandaceDBuckner) July 17, 2014
More Stuckey: "...and once Lance decided to go to Charlotte, I thought it was just a good opportunity for me to come in…"

— Candace Buckner (@CandaceDBuckner) July 17, 2014
"...and just be in a good situation with a great team."

— Candace Buckner (@CandaceDBuckner) July 17, 2014
Original Text
The Indiana Pacers have made a move to add to their backcourt in free agency by agreeing to terms with longtime Detroit Pistons guard Rodney Stuckey on a one-year deal.

USA Today's Sam Amick broke the news:
Rodney Stuckey has agreed to join the Indiana Pacers on a one-year deal, @USATODAYsports has learned. Nice pickup after losing Stephenson.

— Sam Amick (@sam_amick) July 17, 2014
Candace Buckner of The Indianapolis Star has the financial details:
1 year, veteran minimum RT @rxfn5: @CandaceDBuckner what's the terms?

— Candace Buckner (@CandaceDBuckner) July 17, 2014
Stuckey averaged 13.9 points, 2.3 rebounds and 2.1 assists per game for Detroit in 2013-14 behind 43.6 percent shooting from the field. He was also an 83.6 percent shooter from the free-throw stripe and, according to ESPN.com, finished with a 14.04 player efficiency rating.
The statistics are solid enough, but Stuckey has seen his three-point percentage drop each of the past two seasons and has only made the postseason twice during his NBA career. He certainly hopes that changes now that he is finally leaving Detroit as the newest member of the Pacers.
He was never much of a perimeter shooter, but he can create his own shot off the bounce and get to the rim with a solid first step. At 28 years old, there are still theoretically plenty of good seasons ahead of him, which likely played a role in the Pacers' decision to sign him.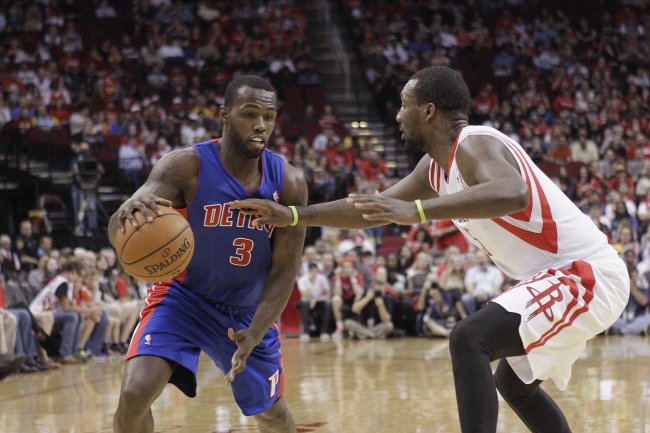 BOB LEVEY/Associated Press
Stuckey made some interesting comments during the regular season about the Pistons as an organization with free agency approaching, via Amick:
It seems like every year there's new players who you're trying to get accustomed to. It's just trying to figure each other out and all being on the same page. I really don't think right now ...

We're not on the same page. It's difficult to try to go out there and try to win games and win games consistently.
Perhaps it was that attitude that caused this caustic tweet from Matt Schoch of The Virgin Island Daily News:
Rodney Stuckey has quietly been a major part of the Pistons demise ever since he got there. Doesn't get talked about enough. Good riddance

— Matt Schoch (@MattSchochVIDN) April 17, 2014
Even if the 2013-14 season didn't go according to plan in terms of team success for Stuckey, he should at least provide solid depth in the backcourt rotation for the Pacers. He's not a game-changing superstar by any stretch, but every team needs solid role players like Stuckey who can step up when the main guys are struggling or being double-teamed.
How many points per game will Rodney Stuckey average in 2014-15?
What's more, his versatility will give Indiana some more options because he can play small forward in athletic rotations at 6'5" and is not afraid to mix it up down low and contribute on the boards when needed.
Stuckey is capable of being a solid defender when engaged, so head coach Frank Vogel will have to make sure to stress that end of the floor with Stuckey during the 2014-15 campaign. If he does, Stuckey could get a much-needed chance to improve his lackluster postseason resume.