No matter what happens for the Montreal Canadiens now—and things look pretty bleak for the Habs after Sunday night's loss to the New York Rangers put them on the brink of elimination—the franchise's fans should recognize that there's a bright future ahead.
That's not to suggest the Habs have no shot at coming back from a 3-1 deficit against the New Yorkers. Over the years, we've seen teams—21 of them, in fact—overcome that obstacle to win a series. The Canadiens have done it twice in relatively recent history, dumping the Washington Capitals in the 2010 Eastern Conference quarterfinal and beating the Boston Bruins in the same round in 2004.
This year, the Los Angeles Kings became just the fourth team in NHL history to win four straight elimination games in a series when they erased a 3-0 disadvantage in their first-round battle with the San Jose Sharks.
What's next for the Montreal Canadiens?
Despite the odds being stacked against them, the Canadiens could still pull this off.
But even if they don't, they can hold their heads high and be proud of the strides they've taken this spring. They can celebrate what appears to be a bright future. They can say "There's always next year," and actually mean it.
The Canadiens were bounced by the Ottawa Senators in the first round last postseason after a strong regular-season showing gave them the second seed in the Eastern Conference.
There was no early exit this year. A sweep over the higher-seeded Tampa Bay Lightning in Round 1 got the Habs off to a spectacular start this spring, but because of the injury to Bolts goaltender Ben Bishop, the feat didn't get all that much fanfare.
But there was no doubting what happened next, and the seven-game series victory over the Bruins in Round 2 will define this year's Canadiens team more than their impending doom against the Rangers.
What the Canadiens proved in that ferocious battle with the Big Bad Bruins is that size doesn't matter. Small players with the kind of drive the Canadiens have shown can pull off an upset over a much bigger and arguably deeper team—if they work hard enough and play smart enough.
Success of the short guy in this year's playoffs – the miniature Habs, Marty St. Louis, must be reassuring to see if you're Johnny Gaudreau.

— Darren Haynes (@DarrenWHaynes) May 26, 2014
They came within an inch of tying the series with the Rangers in regulation time on Sunday when Alex Galchenyuk cranked a shot off the post with about three minutes left. Instead they lost in overtime after an unfortunate mistake in their own end left Martin St. Louis of all people alone with hours to shoot. One misstep was the difference between a momentum swing that could have put the Canadiens in the driver's seat and one that gave the Rangers all the fuel to finish this.
Meanwhile, we're getting a glimpse of what the Canadiens have to offer the hockey world. Future stars. Feisty youngsters. Emerging leaders.
In just his first full NHL season, the 20-year-old Galchenyuk is offering glimpses of impending greatness. He scored the overtime winner in Game 3 in his second game back from a lengthy absence due to a knee injury. In Game 4, he was the team's most dangerous-looking playmaker and came within an inch of his second straight game-winner.
It won't be long before the third overall pick in the 2012 draft overtakes the likes of Max Pacioretty and David Desharnais as the team's top point producer.
Galchenyuk's timing coming back after all that time missed. Easily his best game. Creative, dangerous.

— Pierre LeBrun (@Real_ESPNLeBrun) May 26, 2014
Pacioretty is still just 25 and entering his prime. The same goes for Lars Eller, whose five goals and 11 points in 15 playoff games are second only to defenseman P.K. Subban. Eller has been one of the best and least publicized stories of these playoffs as the Dane continues to show he's ready for a bigger role.
As for Subban? His series against the Bruins cemented him as one of the best young defensemen in the NHL. It will mean a massive payday this summer when his contract expires and restricted free agency kicks in—and the Habs won't hesitate to pay him.
Whether you love his energy and personality or despise him on the basis of his obvious confidence is irrelevant. Every one of the 30 teams in the league would jump at the opportunity to steal him away from the Canadiens. (Offer sheet, anyone?)
He has the potential to become a future captain. If nothing else, he leads by example.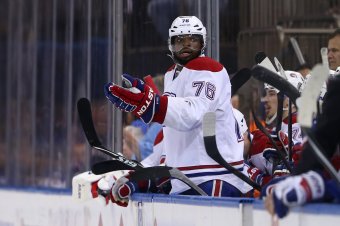 Elsa/Getty Images
The Candiens have plenty of money under the rising salary cap to spend, and once they lock Subban up, they will be able to fill in the gaps around the core. Galchenyuk and Brendan Gallagher—one of the league's best combinations of grit and skill in one of its smallest (5'9", 180 lb.) packages—are both still on entry-level deals for another year. Pacioretty is inked for five more seasons, Desharnais for three and veterans Rene Bourque, Tomas Plekanec and Brandon Prust for two.
There are improvements to make on defense, where after they re-sign Subban they will have just three veterans on long-term deals—the others being Josh Gorges and Alexei Emelin—which is where some work in free agency might pay off in addition to looking more closely at prospects Nathan Beaulieu and Jarred Tinordi.
But we haven't even touched on the goaltending.
As if Carey Price wasn't already proving he belongs in the discussion when talking about the league's elite netminders after a gold-medal-winning venture to Sochi this year and a stellar playoff performance before the crash with Chris Kreider sidelined him for the series, now third-stringer Dustin Tokarski is raising eyebrows with his play in the playoffs after getting the starts over backup Peter Budaj.
Subban on playing with Tokarski at the world juniors: "Yeah I've got a gold medal because of him."

— James Mirtle (@mirtle) May 24, 2014
Price is just 26 and has years as a star ahead of him. But having Tokarski waiting in the wings to take over, or available as prime trade bait, puts the Canadiens in a position of strength at the most important spot on the roster.
Of course, none of that matters right now. Not while there's still a pulse in their playoffs.
Part of the reason the Canadiens have been successful is their belief in the talent they have in that dressing room.
"We believe in our group and believe in each other and we know we can win this series; it's long from over," Subban told NHL.com's Mike G. Morreale. "I've been down 3-1 in series before, and the tide can turn really quick, so we're prepared to go home and play a good game."
All stats via NHL.com
Steve Macfarlane has been covering the NHL for more than a decade, including seven seasons for the Calgary Sun. You can follow him on Twitter @MacfarlaneHKY.