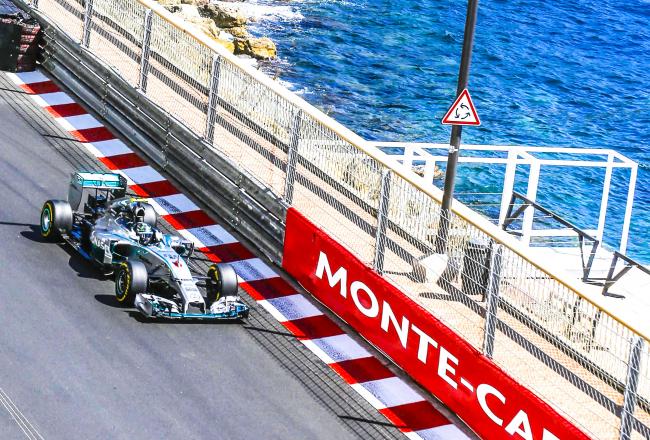 AP
Nico Rosberg won the Monaco Grand Prix for the second season in a row, holding off Lewis Hamilton to take the chequered flag first for the second time in a row.
The German was assured after the heated qualifying session on Saturday, and Hamilton's challenge in the later laps faded after he complained of having something in his eye impairing his vision.
Daniel Ricciardo put in another polished drive to take third place.
Further down the grid there was joy for Marussia, who through Jules Bianchi picked up the first championship points of their history when he claimed ninth place.
But it was another weekend for defending champion Sebastian Vettel to forget—the German's Red Bull lost all its power early in the race and he had to retire shortly after the first safety car had pulled in.
There were two safety car incidents—the first triggered early by Sergio Perez's accident, the second when Adrian Sutil's race came to an abrupt halt after some fine overtaking moves.
There were strong points finishes for Fernando Alonso, Nico Hulkenberg and Jenson Button, but the talking point will inevitably be the title race.
There was limited drama between the two on track in Monaco, but the storylines off the road are dominating the championship this season.
The drivers next head to Canada in two weeks' time.
Full results:
Nico Rosberg (Mercedes)
Lewis Hamilton (Mercedes)
Daniel Ricciardo (Red Bull)
Fernando Alonso (Ferrari)
Nico Hulkenberg (Force India)
Jenson Button (McLaren)
Felipe Massa (Williams)
Jules Bianchi (Marussia)*
Romain Grosjean (Lotus)
Kevin Magnussen (McLaren)
*Bianchi has a five-second penalty to serve—which should drop him down to 9th.
78/78: Nico Rosberg wins the Monaco Grand Prix! A fine pole-to-flag drive, his second in a row in Monaco, and one that means he will lead the championship tonight.
78/78: Raikkonen sets the fastest lap of the race on his fresh tyres. Scant consolation after a start which promised so much. Rosberg begins the final lap.
77/78: Rosberg will become the championship leader with victory. Ricciardo could make it a worse day for Hamilton, if he can pul off something special. A Caterham lurks ahead of the pair.
76/78: Meantime Hamilton still holding off the challenge of Ricciardo, and not long to go now. Rosberg has the race sewn up, and can enjoy the rest of the race.
75/78: Raikkonen has to stop, Magnussen slips down to P10—Bianchi moves up to eighth!
74/78: Raikkonen tries to pass Magnussen at the hairpin—both grind to a halt! What a moment! YELLOW FLAGS OUT!
74/78: Mercedes seem to be enjoying themselves, which of course you can when you are dominating the show this season. Meantime just ahead of Hamilton Button pulls out a move to get ahead of Magnussen!
Gap between @LewisHamilton and @danielricciardo down to 2 seconds in the battle for second #TheFullMonte

— MERCEDES AMG F1 (@MercedesAMGF1) May 25, 2014
73/78: Hamilton now has just over three seconds worth of advantage, but is about to hit some traffic. This could get interesting as the chequered flag draws nearer.
72/78: Ricciardo is going to catch Hamilton, that seems near-certain. But can he get past? That's another question, but a big one. Ricciardo on the charge.
Ricciardo sets another new fastest lap, and the gap is just 4.7 seconds. Can the Australian catch him and end Mercedes' 1-2 streak? #F1onNBC

— F1® Racing on NBC (@F1onNBCSports) May 25, 2014
71/78: Hamilton asks about gaps, and gets the news about Ricciardo. "I don't care about Ricciardo, what about Nico?" he asks. The answer is that Rosberg is clear up the road, and he may need to worry about Ricciardo.... who has just set a fastest lap.
70/78: After reliability seemed to have improved dramatically in the last couple of races, this has been a tough day for engine suppliers, Renault particularly. Several power failures, most notably Vettel's.
69/78: Hamilton ploughing on. Potentially a huge impediment, however, and Ricciardo is only around nine seconds back in third.
I can't imagine driving this circuit with both eyes. I can't even fathom how you do it with only one and no depth perception. #F1

— Fake Charlie Whiting (@charlie_whiting) May 25, 2014
68/78: This could be why Hamilton has slipped off the pace; he's got something in his eye and it's affecting his vision. Very little you can do about that when you're racing at full speed in race overalls and a helmet...
Hamilton on team radio: "I can't see anything out of my left eye. I've got dirt in my eye." Around 4secs down on Rosberg. #SkyF1

— Sky Sports F1 (@SkySportsF1) May 25, 2014
67/78: Penalty confirmed for Bianchi. He can simply add five seconds to his time without stopping, but his advantage over Grosjean is only around seven at the moment. Nervous times.
66/78: A reminder of the top 10:
Nico Rosberg (now 3.8s clear)
Hamilton
Ricciardo
Alonso
Hulkenberg
Magnussen
Button
Raikkonen
Massa
Bianchi
65/78: Not every race weekend that all eyes are on 10th, but Bianchi does stand to make a bit of history today if he can hang on. Grosjean is behind him.
Could this be first points for @Marussia_F1Team - 5s penalty notwithstanding...?

— F1 Racing (@F1Racing_mag) May 25, 2014
64/78: In theory, you can take a five-second penalty while you make a regular pit stop, but Bianchi is unlikely to stop again. So where does that leave him?
63/78: The good news for Marussia is that they are up to P10. But the bad news is that he is facing a five-second stop-go penalty for taking a penalty while the safety car was out. The plot thickens..
Lap 62: More yellow flags out at the #MonacoGP as Gutierrez clips the barrier & spins out. #SkyF1 pic.twitter.com/WrwvSoCITQ

— Sky Sports F1 (@SkySportsF1) May 25, 2014
62/78: Gutierrez spins near the pit lane entry! His race is over after his back wheel clipped the tyre wall!
61/78: Rosberg just edges clear a little. And Ricciardo making some progress too.
Rosberg has extended his lead to 2.3 seconds ahead of Hamilton. 17 laps to go now, Ricciardo currently the fastest man on track #F1onNBC

— F1® Racing on NBC (@F1onNBCSports) May 25, 2014
Ricciardo is now the fastest man on the track. He's 12.4s off the lead and just went a second quicker than the Mercedes. #F1

— AUTOSPORT Live (@autosportlive) May 25, 2014
60/78: Don't lose sight of P10 and P11, however: Bianchi is one place outside the top 10, and could bag Marussia's first points.
59/78: No change at the front: Rosberg holding Hamilton at a gap of about one second.
Ricciardo, Alonso, Hulkenberg all in their own comfortable space in the rest of the top five.
58/78: No safety car—Bottas pulled up in a place where a crane was readily accessible, so the hairpin was simply yellow-flagged until the Williams was removed.
57/78: Hang on a second—Bottas is out of the race altogether! A Mercedes engine has given up. And there's only one question... Safety car?
Bottas has had an engine failure! At Loews hairpin, he has stopped. Could this be another safety car? #F1onNBC

— F1® Racing on NBC (@F1onNBCSports) May 25, 2014