California Chrome enters the Belmont Stakes in an attempt to become the first Triple Crown winner since Affirmed in 1978.
After two sparkling performances at the Kentucky Derby and Preakness Stakes, the California-bred colt has a great chance to end the 36-year Triple Crown drought.
However, he won't be without plenty of obstacles.
The 1 1/2-mile Belmont Stakes is the longest of the three Triple Crown races. With a field full of solid closers, this one could absolutely come down to a photo finish.
As we await the post-position draw, let's take a look at the horses posing the biggest threat to thwart California Chrome's Triple Crown bid.
Commanding Curve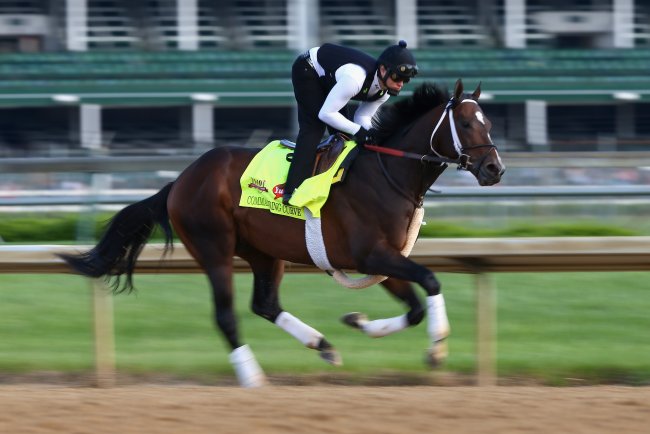 Andy Lyons/Getty Images
This horse wasn't exactly a huge favorite entering the Kentucky Derby; however, that didn't matter to Commanding Curve, as he put together a masterful performance and finished second.
Starting at the No. 17 gate, Commanding Curve had the daunting task of making up plenty of ground from the outside. Falling to the back of the pack, he settled in behind 17 horses heading to the far turn.
Swinging to the outside, Commanding Curve made a great push to the front of the pack. The colt's endurance and closing speed was well on display, as his surge rivaled California Chrome's.
Down the final stretch, Commanding Curve decreased California Chrome's lead from roughly five lengths down to just 1 3/4.
Had Commanding Curve started in a better position, it could be speculated the race may have turned out quite differently.
According to a tweet from TVG, the colt looks good so far at Belmont Park:
Commanding Curve for @westpointtbred out this am and once again looking very powerful. On track for @BelmontStakes pic.twitter.com/WE9rv2RZgr

— TVG (@TVG) May 21, 2014
Commanding Curve didn't race in the Preakness and should be well rested for his run at the Belmont Stakes. Expect him to challenge California Chrome in a big way once again.
Wicked Strong
Jamie Squire/Getty Images
Wicked Strong has roughly the same story as Commanding Curve. Starting far to the outside at the No. 20 gate, this colt needed to settle near the rear of the pack in the early portion of the Kentucky Derby.
He shined down the backstretch, gaining significant ground on his competitors and finishing in fourth place. That's quite a remarkable effort considering his unfortunate starting position.
Wicked Strong's speed remains on point, according to a tweet from KY Derby Contenders:
Jerkens says Wicked Strong's last work was a "little faster than I intended." Likely to work again tomorrow.

— KY Derby Contenders (@DerbyContenders) May 24, 2014
Like Commanding Curve, Wicked Strong did not race in the Preakness and should be very well rested heading into the Belmont Stakes.
Take a look at the performances of Commanding Curve and Wicked Strong at the Kentucky Derby:
Ride On Curlin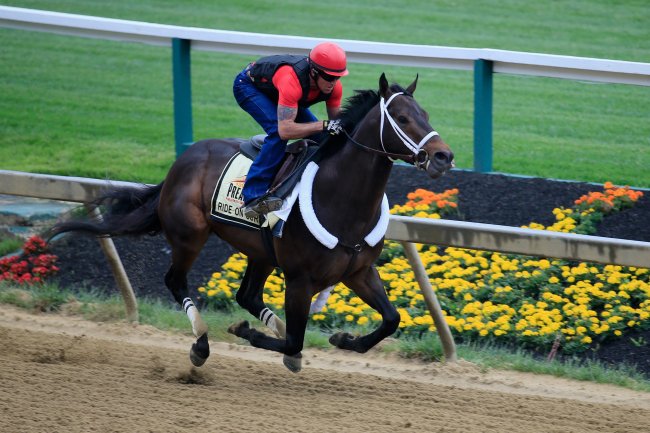 Rob Carr/Getty Images
It appears a trend is forming here.
Ride On Curlin began outside at the No. 10 gate at the Preakness Stakes and even farther outside at the No. 19 gate in the Kentucky Derby.
This horse has plenty of endurance and is a great closer. At the Kentucky Derby, he got shuffled into the pack and finished in seventh place. However, it was a different story at the Preakness.
Despite needing to make up lots of ground, Ride On Curlin had a brilliant showing down the backstretch. He rallied from outside and burst near the front of the pack just behind California Chrome.
Down the final furlong, he remained on pace with California Chrome to finish in second by just 1 1/2 lengths.
Jerry Bossert of the New York Daily News tweeted his comical take as Ride On Curlin followed California Chrome into the trailer on their way to New York:
Ride On Curlin comes in second again. @BelmontStakes pic.twitter.com/NtJAQFuqfD

— Jerry Bossert (@JBossertNYDN) May 20, 2014
Here's a recap of the race:
Ride On Curlin hasn't had much rest coming into the Belmont Stakes, as he has participated in each leg of the Triple Crown.
However, if he's given a more favorable starting position, he could absolutely be a factor once more.
Tonalist
A newcomer to this year's Triple Crown races, Tonalist is very familiar with Belmont Park.
Earlier this year, he shined at the Peter Pan Stakes, winning in dominant fashion against another Belmont Stakes contender in Commissioner.
Tonalist has the speed and endurance to maintain a blistering pace throughout a race, and he has the closing speed to make a charge down the final stretch. All of these traits were on display during his win at Belmont Park on May 10.
Take a look:
David Grening of the Daily Racing Form tweeted Tonalist's familiarity with the track during the horse's workout:
Tonalist galloped right along over the wet track, one we already knows he likes given his Peter Pan performance.

— David Grening (@DRFGrening) May 24, 2014
If he can put together a similar performance once again at Belmont Park, he'll be a big factor by the end of the race.