Cincinatti Bengals Breakdown: Position-By-Position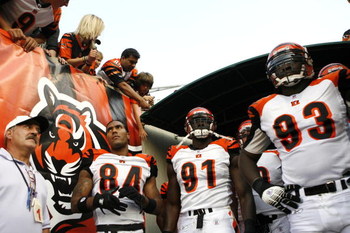 With the OTAs and mini-camps finally out of the way, it's only a matter of weeks before teams report for training camp.
In Cincinnati, optimism in running high after what is highly-regarded as the team's best offseason in not only the Marvin Lewis era, but maybe in team's 41-year history.
So, while the Bengals may have won this offseason, it will take more than the transactions column to win games. The team still has some very interesting roster decisions to make before the season opens the season Sept. 13 at home against Denver.
What follows is a look at the Bengals, position by position, and included is what fans can expect to see when training camp opens July 31.
Quarterbacks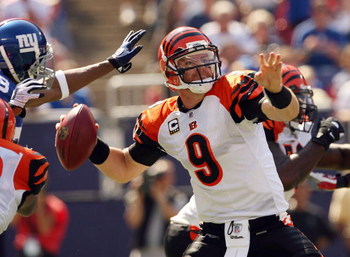 Carson Palmer (pictured) has declared himself 100 percent for the upcoming season, and Bengals have no choice but to believe him.
If Palmer is healthy, the Bengals will have a player who is still one of the top five signal-callers in the league and who is instantly worth at least three additional wins. Behind Palmer, the Bengals are a different team.
Journeyman J.T. O'Sullivan and Palmer's younger brother Jordan will battle it out for the top backup position.
Neither quarterback is considered a star in the making and the team could struggle again if Carson ends up back on the sidelines.
Offensive Line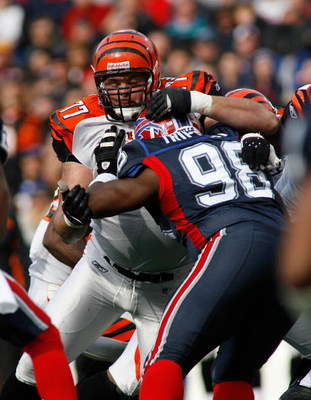 No position group went under more upheaval this offseason than the offensive line. Right guard Bobbie Williams is the only returning starter who will be playing in the same spot.
Andrew Whitworth (pictured) moves from left guard to right tackle and first-rounder Andre Smith will be the right tackle.
Kyle Cook and Nate Livings open camp at center and left guard respectively. A lot can change between now and Sept. 13. Anthony Collins is the backup at both tackles and could play the right spot if Smith holds out.
Rookie Fourth-rounder Jonathon Luigs could push Cook in the middle. Scott Kooistra is the ultimate utility man, capable of playing nearly every position.
Andrew Crummey, Colin Dow, Evan Mathis Dennis Roland and Dan Santucci battle will it out for the last two spots.
Running Backs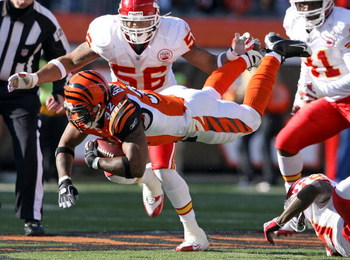 Cedric Benson (pictured) came off the scrap heap to be the team's top rusher, picking up 412 yards on the ground over the last four games of the season.
That production earned himself a big contract and he enters the season as the Bengals' No. 1 runner. Behind him, it gets interesting. Brian Leonard, acquired in a trade, is the probable back-up and third-down back.
The No. 3 guy will be determined in an open battle with rookie Bernard Scott holding the edge over holdovers Kenny Watson and DeDe Dorsey.
Marlon Lucky, a rookie free agent out of Nebraska, will more than likely open the season on the practice squad, but he bears watching.
At fullback, Jeremi Johnson is the favorite as long as he can keep his weight in check. Rookies Fui Vakapuna and Chris Pressley could push for starting spots.
Recievers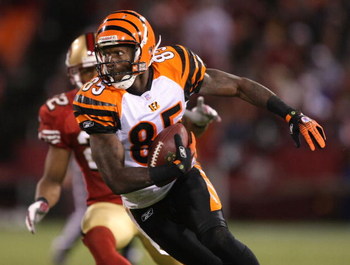 If Chad Ochocinco (pictured) is as ready as he appears to be, the Bengals could have one of the best receiving trios in the league. Laveranues Coles remains a game-breaker and Chris Henry looks as if he's ready to finally become a force.
Andre Caldwell and Jerome Simpson, second-rounders a year ago, are locks to make the team as backups. The sixth and final spot will be a battle with rookie free agent Quan Cosby emerging as a dark-horse.
Cosby, who can return kicks, may edge out veteran Antonio Chatman for the final spot.
At tight end, Ben Utecht will need to rebound from a very disappointing 2008 season. There will be a lot of pressure on him to produce, especially with highly-touted rookie Chase Coffman behind him.
Veteran Reggie Kelly is still in the mix, as is Daniel Coats.
Defensive Line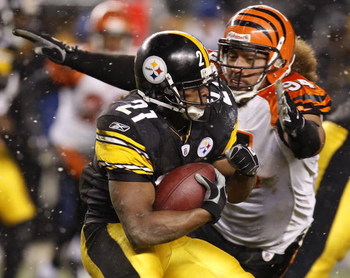 Domata Peko (pictured) and Pat Sims open camp as the starting tackles, with free agent Tank Johnson expected to play on passing downs.
Robert Geathers and Antwan Odom are the starting ends. Where the line could get interesting is in the different combinations that defensive coordinator Mike Zimmer will go with on certain downs.
Rookie Michael Johnson has flashed at end, but may see time as a roving linebacker, as might Geathers.
Frostee Rucker can play either inside or out and seventh-rounder Clinton McDonald could push for playing time.
Linebackers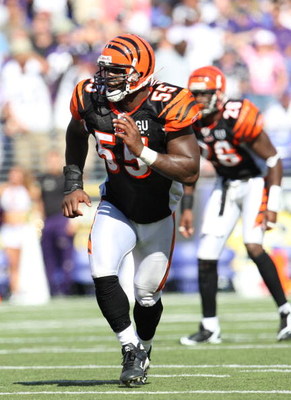 The drafting of Rey Maualuga gives the Bengals some much-needed attitude at the linebacker position, but it's last year's first-rounder Keith Rivers (pictured) that will be the key.
Rivers played only the first six games before breaking his jaw, but the former USC Trojan is a game-breaker who could turn into a dominating force.
Veteran Dhani Jones will man the middle until Maualuga is ready to take over. Darryl Blackstock, Rashard Jeanty and Brandon Johnson will back up and give the team several options on all three LB spots.
Defensive Backs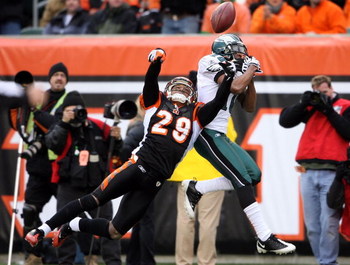 Leon Hall (pictured) had an up-and-down second season, but the 2007 first-rounder flashed enough to show that he can become a top corner.
Coupled with fellow first-rounder Jonathon Joseph, the Bengals have one of the best young 1-2 combos in the league.
The third cornerback will be a serious question. David Jones will be given the shot initially, but the team is actively shopping for a corner before camp.
Simeon Castille, Rico Murray, Geoffrey Pope and Morgan Trent are the other corners.
Safety could prove to be a strength.
Chris Crocker and Chinedum Nduke are probably the starters but expect to see Roy Williams on the field quite a bit. Marvin White is still coming back from knee surgery, but could make his presence felt.
Kyries Hebert and Corey Lynch are known more for their play on special teams.
Special Teams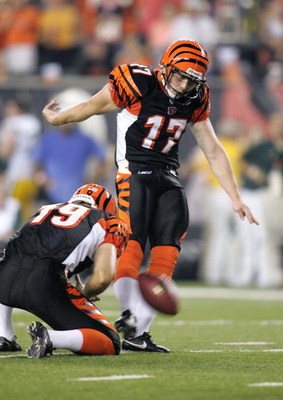 Pro-Bowler Shayne Graham (pictured) will be the kicker, while the team liked fifth-rounder Kevin Huber so much it cut the other two punters on the roster. Brad St. Louis, listed as a tight end, remains the team's long snapper.
The team has been woeful in returning kicks and punts in recent years and attempted to address the problem in the offseason.
Quan Cosby and Bernard Scott have both worked out at those positions and it could be their keys to making the roster.
Corey Lynch and Kyries Hebert are monsters in coverage and should make the team on that ability alone.
Keep Reading

Cincinnati Bengals: Like this team?