With speculation about his future running rampant in recent days, Bayern Munich midfielder Toni Kroos earned himself both some peace of mind and gave affirmation to his boyhood club with a no-nonsense statement about his being linked to Manchester United.
Kroos has long been tied to the Premier League giants, and Thursday a move was reported by Kit Holden of the Daily Mail as done to the tune of £20 million.
But just one day later, Kroos broke his silence, per PA Sport via Yahoo! EuroSport:
"I am expecting to play for Bayern Munich next season.

"There was a lot of speculation, but Manchester is and was not an issue.

"At this point in time I am fully focused on preparations for the 2014 FIFA World Cup."
"A lot of speculation" could be an understatement, as the German international was figured gone from Bayern Munich's future plans and United looked to have filled its gaping hole in the central midfield. And while there's no assurance as to his future with Bayern, he made the right move by making this statement.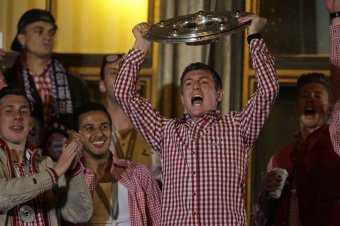 Matthias Schrader/Associated Press
The 2014 World Cup is looming, which runs from June 12 until July 13. The transfer market opens on July 1, so Kroos being relentlessly tied to any club throughout that span could become a huge distraction.
Plus, Bayern's roster is currently more than half German. While moving clubs wouldn't necessarily ruin his chemistry with the national team, it could be on the minds of more players than just Kroos in Brazil.
That's not to mention the 24-year-old's current place with Bayern Munich. He's been a mainstay in the starting 11 throughout this past season, lining up alongside Bastian Schweinsteiger and coming into his own in that midfield pairing.
Of course, much more is going into Kroos' decision to possibly leave the club. The Guardian's Raphael Honigstein noted that Bayern haven't upped their contract offer to Kroos, which he declined:
Pep still wants him to stay but Bayern haven't improved their contract offer (says president Hopfner in Kicker): looks like Kroos will go

— Raphael Honigstein (@honigstein) May 22, 2014
One day after Honigstein's tweet, the Daily Mail published their aforementioned report stating Kroos was headed to United. One day after that, Kroos affirmed he was hoping to stay with the Bundesliga champs.
Is Toni Kroos smart to state his commitment to Bayern?
United's decreasing interest could have played a role, as The Guardian's Jamie Jackson reported new manager Louis van Gaal—the former Bayern leader—cooled the club's pursuit of the midfielder. Former manager David Moyes was big on Kroos, per Jackson, but he's no longer a Red Devil.
While Kroos does have ties to van Gaal from Bayern, the writing on the walls in van Gaal's first days with the club is that the German midfielder isn't in the club's plans. And if that's the case, Kroos is best set to stay.
Sure, he could jump to the world's most competitive league and play for a world-class club that needs him. But with a starting spot assured in Bayern, who are much more of an international powerhouse at this stage, he shouldn't be quick to move from where he is.