As the Rajasthan Royals chased 180 to beat Kings XI Punjab in their latest Indian Premier League (IPL) match, Australian James Faulkner mysteriously did not come in until No. 8.
The talented 24-year-old found himself below Stuart Binny and Rahul Tewatia, and by the time he entered the game was powerless to prevent defeat for the Royals by 16 runs.
After he eventually came to the crease at the end of the 16th over, Faulkner showed the Royals exactly what they had been missing as he hit 35 from 13 balls with one four and four superb sixes.
Tewatia coming ahead of Brad Hodge, James Faulkner and Kevon Cooper, with #RR needing 109 in 53 balls? Sounds suspicious to me #KXIPvsRR

— Ankeet (@ank33ts) May 23, 2014
Just imagine if he had come in earlier.
Despite relatively limited opportunities in the lower order, Faulkner has made a number of telling contributions with the bat in scoring 158 runs at an average of 52.66.
Most tellingly, his strike rate of 192.68 is the best among all Royals batsmen and behind only Abu Nechim, Dwayne Bravo and countryman Glenn Maxwell in the entire tournament.
Looking at his statistics, were Faulkner to come in earlier and deliver the kind of innings he has been playing, Rajasthan could expect to have much more success with the bat than they have been having.
When you consider the inconsistent Shane Watson at No. 4, an undoubtedly class batsman who has struggled a little in 2014, moving the in-form Faulkner up the order makes a great deal of sense.
Feel Bad Soo bad for @bradhodge007 and @FaulknerC25 They were left with a touch too many! #KXIPvsRR

— Apoorva Singh (@apoorvasingh564) May 23, 2014
The all-rounder is in scintillating form and has been relatively consistent over the course of this year's tournament, so the increased opportunity an elevation in the batting order would present may well be enormously beneficial both for the team and the individual.
He may be young and still developing with the bat, but if he has time in the innings available to him, he is likely to make many more telling contributions.
Just ask Royal Challengers Bangalore, who were recently on the receiving end of an unbeaten 41 from Faulkner after he came to the crease in the 14th over and proceeded to blitz their bowling.
Not only does Faulkner have plenty to offer with the bat, he may also benefit from different opportunities with the ball at a different time in the opposition's innings.
Usually, Faulkner is brought on to bowl relatively early in proceedings while the ball is still pretty new and with both opposition batsmen looking dangerous.
His figures have suffered as a result, especially his economy rate for the tournament—9.27 runs per over—which is one of Rajasthan's worst.
However, were he to be given the responsibility of the new ball, with some overs reserved for the latter stages of the innings, perhaps he would benefit.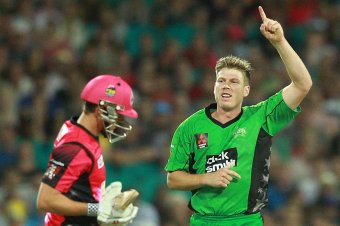 Matt Blyth/Getty Images
If he was to bowl the first or second over of the innings, he would be able to establish a far greater rhythm as the batsmen look to settle in at the crease before opening their shoulders.
In the past, he has shown himself to be a very canny operator in Twenty20 cricket, and his overall economy rate of 7.50 in T20 shows that he is capable of drying up the runs.
With the new ball and all the responsibility that entails, perhaps Faulkner would be even more effective and able to showcase his skills that much more.
Rajasthan would surely benefit from giving him a greater role with bat and ball too, especially as they look nervously over their shoulder from the final playoff spot.