An influx of coaching and trade rumors have made the Los Angeles Lakers one of the most talked about teams in the league over the past several weeks, even though the team isn't in the NBA playoffs and was one of the worst squads this past season.
Perhaps the fact that they were so bad is why the Lakers are being talked about so much, though. With a clear need for more talent, the team will probably be linked to all of the big-name players who are made available.
Also, given the fact that Los Angeles currently lacks a head coach, the team will continue to be involved in rumors until that situation is resolved.
With so much going on in Lakerland, it's good to check in on the top rumors every now and again. Here are all the latest rumors surrounding the team's coaching search and pursuit of All-Star Kevin Love.
Derek Fisher a "Secondary Candidate"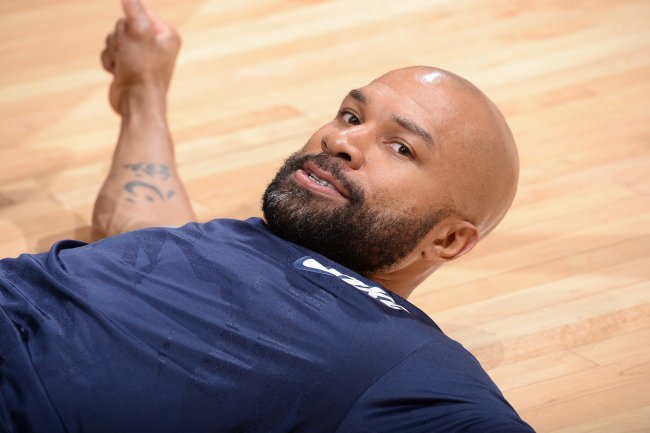 Andrew D. Bernstein/Getty Images
After head coach Mike D'Antoni resigned, the search began for the next man to lead Kobe Bryant and the Lakers. As one of the most successful teams in the NBA, the team needs a coach that knows how the Lakers operate. FOX Sports Live tweets that a former player could be an option, even if he's a "secondary candidate":
"For the #Lakers, he's (Fisher) a secondary candidate right now. They want an experienced type coach"- @WojYahooNBA

— FOX Sports Live (@FOXSportsLive) May 23, 2014
Derek Fisher is, of course, one of the most accomplished Lakers point guards in recent history. He played two stints with the Lakers—1996-97 to 2003-04 and 2007-08 to midway through the 2011-12 season—and was a member of some of the most successful teams in history.
Fisher knows how to win as a Laker and will bring dignity and class to the most prominent leadership position on the court. That said, there is one obvious drawback to hiring Fisher—he would be a first-time head coach.
The Lakers may not want to waste their time on hiring a first-year coach. There would certainly be an acclimation period—see: Jason Kidd's first few months at the helm of the Brooklyn Nets. After such a disappointing season, the team may not want to go through that type of transition.
Byron Scott Also a Possibility
Byron Scott is more of the traditional candidate for the Lakers. He has plenty of experience as a head coach and has seen success in the NBA before. Eric Pincus of The Los Angeles Times tweets that, while the team has yet to make formal offers to coaches, Scott is an option:
From what I've heard, Lakers haven't made "formal" inquiries yet on any coach - initial feelers but waiting til lottery

— Eric Pincus (@EricPincus) May 19, 2014
I would say it's safe to say Byron Scott is always available to Lakers - if he's fallback - the team don't need to rush to anything

— Eric Pincus (@EricPincus) May 19, 2014
Scott led the Nets to back-to-back Eastern Conference championships in 2001-02 and 2002-03, and he also won the NBA's Coach of the Year Award in 2007-08 with the New Orleans Hornets. He compiled his best regular-season record ever that year, as the Hornets went 56-26 before losing in Round 2 of the playoffs.
The Cleveland Cavaliers were the last team to give him an opportunity as coach, but the team fired him in April 2013.
Scott apparently already interviewed for the job:
Byron Scott on @ESPNLA710: "The interview went well...I think its the perfect fit...I am the perfect guy for this job" #Lakers

— Karlo Sy Su (@KarloSySu) May 22, 2014
Byron Scott: "It would mean a great deal for me because I played for the organization and won a championship...and for Dr. Buss"

— Karlo Sy Su (@KarloSySu) May 22, 2014
Scott on Kobe: "He's gonna have to change his game a little bit and he knows that. He knows me and I'm an old-school type of guy"

— Karlo Sy Su (@KarloSySu) May 22, 2014
It's interesting to hear Scott say that he'll make the franchise's cornerstone player change his playing style, but we'll see if that actually happens in the future. After all, Scott has to get hired first.
A "Monster Push" Will Be Made for Kevin Love
Minnesota Timberwolves power forward Kevin Love has a ton of suitors at this point in the offseason, though there has yet to be a team to set itself apart from the rest of the pack. Marc Berman of the New York Post reports that the Lakers might be preparing themselves to do so:
Where will Love play next season?
"Another source said the Lakers also will make a monster push at trading for Love, who played at UCLA," he wrote.
Trading for Love will prove to be extremely difficult, however, so it will be interesting to see how this "monster push" is made.
Outside of the No. 7 overall pick in the NBA draft, the Lakers don't really have many assets to trade. There's a small chance MarShon Brooks generates interest, but the once-promising guard has become mostly a bench-filler the past several seasons.
Love would pair well with Bryant. A healthy Steve Nash would form a strong trio in L.A. But the chances of it happening right now seem slim. Perhaps the Lakers will look to throw a third team in the mix so Minnesota can get adequate value for their superstar.