Chelsea loaned Marko Marin to La Liga club Sevilla last summer, so here is a scouting report grading the 25-year-old German midfielder's performances this season.
We have today reached agreement with Sevilla for the season-long loan of Marko Marin... http://t.co/pdAKyqfFji #CFC

— Chelsea FC (@chelseafc) June 28, 2013
Positives
Marin is a 5'7", 148-pound footballer who has played across the field starting as a central attacking midfielder in a 4-2-3-1, a right attacking midfielder in a 4-2-3-1 and a left-forward in a 4-3-3.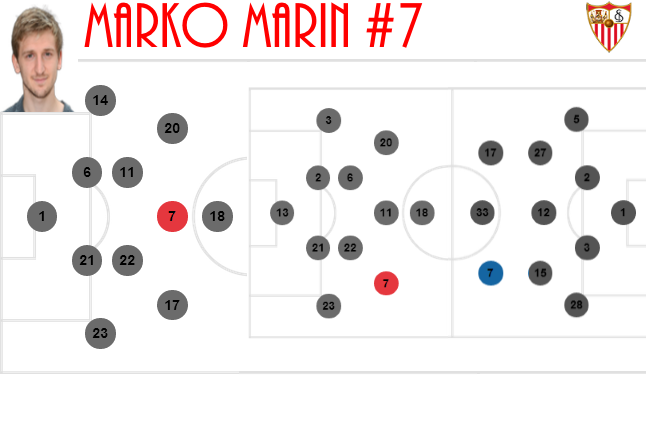 Source: UEFA.com.
Marin takes the attack to opposing teams.
Source: Squawka.com.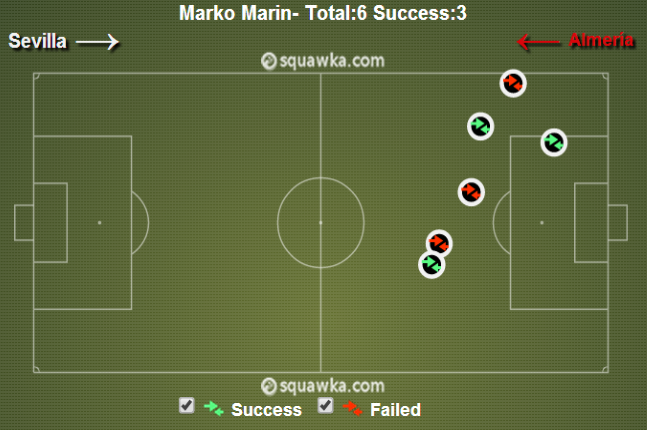 Source: Squawka.com.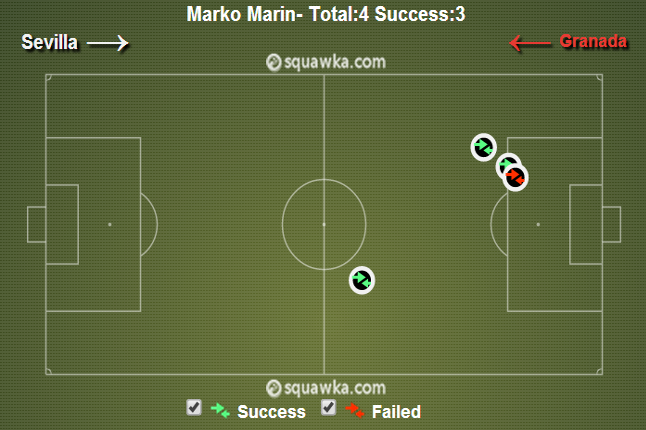 Source: Squawka.com.
Marin is agile, light-footed and can conjure up explosive plays, like a deep run against Real Valladolid.
The incisive pass he played to Sevilla centre-forward Kevin Gameiro was what Sevilla manager Unai Emery wanted Marin to produce consistently.
Emery experimented with Marin in a central position.
It was not the first time it's happened, because former Werder Bremen manager Thomas Schaaf tried to convert Marin, at the time one of the best wingers in the Bundesliga, into a No. 10.
Marin does not consistently show the creativity, finesse touch and vision of Borussia Monchengladbach's Max Kruse, but the Chelsea loanee gave you glimpses of playmaking genius.
Marin displayed his range against Levante with a pinpoint long pass to Sevilla centre-back Federico Fazio, who chested the ball to Gameiro.
There was a flash of precision when Marin's through ball led to Gameiro scoring against Espanyol—talk about a textbook one-two.
The duo combined again, this time against Granada.
League Only
Games
Assists
Key Passes Per Game
Pass Completion %
Andre

Schurrle

30
2
1.0
82.6
Eden Hazard
35
7
2.6
83.4

Marko

Marin
18
4
1.1
84.5
Mohamed

Salah

10
1
0.9
82.3

Oscar

33
2
1.5
83.3

Willian

25
2
2.6
85.6
Despite playing substantially less games, Marin has more assists in league play than Schurrle, Oscar and Willian.
Negatives
Marin's biggest problem is his inability to score. In his last 45 league games, he has two goals.
He lacks poise in front of goal and has poor shot selection, as the examples below indicate.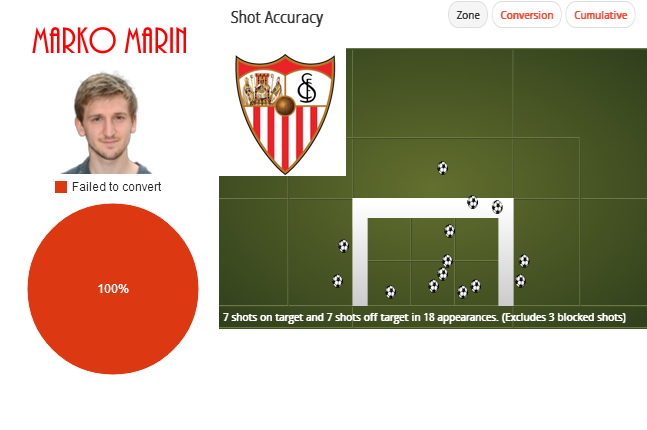 Source: Squawka.com.
Getafe goalkeeper Julio Cesar Jacobi had set his feet and Marin was shooting on an acute angle, so it was a routine save for Cesar and a wasted possession for Sevilla.
Valencia keeper Diego Alves is one of the most agile shot-stoppers in Spain, therefore it was a low-football IQ decision for Marin to cut out wide and shoot near-post.
Marin's confidence in front of goal is nonexistent, which was evident when he could not convert against Villarreal when played in by Sevilla central attacking midfielder Ivan Rakitic's instep pass.
Marin shrugged his shoulders, dropped his head and jogged on, perhaps thinking: "Not again."
Bottom Line
2013-14 Marko Marin Season Grade: C
Marin had some bright moments at Sevilla, but he was 0-for-17 in goals-shots taken.
It was unacceptable because he did not compensate his shooting ineptitude with world-class playmaking.
There were 50 players in La Liga who averaged more key passes per game (1.2 plus; pass leading to a goal scoring chance) than Marin (1.1).
Fitness issues were another factor in the C grade.
For the third straight season, Marin was blighted by injuries.
Borowski struggling after knee problem. Marin has an ankle injury and Wagner hurt himself in tackle w/Bargfrede. Business as usual at Bremen

— Ian Holyman (@ian_holyman) April 26, 2011
@Ross_CFC Hi Ross no new news on Marin's injury, he is continuing his rehabilitation from a hamstring injury #CFC

— Gigi Salmon (@gigi_salmon) September 4, 2012
"I have started to play more regularly in the last few weeks, but I still can't play three matches per week," Marin said, per Deutsche Presse-Agentur (h/t Gary Jones at the Daily Star). "I have been unable to feature regularly for my club (Sevilla) and unable to put out my best performances in matches."
Marin has averaged 15 league appearances per campaign in the last three seasons, yet it coincided with him winning trophies.
Yeeeeeeeeeessssssss!!!!!! pic.twitter.com/9r5lVngfWf

— Marko Marin (@MM_MarkoMarin) May 15, 2013
Congrats to #CFCLoan, Marko Marin (@MM_MarkoMarin) for winning Europa League last night with Sevilla !! #CFC pic.twitter.com/7JMD0MdQel

— Chelsea Question (@Soal_Chelsea) May 15, 2014
Marin's lack of reps is a red flag.
However, Chelsea manager Jose Mourinho may view Marin as a tactically versatile player able to function as a rotation player.
"Nothing has been decided yet," Marin said, per Deutsche Presse-Agentur (h/t Gary Jones at the Daily Star). "Sevilla would like to keep me here, but there are also signals from England that they (Chelsea) want me to return."
Sure, Marin's career has not crashed and burned like Savio Nsereko's.
Savio Nsereko (ex West Ham) once again gone missing. Juve Stabia have been looking for him since Wednesday. Sad story.

— Serafino Ingardia (@Ingardia) September 9, 2011
What a tragic fall from grace. Savio Nsereko was once such a highly rated talent, now he's in jail in Thailand. Crazy.

— Cristian Nyari (@Cnyari) October 28, 2012
There should be a movie on Savio Nsereko's descent from mega-talent to petty thief

— Clark Whitney (@Mr_Bundesliga) May 9, 2013
But Marin has been steadily declining.
It would be in the best interests of all parties if Marin was let go.
He should sign with a mid-tier Bundesliga team where he can rebuild his career. Chelsea are better off focusing their attention on a young gun like Lucas Piazon.
Statistics via WhoScored.com.