It has been nearly four months since the NFL season ended with the Denver Broncos suffering a crushing loss to the Seattle Seahawks in Super Bowl XLVIII.
Since then, the Broncos have made major strides to get even better, and as of this moment, they mbe the team best equipped to return to the big game.
Creating Cap Space
Champ Bailey is without question one of the best defensive players in team history, but over the past few seasons, the veteran cornerback clearly regressed.
Who can forget Torrey Smith of the Baltimore Ravens torching Bailey multiple times in the 2013 playoffs. Bailey then played in just five regular-season games last year. And while it would have been nice to see him go out with a win in the Super Bowl, he was more of a hindrance than a help against the Seahawks.
He had just four interceptions over the last three seasons...total.
Bailey was set to count $10 million against the salary cap this coming season and because of that, the Broncos had no choice but to make a difficult decision. But rather than restructuring his deal, the Broncos decided to part ways with the veteran corner.
This instantly freed up that $10 million, allowing Denver to be more aggressive in the free-agent market.
Free Agency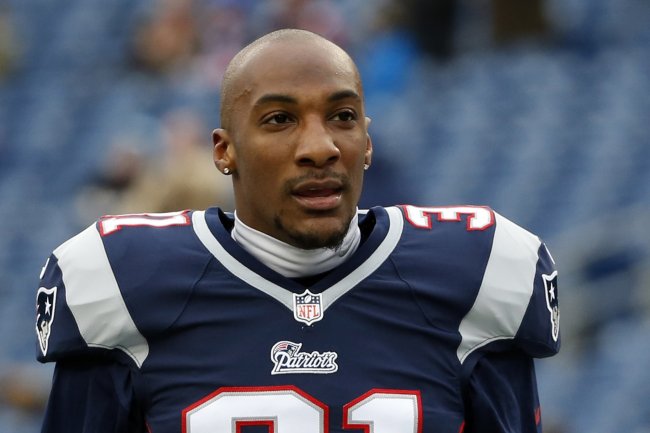 Elise Amendola/Associated Press
Following the 2012 season, the Broncos were very active in free agency, luring both Wes Welker and Louis Vasquez to Denver.
This offseason, they have been even more active.
John Elway has made it clear that the Broncos are determined to get back to the Super Bowl. The moves he's made over the last couple months have also shown that he expects a much different result this time. Elway recognized that the Seahawks won it all with a physical, superior defense. In the first few days of free agency, he brought in both Aqib Talib and T.J. Ward.
Talib is one of the top cornerbacks in the NFL and his presence instantly makes the Denver secondary better. He had four interceptions last season with New England and has 23 for his career.
Ward is a physical safety who will help bring attitude to the Denver defense. More importantly, he could serve as a hybrid middle linebacker on passing downs. This would address a serious need on defense.
But Elway didn't stop there. The moment the Dallas Cowboys let go of defensive end DeMarcus Ware, Elway tossed his hat in for his services.
One day after his release, Ware signed with the Broncos.
Ware is easily one of the best defensive players in the entire league. He has been voted to the Pro Bowl seven times and is the Cowboys' all-time leader in sacks. Pairing him with a healthy Von Miller could be scary for the opposition.
The Broncos also lost Eric Decker to the New York Jets in free agency. How did they respond?
They weren't just satisfied with what the receiver corps they already had (which was good), so the front office went out and signed Emmanuel Sanders, formerly of the Pittsburgh Steelers. Sanders has the ability to be everything Decker was in Denver, perhaps a little bit more.
The Broncos have a plethora of weapons on offense, and Sanders may be the perfect complement to holdovers Welker and the two Thomases, Demaryius and Julius. The main reason why is Sanders' ability to run deep routes and take the top off of defenses, which will open things up underneath for the short and intermediate passing games.
Decker caught 172 passes over the past two seasons, but the Broncos may very well be better off with his replacement.
NFL Draft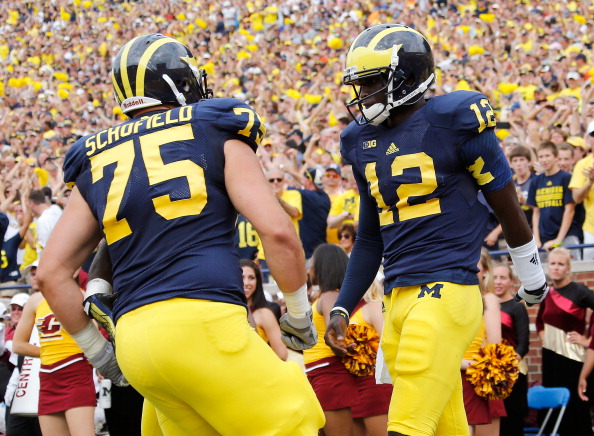 Gregory Shamus/Getty Images
The Broncos played it safe in the draft. They weren't able to find a game-changing middle linebacker in the early rounds, but they still found players they can develop into key cogs of their team.
Denver fans will be pleasantly surprised with what Cody Latimer, the team's second-round selection, will bring to the team. Latimer is a physical wide receiver with superb blocking ability. There were several quality wide receivers in this year's draft, but the Broncos got a huge bargain by finding Latimer at No. 56 overall.
Third-round pick Michael Schofield should challenge for a starting role at right tackle in training camp and fifth-round choice, linebacker Lamin Barrow, could be a steal.
Denver got great depth with their picks as well. While the draft wasn't flashy, the Broncos didn't reach on any picks, and they padded their roster with quality selections.
Undrafted Rookie Free Agents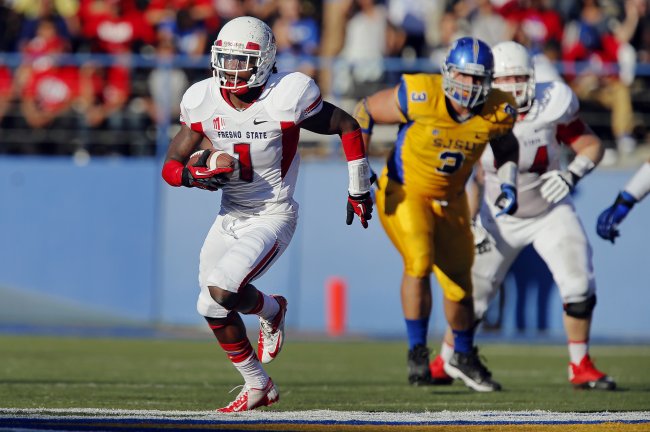 Brian Bahr/Getty Images
The Broncos signed a host of rookie free agents following the draft, but two of them clearly stick out.
Running back Kapri Bibbs led the nation with 31 touchdowns last year in his only season at Colorado State. The competition is wide open at running back for the Broncos, and that bodes well for him.
Bibbs has good vision and can run between the tackles. He will have to show he can catch the ball out of the backfield and protect the quarterback as a blocker if he is to make the Denver roster.
Isaiah Burse is going to be hard to keep off the final roster. He has blazing speed and can be very effective as a kickoff return man. Trindon Holliday left via free agency, but Broncos fans aren't going to miss him when they see what Burse can do.
On top of giving the team a huge boost in special teams, Burse will also be much more effective as a wide receiver than Holliday was.
Looking around the League
Several other teams in the NFL have had great offseasons.
Tampa Bay not only found a great coach in Lovie Smith, but they were able to sign Pro Bowl cornerback Alterraun Verner and quarterback Josh McCown. First-round pick Mike Evans will be paired opposite wide receiver Vincent Jackson to pose a big challenge for NFL secondaries. With all of that in mind, the Buccaneers are still a team in rebuilding mode.
The Denver Broncos have had the best offseason in the NFL
The Jacksonville Jaguars had an excellent draft. Not only did they find their quarterback of the future in Blake Bortles, but they also grabbed two solid targets for him to throw to—Marqise Lee and Allen Robinson.
But, it is Jacksonville and they are at least a couple seasons away from being competitive.
How about what the Green Bay Packers have done?
They added Julius Peppers in free agency, before using their first two draft picks on Alabama safety Ha Ha Clinton-Dix and Fresno State wide receiver Davante Adams. The Packers were a good team that got even better this offseason.
The New England Patriots not only re-signed Julian Edelman, but they improved their secondary drastically by bringing in both Brandon Browner and Darrelle Revis.
Still, none of these teams can say their team is on the level that Denver is at this point in the offseason.
The Broncos have made smart decisions that will benefit the organization for years to come. They lost players but found replacements that could be even better. The team was a big player in the free-agent market and bolstered that with a solid draft.
The Broncos had a record-setting season in 2013 that resulted in a trip to the Super Bowl. Taking into account the moves they have made since the season ended, they may be even better.
The 2014 Broncos will be ready. They'll be hungry. And they'll have one goal in mind.