Michael Carter-Williams, Victor Oladipo and Trey Burke were among the first-year stars who earned spots on the NBA All-Rookie teams for the 2013-14 season, which the league announced Thursday.
Jody Genessy of the Deseret News provided a complete breakdown of the voting:
29 players received All-Rookie votes for first and second teams, including No. 1 pick Anthony Bennett. The voting: pic.twitter.com/JBDIdmL89H

— Jody Genessy (@DJJazzyJody) May 22, 2014
Carter-Williams of the Philadelphia 76ers, who already won the Rookie of the Year award, led all rookies with 125 first-team votes. Victor Oladipo of the Orlando Magic was a close second with 124 first-team votes for a total of 248 points.
Burke (Utah Jazz), Mason Plumlee (Brooklyn Nets) and Tim Hardaway Jr. (New York Knicks) rounded out the first team. All three received more than 200 points in the voting. No other player received more than 120, which made for a clear-cut first unit.
Which rookie has the brightest future?
Kelly Olynyk (Boston Celtics) and Giannis Antetokounmpo (Milwaukee Bucks) were the leading vote-getters among those on the second team. Gorgui Dieng (Minnesota Timberwolves), Cody Zeller (Charlotte Hornets) and Steven Adams (Oklahoma City Thunder) joined them.
Ben McLemore (Sacramento Kings) and Pero Antic (Atlanta Hawks) narrowly missed the cut.
Carter-Williams, who Philadelphia drafted with the 11th overall pick, certainly deserved top billing. He averaged nearly 17 points along with more than six assists and six rebounds per game as one of the few bright spots on a rebuilding 76ers squad.
Jason Wolf of USA Today passed along comments from the talented point guard after he won Rookie of the Year, and his thoughts about the latest honor would probably be similar:
This award is great. It's greatly appreciated. But you know I'd definitely trade this award in a second to be in the playoffs. ... This game is about winning. It's not about individual awards.
Plumlee was perhaps the most under-appreciated rookie. He played limited minutes for a veteran-laden Nets squad but still managed to lead all rookies in Player Efficiency Rating by a substantial margin, according to ESPN.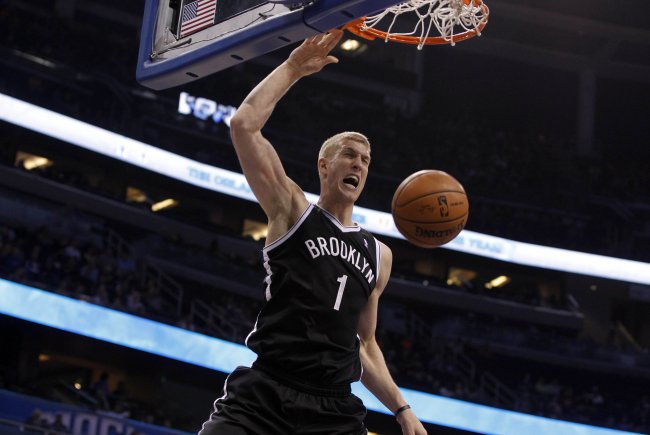 USA TODAY Sports
Nate Wolters of the Bucks was probably the biggest snub of the group. He only received 20 points in the voting. Nathan Giese of HoopsHabit.com thought he deserved the nod over Zeller:
Might be a bit of bias here but Cody Zeller made the All-Rookie second team but Nate Wolters didn't. That's a crock.

— Nathan Giese (@NathanGiese) May 22, 2014
Looking ahead, this rookie crop won't go down as one of the best in league history, especially with the lack of success from top pick Anthony Bennett. That said, there were a couple gems, led by Carter-Williams, that have very bright futures.
The biggest key now is seeing which players are able to take a big step forward in their second seasons. Plumlee is a good bet assuming he sees more playing time, and it's hard to imagine Bennett not showing some signs of improvement after a rookie year to forget.