Scouting Report: Grading Chelsea Midfielder Oriol Romeu's Season at Valencia
May 22, 2014
Manuel Queimadelos Alonso/Getty Images
Chelsea loaned Oriol Romeu to La Liga club Valencia last summer, so here is a scouting report grading the 22-year-old Spanish defensive midfielder's performances this season. 
Positives
Romeu is a 6'0", 183-pound midfielder mainly used as a foil to enhance the creative freedom of Daniel Parejo, who led Valencia with 2.2 key passes per game (those leading to goalscoring chances).
Romeu is a firm, broad-shouldered, self-sacrificing No. 6 who adds muscle to midfield. 
He knows his role thoroughly because Barcelona developed him that way, per Sid Lowe of the Guardian: 
[Romeu] was the natural back-up for Sergio Busquets and Barcelona had noted that there was little need to chase a replacement for Yaya Toure, recently departed for Manchester City.

Romeu, who had joined Barca from local rivals Espanyol in 2004, was that player: muscular back-up for a team of tiny technicians.
Romeu made 29 tackles and intercepted 23 passes in 13 La Liga games for Valencia. 
You can tell Romeu refined his passing at Barca because he smartly evades marking to receive the ball, is an accurate passer and controls the pace of play. 
He was in the zone against Osasuna, making 114 of 121 passes with a 94.2 completion percentage, per Squawka.com.

Source: Squawka.com.
Romeu started 11 of 13 league games and accumulated 50 passes or more seven times: 

Source: Squawka.com.
Not only is Romeu a master of short-to-intermediate passing, but his long-passing is elite:
| | | | | |
| --- | --- | --- | --- | --- |
|   | Long Passes Made | Long Passes Attempted | Long Pass Completion % | Long Passes Per Game |
|   |   |   |   |   |
| David Luiz | 103 | 179 | 57.5 | 5.4 |
| Frank Lampard | 63 | 101 | 62.4 | 2.4 |
| John Obi Mikel | 59 | 75 | 78.7 | 2.5 |
| Nemanja Matic | 76 | 107 | 71 | 4.5 |
| Oriol Romeu | 61 | 71 | 85.9 | 4.7 |
| Ramires | 86 | 122 | 70.5 | 2.9 |
|   |   |   |   |   |
Negatives
While Romeu's defensive production was satisfactory, it was inferior compared to that of teammate Javi Fuego: 
| | | |
| --- | --- | --- |
| League Only | Javi Fuego | Oriol Romeu |
|   |   |   |
| Tackles Per Game | 2.7 | 2.2 |
| Fouls Per Game | 1.6 | 1.2 |
| Tackles Per Foul | 1.7 | 1.8 |
| Interceptions Per Game | 2.1 | 1.8 |
|   |   |   |
This was a factor in Romeu being left on the bench 13 times in league play. 
Concentration lapses, defensive positional flaws, lack of attention to detail and unforced errors have been a theme in Romeu's loan at Valencia. 
His inability to intercept Atletico Madrid right-back Juanfran's low cross led to substitute Raul Garcia scoring:
Source: LigaBBVA.com.
Romeu was caught in two minds upon controlling the ball against Real Betis: clear the ball or play out of defence, the latter of which had been driven into him via Barca's tiki-taka philosophy. 
His dithering enabled Betis' Cedrick, a quick-twitch, pocket-rocket of a winger, to steal the ball: 
Source: LigaBBVA.com.
One area Romeu has to improve is his off-the-ball defending. 
He overcommitted inside, allowing Celta Vigo centre-forward Charles to burst outside:
Source: LigaBBVA.com.
Against Barca, Romeu missed a tackle on deep-lying forward Lionel Messi, who got through on goal: 
Source: LigaBBVA.com.
Romeu was late to close down Betis' right attacking midfielder Juanfran and was subsequently caught in no man's land:
Source: LigaBBVA.com.
Same situation against Almeria: Romeu slightly hesitated and was not in a position to make the tackle or cover to cut off the pass. This allowed Almeria's central attacking midfielder Fernando Soriano to play in defensive midfielder Corona: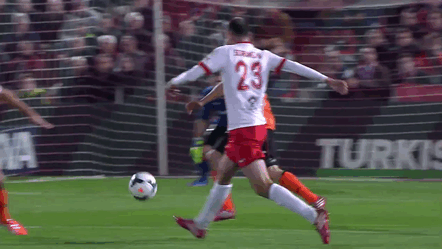 Source: LigaBBVA.com.
Another issue in Romeu's game is his not being strong in the air: 
Source: Squawka.com.
Bottom Line
2013-14 Oriol Romeu Season Grade: C
Romeu struggled to assert his influence in Valencia's starting XI. 
Not only does his defensive positional indiscipline leave you disappointed, but the major red flag is Romeu's durability.
He sat out seven of Valencia's league games because of a knee injury, per Inside Spanish Football. 
Upon returning, he played four straight league games, was benched and then missed the last four games of the season due to an injury, per Valencia's official website. 
His track record is unnerving. 
In 2012, he ruptured his anterior cruciate ligament at Chelsea, per BBC Sport.
In 2011, the Guardian's Lowe made a reference to Romeu returning from a serious injury at Barca B: "Oriol Romeu had mixed emotions. For him, seven minutes was reward after a long knee injury, and the opportunity was welcome. But in truth, seven minutes did not feel like much."
Defensive limitations, warming the bench and extended injury layoffs are reasons why Romeu received a C grade for his loan spell at Valencia.
Source: ValenciaCF.com.
Now what does the future hold for him?
Chelsea are packed with midfielders, and even before Romeu became damaged goods he was talking up a move back to Barca in 2011 via his agent Javier "Magico" Diaz, per the Telegraph.
If you asked Romeu: "Forever Blue, are you?" 
He would probably respond: "No."
What about Valencia? 
After a prolonged period of trying to get into the inner circles of Europe's elite, Singaporean investor Peter Lim, who has a net worth of $2.4/€1.8 billion per Forbes, is finally an owner of a top-flight European club: Valencia.
Romeu was not even a starter before Lim owned Valencia, so the 22-year-old Spaniard needs to be wise about his next career choice. 
Should he sign with Valencia, he risks being forced out on loan as he was at Chelsea. 
Speaking of the Blues, Romeu should leave the club, lower his standards and find a stepping stone.
That was what Thiago Motta, who was plagued with injuries, did when he signed with 10th-placed Serie A team Genoa in 2008. 
He had been rejected by several clubs, per Lucas Brown of Goal.com:
Thiago Motta is unemployed after being unable to find a new club in the transfer window and finding that Atletico Madrid had withdrawn their offer of a new deal.

The former Barcelona midfielder held talks with both Portsmouth and Racing Santander about a late move, but he failed to pass either club's medical exam.
Motta was one-and-done at Genoa after a comeback season. 
Since then, Motta has won 10 combined titles at Inter Milan and Paris Saint-Germain.
If Romeu can overcome his injuries, he has the talent to emulate Motta. 
Statistics via WhoScored.com.