Manchester United are rumoured to have secured a £20 million deal for Bayern Munich's Toni Kroos, as reported by a plethora of British press outlets on Thursday.
The Red Devils' interest in Kroos has rumbled on since January, the month he was first linked with a switch to Old Trafford. Although confirmation is yet to arrive from either club—or indeed, the German press—Chris Wheeler of the Daily Mail is among the publications reporting an agreement:
Manchester United have agreed a deal to sign Bayern Munich midfielder Toni Kroos and are set to make a stunning move for his team-mate Arjen Robben. A £20million deal for Kroos was agreed when David Moyes was still in charge at Old Trafford and his successor, former Bayern coach Louis van Gaal, has said the move can go ahead.
Miguel Delaney of ESPN FC also believes United "have made significant advancements" on the road to signing Kroos, while David Wright of the Express says the two teams "have agreed a deal." Wheeler's article also suggests Louis van Gaal will try to lure Arjen Robben from the Allianz Arena, a stadium the 62-year-old used to frequent as Bayern boss.
Jan Aage Fjortoft, a Germany-based pundit, doesn't believe United have secured Kroos' future:
What Bild is saying: Van Gaal has to money to buy any Bayern-player he wants.

— Jan Aage Fjortoft (@JanAageFjortoft) May 20, 2014
Of course Man UTD are keen to get Kroos. But right now: Most likely to stay.

— Jan Aage Fjortoft (@JanAageFjortoft) May 21, 2014
Daily Mail say Bayern accepted a £20 mill bid for Kroos from Man UTD. No reports in Germany If true: Great news for #mufc fans Me: Doubt it

— Jan Aage Fjortoft (@JanAageFjortoft) May 21, 2014
Pep Guardiola recently confirmed the Bayern hierarchy hope Kroos remains in Bavaria, but ultimately, the player will dictate where he ends up.
"[Karl-Heinz Rummenigge and Matthias Sammer] will do everything to keep Toni here," said Guardiola, per TZ and via Stephan Uersfeld of ESPN FC. "But it is up to Toni. He is a young person, it is his decision."
Kroos previously told TZ, reported via ESPN, "I belong to Bayern Munich."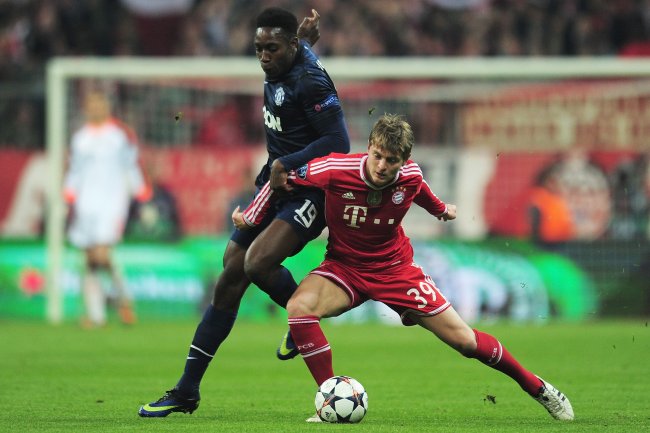 Shaun Botterill/Getty Images
Which player do Manchester United need most?
The German international would add significant quality to a Manchester United midfield that has lacked bite across the past couple of seasons. Sir Alex Ferguson certainly needed to improve the club's centre before he moved on, but alas, neither he nor David Moyes were able to make significant midfield signings.
Kroos' range of passing, shooting capabilities and versatility make him an excellent pick for United. He is calm in possession and offers the type of vision that can play United out of danger, maintain possession or launch a stinging counter. Unlike many at the club, he isn't laboured with the ball at his feet.
The 24-year-old's signing certainly seems more likely than Robben, but if anyone has ties to the Dutchman, it's Van Gaal. Bayern's bombing winger currently plays under the new United boss in the Netherlands' national side and previously worked with him during Van Gaal's tenure at the Bundesliga club.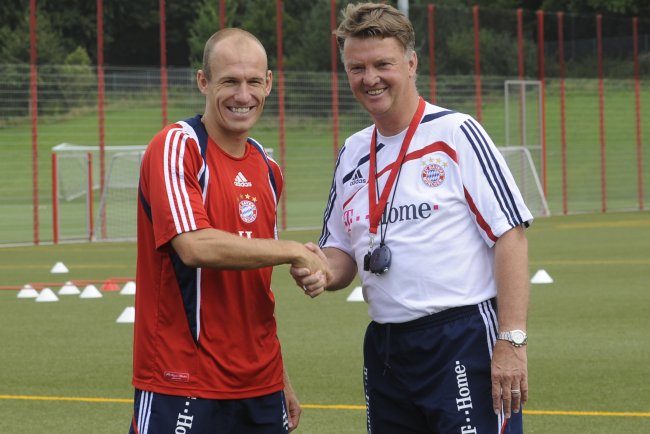 Christof Stache/Associated Press
United fans will certainly be hoping for some kind of confirmation soon. Last summer was defined by intense rumours that never came true—with Cesc Fabregas the poster boy of Moyes' market failures—suggesting hopes shouldn't be raised until new signings are seen holding up the famous shirt.
Major squad changes can be expected, but right now, it seems there's plenty of work to complete before either Kroos or Robben can be considered United players.