The Boston Red Sox team that took the field on Opening Day 2014 wasn't markedly different from the one that had won the World Series just five months earlier.
Gone were shortstop Stephen Drew, who went 6-for-54 in the postseason; center fielder Jacoby Ellsbury, who left for the rival New York Yankees; and catcher Jarrod Saltalamacchia, who was replaced by veteran A.J. Pierzynski.
Drew was to be replaced at shortstop by prized prospect Xander Bogaerts after the latter starred in the playoffs as the team's regular third baseman. Will Middlebrooks, who posted an .805 OPS with eight homers and 24 runs batted in over his last 41 games, would return to the hot corner. It was hard to argue that re-signing Drew was necessary.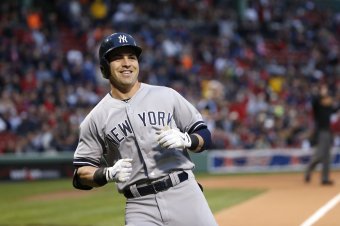 Elise Amendola/Associated Press
Letting Ellsbury (pictured) walk after his terrific season (.781 OPS, 52 SB) and even better postseason (.846 OPS, 6 SB) was a decision that could've been second-guessed at the time, especially after he bolted for a seven-year, $153 million deal for the AL East rivals. But not many teams would've had the ability to replace him with a highly touted prospect like Jackie Bradley Jr. making just over the minimum salary.
Bringing in former Cleveland Indians star Grady Sizemore on a cheap one-year deal also gave them what appeared to be a decent backup plan.
Pierzynski for Saltalamacchia seemed like a wash at the time, and it also kept the door open for one of the team's impressive catching prospects, Blake Swihart or Christian Vazquez, to claim the starting job sometime in 2015. That wouldn't have been possible had they re-signed Saltalamacchia, who got a three-year, $21 million deal from the Miami Marlins. Pierzynski was signed to a one-year deal.
First baseman Mike Napoli was re-signed to a two-year, $32 million deal, and Edward Mujica, an All-Star closer with the St. Louis Cardinals in 2013, was the team's prized free-agent acquisition. He signed a two-year, $9.5 million deal to be the team's primary setup man.
That was the team's offseason in a nutshell. Not horrible. Not great. But a World Series champion shouldn't need a great offseason to stay competitive.
So why is this Red Sox team so bad?

After a sixth consecutive loss on Wednesday, a 6-4 defeat at the hands of the Toronto Blue Jays, the Sox dropped to 20-25 and four games out in the AL East.
Of the five aforementioned offseason decisions, only the re-signing of Napoli has worked out for general manager Ben Cherington. This comes a year after a near-flawless offseason in which he brought in several veteran players to makeover the roster.
Saltalamacchia, who plays his home games in pitcher-friendly Marlins Park, has an .813 OPS and six homers while doing a terrific job with a very young pitching staff. The 37-year-old Pierzynski has a .634 OPS and three homers. His veteran rotation hasn't thrived under his leadership, unfortunately.
Ellsbury has made an impact (.735 OPS, 11 SB) on the first-place Yankees, while the combination of Bradley (.607 OPS, 0 HR) and Sizemore (.629 OPS, 2 HR) has been a disappointment for the Sox.
Bogaerts has solid numbers (.782 OPS), but the 21-year-old hasn't given the Sox the middle-of-the-order production they were hoping for. He had an RBI on Wednesday, but it was just his eighth on the season. Coming into the game, he was only 5-for-36 with runners in scoring position.
Middlebrooks, who is already on the disabled list for the second time this season, is only 14-for-71 with two homers and 23 strikeouts.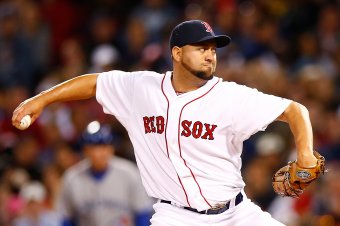 Jared Wickerham/Getty Images
As for Mujica (pictured), who was supposed to give them the reliable right-handed setup man they lacked at times in 2013, the 30-year-old has been a complete bust. His ERA rose above 8.00 after he allowed two earned on four hits in Tuesday's loss, and he can't be counted on in high-leverage situations anytime soon.
While Cherington knew that allowing either of his free agents to depart could backfire, he certainly didn't plan on the back-end of his starting rotation struggling this badly. And why would he have?
Even with Ryan Dempster deciding to sit out for the season due to personal and physical reasons, the Sox rotation was still considered one of the best in baseball, and no team could match the organization's depth of pitching talent down in Triple-A.
While Jon Lester's postseason dominance has carried over into this season (2.67 ERA, 60.2 IP, 51 H, 16 BB, 73 K) and John Lackey and Jake Peavy each have six quality starts in nine outings, Felix Doubront and Clay Buchholz have not been very good.
The 26-year-old Doubront had a 5.12 ERA in nine starts before being placed on the disabled list with a strained shoulder.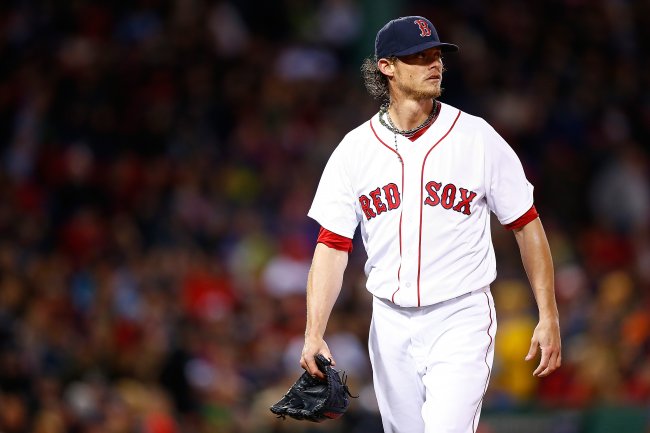 Jared Wickerham/Getty Images
Clay Buchholz (pictured), who appeared to be on the verge of a breakout season during an injury-plagued 2013 (1.74 ERA in 16 starts), is now going in the opposite direction. In eight starts, the 29-year-old has a 6.17 ERA. Opposing hitters have a .337 batting average against him.
Alex Speier of WEEI.com spoke more to Buchholz's problems, explaining that perhaps we shouldn't even be surprised:

He's 29 years old, with 130 career starts on his resume, and his body of work suggests that his runs of dominance -- while appearing regularly -- ignite and extinguish like a firefly. The fact that Buchholz can juxtapose one of the great runs with recent Red Sox history with one of the worst feels like a surprise, but based on career track record, it shouldn't.
Overall, the rotation has a 4.31 ERA, good for 24th in the majors. That's not going to get it done, especially since the Sox offense has only scored more than four runs in 19 of its 45 games. It hasn't scored more than four runs in any game during the team's current losing streak.
Fortunately for the Sox, no team in the AL East has been good enough to run away from the pack as of yet. Four games isn't a lot to make up. They were three games out after a three-game losing streak in mid-May of last season.
But patience is wearing thin. This does not look like a championship team, and Cherington is already making changes.
Drew was finally re-signed to a one-year deal for a prorated amount of the $14.1 million he initially turned down as a qualifying offer after the 2013 season. The 31-year-old will join the Sox in early June after a short minor league stint.
Bogaerts will slide over to third base, although he'll know that Middlebrooks is waiting to reclaim the job if he struggles.
With Doubront out of action, the Sox will have to turn to one of their young pitchers, with Allen Webster (2.47 ERA in 10 Triple-A starts) and Brandon Workman (5.12 ERA in seven Triple-A starts; 1.42 ERA in six MLB relief appearances) as the top candidates.
Matt Barnes (2.89 ERA in five Triple-A starts), Rubby De La Rosa (3.42 ERA in nine Triple-A starts) and Anthony Ranaudo (3.27 ERA in 10 Triple-A starts) are also in the mix, though they'd be stronger considerations if the Sox needed to replace Buchholz at some point.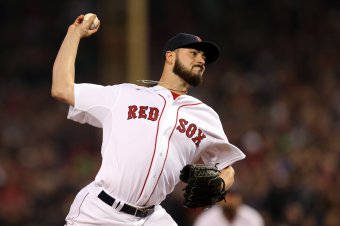 Rob Carr/Getty Images
Bringing in one of those young arms, most likely Workman (pictured), in the role that Mujica was supposed to fill is also an option to solidify a bullpen that's been very good as a whole.
As for their center field woes, there really isn't an internal "Plan C." Sizemore, who was the "Plan B," has played mostly in left field with Daniel Nava having been sent to the minors after a poor start (10-for-67). They aren't getting much out of either spot, and Shane Victorino is just getting back into the groove after a stint on the disabled list.
They'll keep their fingers crossed that the 24-year-old Bradley will figure things out and contribute at the plate. More production from Sizemore would also help, obviously, as would a strong return from Nava, who had an .831 OPS in 134 games last season.
The offense as a whole also needs to start coming up with the big hits on a more consistent basis. After leaving 11 men on base in Wednesday's loss, newcomer Pierzynski expressed hope that things will eventually turn around.
"The bottom line is we keep getting guys on base eventually we're going to get hits," Pierzynski said. "We have too many good hitters, too many good players, and too many guys that have done it for too long for it to stay like this. I think that as long as we have the opportunity and keep getting guys on base and keep having the at-bats, the people here are grinding it out. There's no doubt in my mind everyone here is trying. No one's changed anything. Everyone's working their tails off. It'll turn, and when it does someone's going to pay."
It's not close to desperation time. But it's not too early to see that this team is in the midst of a World Series hangover, and it needs to snap out of it before it is too late.