Manchester United are reportedly closing in on the signing of long-term midfield target Toni Kroos from Bundesliga champions Bayern Munich.
According to David Wright in the Express, the confirmation of Louis van Gaal as the managerial successor to David Moyes at Old Trafford has given the potential deal a big boost:
The Red Devils have been in talks with the Bundesliga champions over a suitable deal for the last two months, but David Moyes' sacking created an obstacle.

However, reports claim the deal has made significant progression after Louis Van Gaal formally replaced the Scot on Monday, with the 'principles of an agreement' now in place.
The 24-year-old German international has only one year left on his current contract with Bayern, per the Daily Telegraph.
He would certainly be a key signing for United who need a complete rebuild in the midfield and defence after a shocking 2013-14 season, which saw them finish seventh in the Premier League.
Squawka reports that Kroos had a passing accuracy percentage of 92 percent in the 2013-14 Bundesliga season. That ability to keep the ball is much needed at United, as they have had recent struggles in keeping possession and distributing the ball efficiently.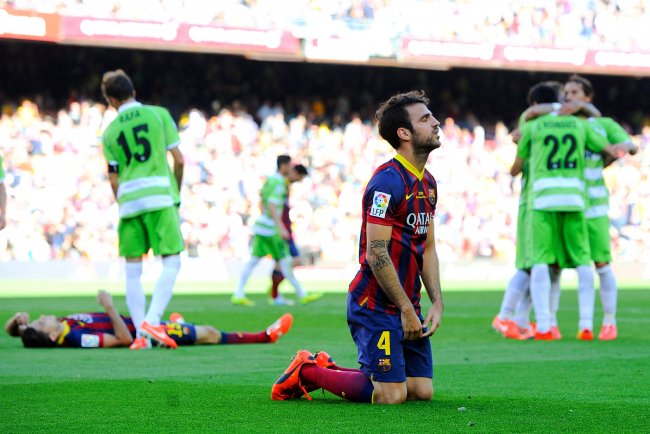 David Ramos/Getty Images
Another boost for United in the transfer market concerns a fellow long-term midfield target, former Arsenal star Cesc Fabregas.
Speculation has been rife that the 27-year-old may be on his way out of the Camp Nou in the summer, as reported by sports journalist Bruce Archer:
According to Marca, Cesc Fabregas has been transfer listed by Barcelona. Looks like he'll be back in the Premier League next season.

— Bruce Archer (@Bruce_Archer89) May 19, 2014
Further rumours have been prompted by the fact he was left out of the promotional material for Barcelona's 2014-15 home kit, per the Daily Mail.
Football writer Rafael Hernandez tweeted the promotional image in which Fabregas is conspicuous only by his absence:
No Cesc Fàbregas in Barcelona's new shirt ad, started this way before Thiago was sold: pic.twitter.com/NR0KacZzfe

— Rafael Hernández (@RafaelH117) May 20, 2014
United went in for the Spain international last summer, per James Dickenson in the Express, but missed out on him in a disastrous transfer window.
It seems that the Red Devils are to try again this summer with a €53 million offer, as reported by Catalan paper Sport on Wednesday (via 101 Great Goals).
Man United prepare €53m offer for former Arsenal captain Cesc Fabregas [Sport] http://t.co/1LxWGyQLss pic.twitter.com/vlxRoRxk2U

— 101 Great Goals (@102greatgoals) May 21, 2014
United are also reportedly interested in taking on Arsenal for Bayern's £20 million striker Mario Mandzukic, who is supposedly on his way out of the club after falling out with manager Pep Guardiola, per Jack Wilson in the Daily Star.
However, relations between the Croatian international and his current club can't be that bad considering Bayern tweeted birthday greetings to the 28-year-old on Wednesday:
Happy 28th Birthday, @MarioMandzukic9! #MiaSanMia pic.twitter.com/4jVcMpe1wA

— FC Bayern English (@FCBayernEN) May 21, 2014
It is essential for the Old Trafford outfit that they claim some big signings over the summer and prepare themselves for a tilt at the Premier League title next season.
While United's fans have been relatively patient in the first year of the post-Sir Alex Ferguson era, a repeat performance next season would not be well received.
Bringing in players of Kroos, Fabregas and Mandzukic's quality and reputation would send out a signal of intent that United are on the way back after a poor term.