The pursuit of a Triple Crown is quite rare, so it should come as no shock that California Chrome's journey is being overanalyzed to death every step of the way.
That does not make it any easier to digest—or enjoy.
California Chrome has won six races in a row and figures to cruise to victory in New York at the Belmont Stakes, but the world has been on high alert for anything that can throw a wrench into those plans since he and jockey Victor Espinoza's triumph at the Kentucky Derby.
The first over-scrutinized piece of drama occurred a mere days before the 139th running of the Preakness Stakes. Why?
A cough.
This horse merely coughed and threw the globe into a frenzy. Thousands of social media posts and content from media outlets later, and a sense of calm once again resided over the sport's most dominant participant in more than a decade.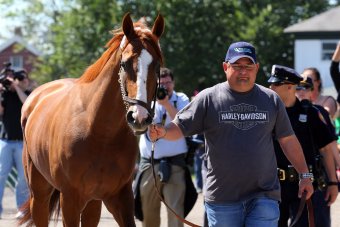 USA TODAY Sports
As Sherman Racing spokeswoman Alexis Garske described, via Jennie Rees of USA Today, that cough is quite the normal occurrence:
"He actually coughs every morning a couple of times," Garske said. "The only reason they did (the vet exam) is because they were closer together, like a true cough. So they said we might as well have him checked. Art was saying with the temperature change, 'Let's get the vet over here.'"
But cue those thousands of posts and stuff once more because—gasp—a veterinarian was called in for precautionary purposes.
What was found?
A blister.
In other words, nothing. Claire Novak of Blood Horse reported on the findings of the checkup heard around the world:
(cont) they scoped him, also had blood drawn, vet said blood came back perfect. Blister may itch & caused him to cough a few times (cont)

— Claire Novak (@BH_CNovak) May 15, 2014
(cont) but the horse is fine, blister a minor issue that is not going to affect his race at all. Vet said nothing else going on. (end)

— Claire Novak (@BH_CNovak) May 15, 2014
The race went off without a hitch. Espinoza did what he does as of late since climbing into California Chrome's saddle and simultaneously back into relevancy, and he successfully navigated the early traffic before kicking into high gear and blowing away the field—without ever bringing down his whip after the final turn.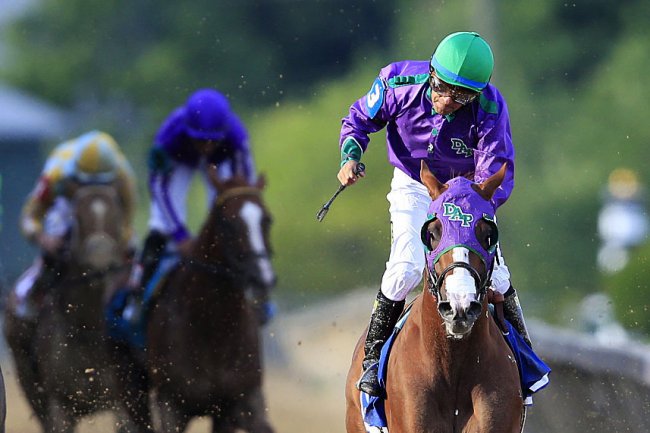 Rob Carr/Getty Images
But that triumph was hardly digested before we were thrown into fits yet again.
This time...nasal strips.
It turns out the New York State Gaming Commission had a 15-year ban on nasal strips before this whole less-than-24-hour ordeal, although it allowed for requests to be submitted.
While the globe was panicking, trainer Art Sherman had an "Aw shucks, hadn't even thought about that, whoops" reaction to the fact a special request would have to be submitted to the committee in New York, via USA Today's Gary Mihoces:
"I don't know why they would ban you from wearing one. But we'll have to cross that bridge when we get there, I guess."
The end-of-the-world reactions from fans and media alike were short-lived as the commission gave the go-ahead and will allow all contestants moving forward to wear the suddenly controversial piece of equipment.
Of course they did. Non-story. Sports Illustrated's Tim Layden puts it best:
There was no way, on a very simple, economic level, that NYRA officials were going to turn away from tens of millions in revenue (the potential betting handle on a Triple Crown Saturday) over a piece of equipment that's allowed in every other racing jurisdiction and is available to every other horse in the field.

Secondarily (definitely secondarily), even with racing's recent struggles with self-promotion, there was also no way that three NYRA stewards were going to be allowed to reduce NBC's June 7 television blockbuster to a meaningless afternoon of horse racing. It was just never in the realm of possibility. California Chrome was going to run in the Belmont, and he was going to run with his nasal strips.
Layden aptly calls it Nasalgate (let's not even get into a mockery made of the sport with a rule change now that a contender called for it).
But the nasal strips were never important. It sure looks like it at face value, though, as ESPN Stats & Info helps to illustrate:
California Chrome's 1st 6 career races without nasal strip: 2 wins, $105K earnings. His last 6 races with nasal strip: 6 wins, $3.35M

— ESPN Stats & Info (@ESPNStatsInfo) May 19, 2014
You know what else happened to spur that six-race streak? Journeyman jockey Alberto Delgado was kicked to the curb in favor of Espinoza. Since assuming the role, Espinoza has put California Chrome in a position to succeed in each race and kept him out of traffic, utilizing his superior athleticism to its utmost extent.
But never mind that. In the same manner that a non-factor like nasal strips mightily overshadowed a dominant Preakness triumph a few hours after the fact, the piece of equipment has also taken light away from Espinoza's creation of a legitimate Triple Crown contender.
It won't stop. The focus on the meaningless won't end until California Chrome crosses the finish line first at Belmont Park to become the first Triple Crown winner since 1978.
Perhaps then, we can truly focus on the greatest rag-to-riches story the grand world of sports has to offer.