In a deep class full of potential All-Stars, it is easy to get lost in "upside" leading up to the NBA draft. The good news is there are plenty of players capable of contributing immediately next season.
Unless something drastic happens, there is a strong chance that Andrew Wiggins is taken with the first overall pick. With his pure athleticism and wide skill set, there will be few arguments when his name is eventually called.
Like many other prospects in the class, however, he is still extremely raw and will need to be brought along slowly early in his career. The same could be said about big names like Joel Embiid or Aaron Gordon as well.
However, those looking for immediate upgrades can certainly find those players in the draft. Here is a look at the most pro-ready players in the class and early candidates for 2014-15 NBA Rookie of the Year Award no matter where they land.
Jabari Parker, SF, Duke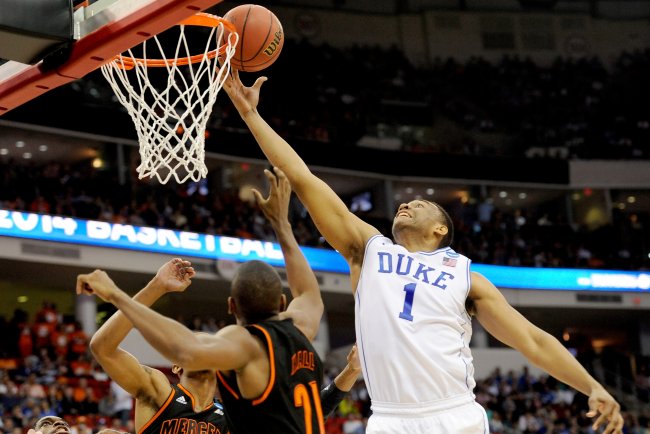 Grant Halverson/Getty Images
Few prospects come into the NBA with the pure scoring ability of Jabari Parker. He can score in a number of different ways, including as an outside shooter or slashing to the rim. He can post up and get points with his back to the basket or get himself to the free-throw line.
Reggie Miller provided a favorable comparison to the young player:
"I can see how his game can translate to the next level. He reminds me of a Carmelo Anthony (at that time)." –Reggie Miller on Jabari Parker

— TurnerSportsPR (@TurnerSportsPR) May 20, 2014
While he has a long way to go before being one of the top scorers in the NBA, there is little question he could immediately become a go-to scorer in any offense.
ESPN's Dick Vitale also agreed that Parker is ready to contribute:
Tonight draft lottery - if I have # 1 the most ready to HELP NOW @JPiz1 =JABARI PARKER ! http://t.co/Mx9Z2Jh2nf

— Dick Vitale (@DickieV) May 20, 2014
The former Duke star averaged 19.1 points per game as a freshman and is likely to at least reach this number when he gets to the NBA.
Julius Randle, PF, Kentucky
Compared to some of the other athletes in the class, Julius Randle does not have the upside. However, the big man showed throughout the season that he is capable of dominating almost anyone he faces.
Randle averaged 15 points and 10.4 rebounds per game in his only season at Kentucky while showcasing an impressive low-post game and a motor that allows him to get almost every loose ball. Although he might struggle a bit against taller defenders in the NBA, he knows how to use his strength to get points.
The power forward is certainly confident in his ability to adapt, as he explained to Mark Strotman of CSN Chicago:
"I'm just a player. I think I can fit multiple styles, adjust to multiple styles because of my skill set. I'll be able to adapt to whatever it is. (I'm) a hard worker, somebody who's going to give 100 percent all the time. Somebody who's talented but goes along with the work ethic."
With a physical inside presence, Randle will be able to step right into an NBA lineup and be a consistent scorer in the frontcourt.
Doug McDermott, SF, Creighton
Whichever team drafts Doug McDermott will know exactly what it will get. The senior was one of the best scorers in college basketball history, leading the nation with 26.7 points per game in his senior year.
His best attribute is his shooting ability as he made 44.9 percent of his three-point attempts this past season. Most impressively, he did this while teams were doing their best to double-team him and take him out of the game.
While he should be able to continue shooting the lights out in the NBA, he also showcased the ability to get points in other ways. As his former coach and father Greg McDermott explained, he will help any team next season:
"The guy can put the ball in the basket, I don't care who he's playing against." @cucoachmac on @dougmcd3 and transition to NBA

— Adam Zagoria (@AdamZagoria) April 3, 2014
The wing might not be the best defender, but he can stretch a defense with his consistent shooting. This will keep him on the court and help out any squad whether it is a contender or not.
K.J. McDaniels, SF, Clemson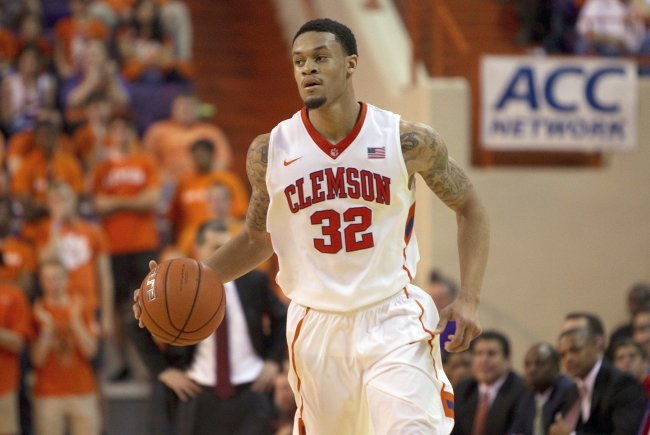 USA TODAY Sports
Unlike the other players on this list, K.J. McDaniels is still developing his offensive game. He averaged 17.1 points per game this year, but he still must learn how to do a better job of creating his own shot.
However, the Clemson star will make his way into rotations thanks to his ability on the defensive end of the court. He was named the ACC Defensive Player of the Year this past season while averaging 2.8 blocks per game, which is amazing considering his size at 6'6".
Although he does not have great lateral quickness, he does have good speed which was on display during the NBA Scouting Combine:
NBA draft combine 3/4-court sprint high/low. Fastest: Clemson's K.J. McDaniels, 3.10. Slowest: Baylor's Isaiah Austin, 3.55.

— Paul Coro (@paulcoro) May 16, 2014
With his athleticism and timing, he could continue to be a talented shot-blocker in the NBA, even if he ends up spending his time on the perimeter.
Eventually McDaniels can develop his offensive game, but teams will certainly want him on the floor for what he does defensively.
Follow Rob Goldberg on Twitter for the latest breaking news and analysis.