The horse racing Triple Crown has been one of the most elusive titles in sports. However, with two wins under his belt, California Chrome looks like a strong contender to end the sport's 36-year drought.
Nevertheless, as past contenders like Big Brown and Smarty Jones have illustrated, the Belmont is always exceedingly difficult to win, even with overwhelming odds. Many of the top Kentucky Derby contenders took the Preakness off and will have a five-week break to run the grueling 12-furlong race.
Here's a look at the horses with the best chance to derail California Chrome's Triple Crown aspirations.
Wicked Strong
The Massachusetts horse finished fourth at Churchill Downs before taking the Preakness off to recuperate. Now, Wicked Strong is once again one of the favorites to take home a leg of the Triple Crown.
Wicked Strong came into the Derby strong after a win at the Wood Memorial Stakes, but perhaps more importantly, he has already won at Belmont Park. The colt took first at a maiden special weight race in October 2013, a type of race reserved for horses without previous victories. While that competition will pale in comparison to the one he will face June 7, that history has some prognosticators encouraged:
Recall tweeting day after Derby that Cal Chrome would win Preakness & lose Belmont to Wicked Strong. Standing by that. WS by 3/4.

— Marcus Hersh (@DRFHersh) May 19, 2014
Wicked Strong may end up opening as the second favorite to California Chrome. Though he did not have enough room to close on Chrome in the Derby, the Belmont may be a more suitable track for his strengths.
Commanding Curve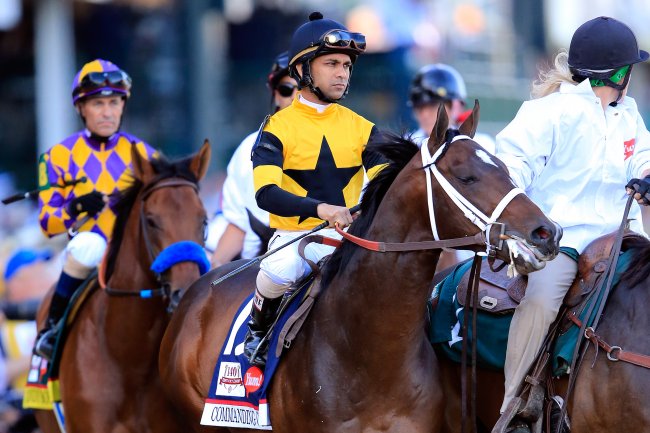 Rob Carr/Getty Images
The Derby runner-up was a long shot at Churchill Downs but now stands as one of the second-tier favorites in New York. Like Wicked Strong, Commanding Curve did not race at Pimlico, instead choosing to rest ahead of the Belmont Stakes.
Trainer Dallas Stewart put the horse through one gallop in the interim, and according to Daily Racing Form's Byron King, Stewart was pleased with the results:
Dallas Stewart pleased w/ Commanding Curve 1/2m drill this am that came in co w/ Golden Soul in 48 4/5 at #CD; on course for @BelmontStakes

— Byron King (@DRFByronKing) May 16, 2014
Commanding Curve is still a relatively inexperienced horse, with just three non-maiden special weight races in his career. However, he also finished third in the Louisiana Derby in March, suggesting that his Derby finish was not a fluke.
The Kentucky-bred horse did not come particularly close in the Derby, even though he did finish second. But if California Chrome stumbles or tires a bit, Commanding Curve is a solid bet to overtake him in the home stretch.
Ride On Curlin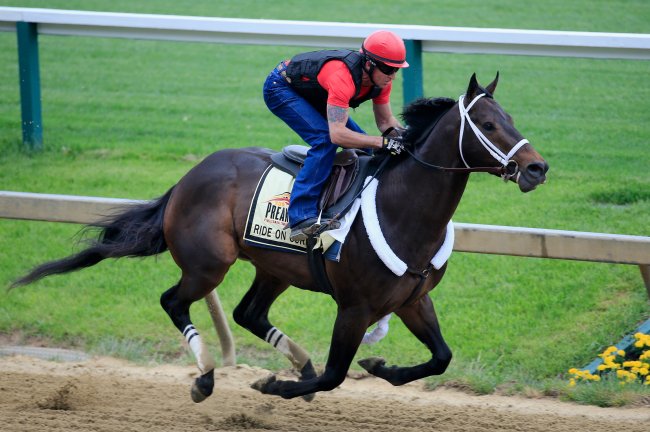 Rob Carr/Getty Images
Unlike Wicked Strong and Commanding Curve, Ride On Curlin will race in all three Triple Crown events. After a seventh-place showing at Churchill Downs, the colt followed up with a much stronger showing in his runner-up Preakness finish.
Though California Chrome did finish 1 1/2 lengths ahead of Ride On Curlin, the latter horse closed quickly down the stretch and likely would have passed had the race been an extra 2.5 furlongs (the length of the Belmont Stakes). That knowledge could give him the edge necessary to win the next race:
Ride on Curlin closed on Chrome, but he was so far out in front he had enough to win if it were at Belmont, the longest track of the three.

— Stu Hammer (@Stuart_Hammer) May 17, 2014
Sired from 2007 Preakness winner Curlin, Ride On Curlin has the pedigree necessary to capture a Triple Crown race. If he can keep up with California Chrome headed into the stretch run, the colt may be the one who derails Chrome's strong bid for history.