Top Ten Derek Jeter Moments of All Time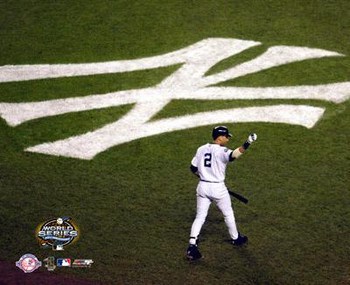 Derek Jeter has been called a lot of things, from captain, to underrated, to things that would get me kicked off this site. But, beside that, he, like many players, has had some great moments in his career, that remind us of how great of a ballplayer he really is.
Now, Red Sox fans, I know that you'll have a comeback for every one of these, but please, on the man's birthday, shut up.
But, anyway, without further ado, here are Derek Jeter's top ten moments
#10: 9/11 Visit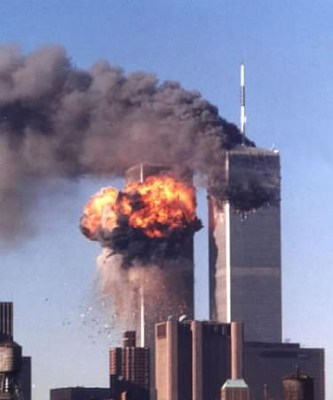 Jeter and teammate Tino Martinez visit firefighters, and lend their support to all of those affected by the attacks on September 11, 2001.
Yeah, I know it's off the diamond, but it shows what a great person Jeter is.
And that picture still turns my tummy.
#9: Rookie of the Year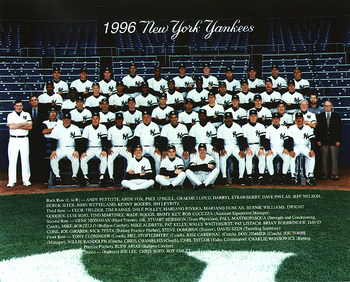 Jeter is named 1996 Rookie of the Year.
And it was good.
#8: Lead-off Homer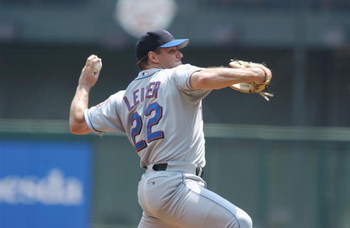 Jeter hits a leadoff homerun against Al Leiter in the 2000 World Series against the Mets. That homer set the pace for the Yankee's World Series victory.
#7: #2000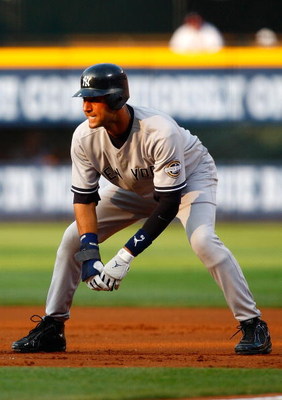 Jeter hits his 2,000 career hit.
And he just continues to climb.
#6: Pass the Bambino
Jeter passes Babe Ruth on the all-time Yankee hit chart with his 2619th hit and is en route to pass Lou Gehrig and get 3000 hits.
He is still working to pass Lou, and is second on the list.
#5: Jeter's Better Know by his Initials: MVP!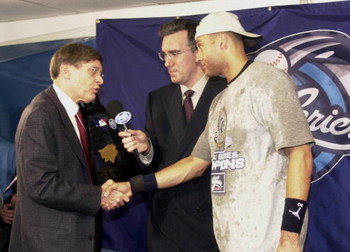 Jeter becomes the only player to be the All-Star game MVP and the World Series MVP in the same year. He accomplished this in 2000.
And the Yankees won the World Series, the last until 2009.
#4: Walkoff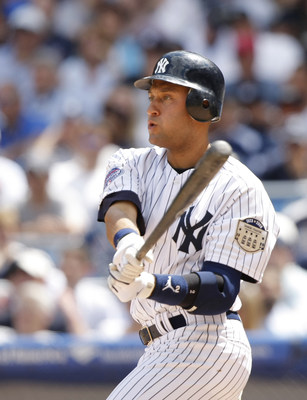 Jeter hits his first walkoff homerun against Arizona in Game 4 of the 2001 World Series. I seriously believe if 9/11 hadn't happened, the Yankees could have won this World Series, but they had too much on their minds.
#3: Dive...ouch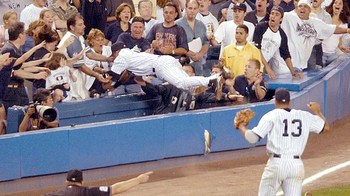 Jeter dives into the stands on July 1, 2004 to snag a pop up off of Boston's Trot Nixon's bat. Jeter emerged from the stands, bloody and bruised. His catch paved the way for the Yankees to solidify the sweep. Jeter played the next day against the Mets.
This could be higher ranked, but he actually didn't catch the ball in the stands. he caught it with a nice backhand stab, took three steps, and dove in. He could have pulled the emergency brake in that time.
#2: I Get By With a Little Help From My Friends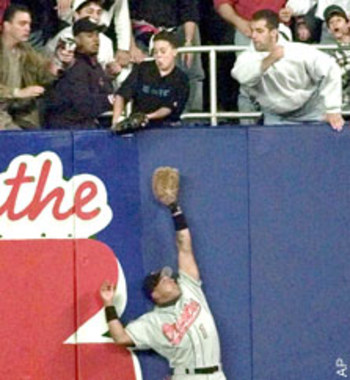 Jeter hits a homerun with a little help from the 12 year old Jeffery Maier against the Orioles in the playoffs. And Tony Torasco, the outfielder, was PO'd big time and was lucky he didn't get tossed.
#1: The Flip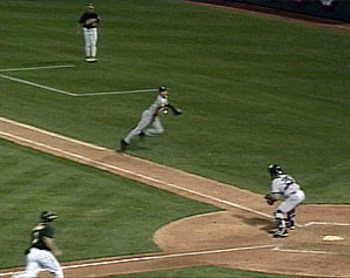 Jeter makes a backed handed flip play, against the Oakland A's in the 2001 playoffs, to Jorge Posada to nail Jeremy Giambi at plate—saving the game and the Yankees playoff hopes.
I've always wondered...if Giambi hadn't been hiding a syringe full of testosterone in his back pocket and slid, would he have been safe?
Nevertheless, if you haven't seen this play, see it because it'll never happen again.
Here's a really low quality version: (It's near the end)
http://www.youtube.com/watch?v=Mq_kcKHBCcA
One final slide!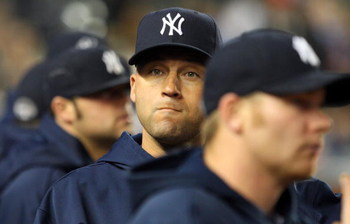 So, today you can stay home from work, or eat cake, or watch the Yankees, or click on my profile and read more of my articles, but all in honor of baseball's greatest shortstop and America's future president, Derek Jeter
Keep Reading

New York Yankees: Like this team?